It's been a thrill to watch him again, hasn't it? To see the Penguins' center dangle with the puck in the slot, work the half-wall on the power play like a virtuoso, and scare the daylights out of opposing goalies with that rapier-like wrist shot.
Oh, I'm not talking about Sidney Crosby. I'm referring to No. 71, Evgeni Malkin.
Although it's largely gone unnoticed in the wake of Sid's triumphant return, the big Russian quietly has elevated his game to pre-injury levels. Actually, make that Art Ross and Conn Smythe Trophy levels.
After bursting into prominence while skating on the deadly "Steel City Line" with Ryan Malone and Petr Sykora, Geno's production took a noticeable dip the past couple of seasons. While shoulder and knee injuries certainly played a big part, so did a lack of help. Saddled with a grab-bag collection of wingers that included a fading Ruslan Fedotenko and the woeful Alexei Ponikarovsky, Malkin tried to do too much on his own. The result was a decline in his overall play and effectiveness.
Thanks to a rigorous off-season training regimen with Pens strength and conditioning coach Mike Kadar, Malkin is thriving once more. From the opening drill in training camp it was obvious Geno was hungrier and more focused than ever before.
"I think this is my fifth year knowing Geno," Kadar said, "and I have never seen him this committed to wanting to get better and get well."
"I had a great summer," Malkin said. "I'm trying to step up my game and play 100 percent. My game is [to] control the puck and control the game."
A fresh set of wingers has helped. Geno has displayed wonderful chemistry with crafty Steve Sullivan and goal-scoring machine James Neal. No longer in a position where he has to beat other teams single-handed, he's meshed beautifully with his new linemates.
The results are plain to see. Over his first 16 games, Malkin has dazzled teammates and foes alike while piling up seven goals and 20 points. Like a black-and-gold locomotive barreling down the tracks, "the Geno Express" is gathering steam with each passing game.
"He wants the puck," Crosby noted. "He's all over the ice. He's aggressive. Every shift he's making something happen. Either he's creating something or getting a chance himself. That's when he's at his best, and it's fun to watch."
"He wants to win," Kadar said. "He's committed to winning the [Stanley] Cup."
*Be sure to check out Rick's new book, "100 Things Penguins Fans Should Know and Do Before They Die" at TriumphBooks.com. It features 296 pages of bios, stories, anecdotes and photos from the team's colorful past in a compelling, easy-to-read style. Whether you're a die-hard booster from the days of Jean Pronovost or a big fan of Sid and Geno, this book is a must have for any true Penguins fan.
Don't forget to check out Rick's first book, "Total Penguins," at TriumphBooks.com. A complete and comprehensive book on the team's rich and storied history, it's filled with season-by-season summaries, player profiles and stats, bios on coaches, general managers and owners, photos from the "Post-Gazette" archives, and much, much more.
*Be sure to check out Rick Buker's books,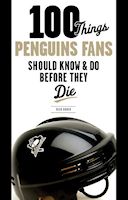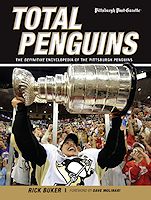 available at TriumphBooks.com, Amazon.com, and BarnesandNoble.com