They say confession is good for the soul. And I must confess, here and now, that I was not pleased with the moves made by Penguins' GM Ray Shero over the summer. (It should be noted the last time I felt this way the Pens won the Stanley Cup.)
I grudgingly accepted the defection of one of my all-time favorites, Max Talbot, because I knew plucky Joe Vitale was waiting in the wings. But I hated losing Mike Rupp, who I felt was an underrated performer and a key physical presence on a team that lacks size up front.
Nor was I especially thrilled with the players Shero imported to plug the gaps. I felt the black and gold got older, smaller, and not necessarily better when he inked thirty-something free-agents Steve Sullivan and Richard Park to deals, while allowing one of the better young players in the organization—Nick Johnson—to be claimed on waivers by Minnesota.
Boy was I wrong.
Although Sullivan's contributions haven't shown up on the score sheet (three assists in 10 games), he's been a godsend. Hale and hearty after missing significant chunks of time due to back problems, the crafty 37-year-old winger has generated a ton of scoring chances with his speed, savvy, and creativity, while giving the Pens' sagging power play a much-needed boost. On a team that doesn't always distribute the puck with pinpoint accuracy, his crisp tape-to-tape passes and playmaking skills make him stand out. It's only a matter of time before the puck starts going in.
Park has been terrific, too. Always an excellent skater and penalty killer, the 35-year-old native of Seoul, South Korea, has opened my eyes with his offensive skills. Patient and smart with the puck, Park hasn't looked the least bit out of place while filling in on the top line for Evgeni Malkin, picking up four assists in the last five games. And, he's been an absolute demon in the face-off circle, winning 58 percent of his draws.
It's apparent that Shero once again masterfully filled in the missing pieces to the Pens' jigsaw puzzle. The fact that he was able to sign Sullivan and Park without breaking the bank (a combined $2.05 million a year) reinforces his reputation as one of the finest GMs in the business.
I've learned my lesson. In Shero we trust.
*Be sure to check out Rick's new book, "100 Things Penguins Fans Should Know and Do Before They Die" at TriumphBooks.com. It features 296 pages of bios, stories, anecdotes and photos from the team's colorful past in a compelling, easy-to-read style. Whether you're a die-hard booster from the days of Jean Pronovost or a big fan of Sid and Geno, this book is a must have for any true Penguins fan.
Don't forget to check out Rick's first book, "Total Penguins," at TriumphBooks.com. A complete and comprehensive book on the team's rich and storied history, it's filled with season-by-season summaries, player profiles and stats, bios on coaches, general managers and owners, photos from the "Post-Gazette" archives, and much, much more.
*Be sure to check out Rick Buker's books,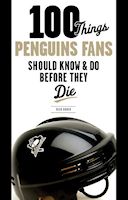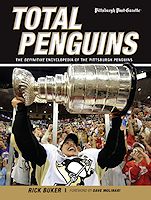 available at TriumphBooks.com, Amazon.com, and BarnesandNoble.com