When the Penguins signed Chris Kunitz to a two-year contract extension on October 13 worth $7.45 million, a hockey buddy of mine shook his head and lamented, "Why overpay for Kunitz?"
I quickly came to "Kuny's" defense. I told my friend the 32-year-old is bomb proof. Night in and night out he plays with jam, banging along the wall, mucking in the corners, and wreaking havoc in the crease. Best of all, I explained, he scores "dirty" goals—the kind every team needs.
My friend was unmoved. Kunitz didn't help my argument much when he started the season on a seven-game goalless jag. Since then, however, No. 14's been solid gold. The gritty winger has piled up 12 goals and 20 points over the last 27 games while emerging as the Pens' most consistent scoring threat behind Evgeni Malkin and James Neal.
"Kuny battles every night," Neal said. "You know what you're going to get from him every game. He's got more skill than people realize."
"[He's] just such a good hockey player," Pascal Dupuis said, echoing Neal's sentiments. "He is playing some kind of hockey right now."
To say respect came grudgingly for the Regina, Saskatchewan, native would be an understatement. Despite a prolific collegiate career at Ferris State, Kunitz was passed over in the Entry Draft. Signed as a free agent by Anaheim, he was claimed on waivers by Atlanta in October of 2005. The talent-starved Thrashers thought so little of the peppery forward that they released him back to the Ducks after just two games.
Upon returning to Anaheim, Kunitz finally hit his stride. Following a 19-goal season he blossomed into a highly productive energy player, piling up 25 goals and 60 points for the Cup-winning Ducks in 2006-07.
Seeking a scoring winger with sandpaper in his game, Penguins GM  Ray Shero acquired Kunitz and prospect Eric Tangradi on February 26, 2009 for talented but enigmatic Ryan Whitney. Coach Dan Bylsma was delighted.
"He's got a net-front presence, a physicality," Bylsma explained. "There's speed to his game, straight lines. A lot of it is how we want to play the game. He adds a part to the way we want to play."
Kunitz provided an immediate spark. In his first 10 games wearing the black and gold he tallied six goals. Although he struggled to find the net in the playoffs, Chris collected 13 assists (third-best on the team) and helped propel the Pens to a Stanley Cup.
Since then 6'0" 193-pounder has firmly established himself in the Steel City. After notching 13 goals during an injury-plagued 2009-10 campaign, he potted 23 last year while picking up the scoring slack in the wake of Sidney Crosby and Geno's season-ending injuries. He's emerged as a driving force in the locker room, too.
"The other part to Chris' game that has grown in significance since he's been here is his leadership in our room and leadership on the bench," Bylsma noted.
*Be sure to check out Rick's new book, "100 Things Penguins Fans Should Know and Do Before They Die" at TriumphBooks.com. It features 296 pages of bios, stories, anecdotes and photos from the team's colorful past in a compelling, easy-to-read style. Whether you're a die-hard booster from the days of Jean Pronovost or a big fan of Sid and Geno, this book is a must have for any true Penguins fan.
Don't forget to check out Rick's first book, "Total Penguins," at TriumphBooks.com. A complete and comprehensive book on the team's rich and storied history, it's filled with season-by-season summaries, player profiles and stats, bios on coaches, general managers and owners, photos from the "Post-Gazette" archives, and much, much more.
*Be sure to check out Rick Buker's books,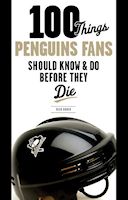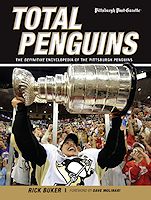 available at TriumphBooks.com, Amazon.com, and BarnesandNoble.com