During the first half of the 2011-12 season the Penguins have suffered enough injuries to keep a hospital staff fully employed. Given the hailstorm of misfortune, one has to wonder if the club inadvertently invoked some ancient curse by building CONSOL Energy Center on the site of a Native American burial ground.
The defense has been hit particularly hard. Each of the club's top seven blue-liners have sat out at least one game, with Kris Letang, Ben Lovejoy, Zbynek Michalek, and Brooks Orpik missing significant chunks of time.
However, as the old saying goes, every cloud has a silver lining. The rash of injuries has afforded youngsters like Simon Despres a chance to make an impression.
Thus far Despres (pronounced deh-PREY) has seized his opportunity. An excellent skater for a big man, the 6'4" 225-pounder has handled the puck with poise and skill. While not a banger in the mold of an Orpik, he's used his size effectively when the situation calls for it. Best of all, No. 47 hasn't been the least bit shy about joining the rush, collecting a goal and three points during his first eight games.
Not that the 20-year-old's success comes as a total surprise.
"He can move well, he can move the puck, and he's big," Pens assistant GM Tom Fitzgerald said. "I would say there's a bunch of things we like about him. We have high hopes for him."
Selected with the 30th overall pick in the 2009 Entry Draft, the rangy native of Laval, Quebec nearly stuck with the Pens following an exceptionally strong training camp in 2010. After returning to Saint John for a final season of junior hockey, Despres piled up 13 goals and 41 points in 47 games with the Sea Dogs, along with a sparkling plus-29. He was a force in the playoffs as well, posting 12 points in 19 postseason contests.
Now he's earning valuable on-the-job training at the big-league level and gaining confidence with each shift. So much so that the Penguins' brass might think twice about sending Despres back to Wilkes-Barre when the regulars return.
"It's obvious that he doesn't have any fear," Pens defenseman Paul Martin said. "He's just going out and making things happen every game. He's been very, very good."
*Be sure to check out Rick's new book, "100 Things Penguins Fans Should Know and Do Before They Die" at TriumphBooks.com. It features 296 pages of bios, stories, anecdotes and photos from the team's colorful past in a compelling, easy-to-read style. Whether you're a die-hard booster from the days of Jean Pronovost or a big fan of Sid and Geno, this book is a must have for any true Penguins fan.
Don't forget to check out Rick's first book, "Total Penguins," at TriumphBooks.com. A complete and comprehensive book on the team's rich and storied history, it's filled with season-by-season summaries, player profiles and stats, bios on coaches, general managers and owners, photos from the "Post-Gazette" archives, and much, much more.
*Be sure to check out Rick Buker's books,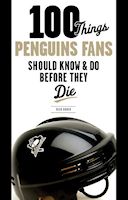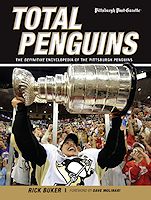 available at TriumphBooks.com, Amazon.com, and BarnesandNoble.com