When Penguins general manager Ray Shero acquired promising power forward James Neal and defenseman Matt Niskanen from Dallas last February for Alex Goligoski, there was no doubt he was anticipating good things.
"This is the hockey trade we've been looking for," he declared with an air of expectation. "Neal's a young, up-and-coming winger. His best days are ahead of him. Niskanen's a really good young defenseman."
Indeed, the trade looked like a good one on paper. While there was no denying Goligoski's potential, Neal had topped the 20-goal mark in each of his three seasons with Dallas. The smooth-skating Niskanen logged a plus-22 as a rookie in 2007-08 and totaled a respectable 35 points the next year. As an added bonus, both players were in their early 20s.
However, things didn't work out as planned. Struggling to justify the hype, the 6'2" 208-pound Neal managed just one goal in 20 games wearing the black and gold. Although Niskanen displayed occasional flashes, he looked to be no more than a depth defenseman. Meanwhile, the offensively gifted Goligoski was his usual productive self, piling up five goals and 15 points in 23 games with the Stars. Many Steel City fans were calling the trade a bust.
What a difference a year makes.
After being switched to the off-wing by coach Dan Bylsma during training camp, Neal arguably has been the Pens' best player through a quarter of the season. A force in the corners and around the net, he busts his hump to create scoring chances and isn't the least bit shy about firing the puck (a league-high 84 shots). Firmly established as one of the NHL's premier snipers, the Whitby, Ontario native has racked up a team-best 12 goals—including six power-play tallies.
Given his track record, Neal's stellar performance isn't entirely unexpected. However, Niskanen's play truly has been a revelation. Regarded as defensively weak by some experts, the former first-round pick of the Stars has emerged as the Pens' most reliable blue-liner. Although he hasn't put up big numbers (five points through 20 games), the mobile rearguard has played remarkably sturdy defense (plus-7), while displaying a surprising physical edge.
With no disrespect to Goligoski, who's nursing a thumb injury after a so-so start, the trade may go down as one of the best in Penguins history.
*Be sure to check out Rick's new book, "100 Things Penguins Fans Should Know and Do Before They Die" at TriumphBooks.com. It features 296 pages of bios, stories, anecdotes and photos from the team's colorful past in a compelling, easy-to-read style. Whether you're a die-hard booster from the days of Jean Pronovost or a big fan of Sid and Geno, this book is a must have for any true Penguins fan.
Don't forget to check out Rick's first book, "Total Penguins," at TriumphBooks.com. A complete and comprehensive book on the team's rich and storied history, it's filled with season-by-season summaries, player profiles and stats, bios on coaches, general managers and owners, photos from the "Post-Gazette" archives, and much, much more.
*Be sure to check out Rick Buker's books,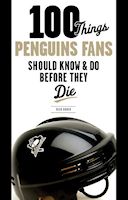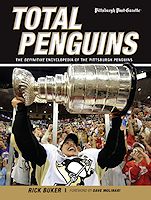 available at TriumphBooks.com, Amazon.com, and BarnesandNoble.com