In the wake of the post-lockout rule changes, there's a popular notion that demon speed prevails in the new NHL. The Penguins certainly have subscribed to that theory. Over the past few summers they've allowed bigger players like Hal Gill and Mike Rupp to leave town, while adding a host of quick but vertically challenged skaters.
A note to the Penguins' brass. Size still matters.
It's a simple matter of physics. Pit a larger player against a smaller one, and the bigger guy usually wins.
The point was pounded home during the black-and-gold's recent loss to San Jose. When the Sharks flexed their considerable muscle, the Pens were unable to cope. During one hideous sequence, the pint-sized pairing of Kris Letang and Matt Niskanen was completely overwhelmed by San Jose's big forwards.
There's no questioning the Pens' collective heart. But they sure could use a wide-body or two (where have you gone Gary Roberts?). Since they aren't likely to place a want ad in the Hockey News anytime soon, I'll do it for them. The ad would read something like this:
WANTED: Big power forward. Must win puck battles and drive to the net. Willingness to fight a plus. Also seek a big, strong defenseman. Penchant for aggressive play preferred. Apply to Ray Shero, CONSOL Energy Center.
On second thought, the Pens don't need to run an ad. They have two players in the system who fit the bill—Eric Tangradi and Robert Bortuzzo.
Bortuzzo is working his way back into game shape after rehabbing a knee injury. The rangy 22-year-old possesses qualities that would dovetail nicely with the Pens' banged-up defense: size (6'4", 212); decent skills (26 points and a plus-28 for Wilkes-Barre in 2010-11); and a willingness to scrap.
Likewise, Tangradi (five goals in ten games with the Baby Pens) should be promoted at the earliest opportunity. Frankly, the Penguins' handling of the 6'4", 221-pounder is baffling to say the least. During last spring's playoffs Tangradi was scratched in favor of the speedy but woefully inept Chris Conner, who promptly was released over the summer.
A lack of foot speed appears to be the big winger's most grievous shortfall—a serious flaw in coach Dan Bylsma's book. However, I'm not talking about grafting the kid onto the top line. Plug Tangradi into a fourth-line role in place of Dustin Jeffrey (miscast as a grinder), or better yet—in place of struggling Mark Letestu—and let him bang. It can only help the Penguins' cause.
*Be sure to check out Rick's new book, "100 Things Penguins Fans Should Know and Do Before They Die" at TriumphBooks.com. It features 296 pages of bios, stories, anecdotes and photos from the team's colorful past in a compelling, easy-to-read style. Whether you're a die-hard booster from the days of Jean Pronovost or a big fan of Sid and Geno, this book is a must have for any true Penguins fan.
Don't forget to check out Rick's first book, "Total Penguins," at TriumphBooks.com. A complete and comprehensive book on the team's rich and storied history, it's filled with season-by-season summaries, player profiles and stats, bios on coaches, general managers and owners, photos from the "Post-Gazette" archives, and much, much more.
*Be sure to check out Rick Buker's books,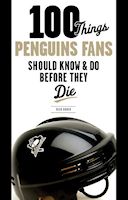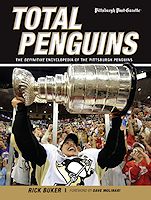 available at TriumphBooks.com, Amazon.com, and BarnesandNoble.com