When the horn sounded at the end of last nights game, it marked the end of the first half of the season for the Pittsburgh Penguins.  The Penguins themselves have less than twenty four hours from the end of the first half last night 'til the start of the second half tonight in Montreal.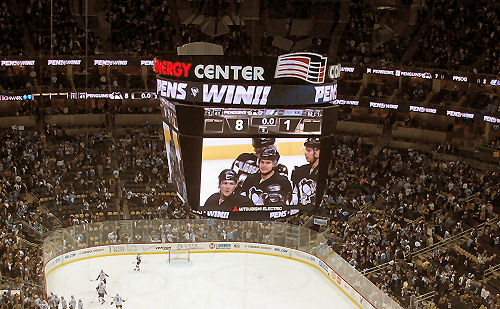 Most of their time will be spent traveling up to Montreal tonight to face the team that knocked them out of the playoffs last year.  Since they won't have time to evaluate the first half and to ponder the second half, we thought we'd get the group of writers here at PenguinPoop to do it for them.
We have a saying here at PenguinPoop that "We have more hockey knowledge in our body than you have in your entire pinky", that just being a little humor and all, the "body" of people writing here at PenguinPoop have probably been to more Penguin games in their lifetime than any other collection of Pittsburgh Penguins' writers on the internet. With that I give you some of our eight contributors thoughts on the first half of the season and what we have to look forward to starting with Horse who's been a Penguins season ticket holder for 37 years.

 Horse: From an overall team standpoint, the first half of the season went very well.  The Pens have as many points as anyone in the Eastern Conference.  For them to have success come playoff time, they are going to have to stay near the top of this race.  To date, the team's success has relied heavily on Crosby, Fleury, and the penalty killers.  The second half of the season will require help in some other areas to be as productive as the first half.  The easiest way for the Penguins to continue their good record would be to witness the reemergence of Malkin.  His increased productivity will improve the powerplay and with that, the Pens could really get on a good roll.  The return of Staal makes all of the lines better.  It is up to Bylsma to put the correct pieces together.  He will.  Many more wins are on the way.
Coach Bombay:  Two words sum up the first half of the season for me:  roller coaster.  But, what a heck of a ride it's been!  This season had so much excitement coming into it…a brand new arena, a lot of big and role player off-season acquisitions, the Winter Classic a couple of months away.  The team looked so good on paper.  Then the news of Staal's foot problems hit.  OK, we'd see how things went.  The team had an amazing camp and pre-season.  It looked like Shero had again worked his magic and the gem in the rough would be Mike Comrie.
And then, October came.  The team just seemed to fall apart in front of our eyes.  We had no offense, Fleury couldn't seem to find his game, our power play was non-existent, and the new Consol Energy Center seemed to be cursed.  Our defense and penalty kill seemed to be a little bit of a bright spot some nights.  Well, then Michalek and Orpik both suffered injuries.  We seemed doomed.  Some fans were ready to trade half the team, hang up all playoff hopes, and take to the bridges.  Then, something happened.  One night, the boys donned the dreaded baby blues.  That night the power play scored, Johnson came up big in net again, and the boys won a game at home.  Things seemed to be turning around.
What would shortly follow would be a turnaround, especially in November into December that would leave us all in awe.  The team went on a tear.  Amongst the highlights:  a 12 game win streak, Fleury was on fire, Crosby's 25 game point streak, a penalty kill that seemed almost impenetrable even without Staal, and even a power play that got on a roll.  Was this really the same team that started the season?  During that time, something bizarre, but wonderful happened.  HBO cameras rolled in to tape for their 24/7 series on the Pens and Caps…a behind the scenes look at the teams leading up to the Winter Classic that gave us an amazing look behind the scenes and insight into the day-to-day workings of the teams and the personalities of the players and coaches.  The days leading up to the Classic saw some disappointments for us Pens fans.  The winning streak ended, Sid's point streak came to an end, and the team started to struggle a little.  Winter Classic week was an amazing week of events, including the game itself, despite the disappointing loss to the oh-so-hated Caps (especially after I saw the "nice" names they used to refer to us in the conclusion of 24/7 last night).
Well, the pageantry of the Classic is over and it's time to get back to focusing on what's important…the rest of the season and getting back on track to put ourselves in good position for the playoffs.  And, that we did last night decisively in the final game of the first half of the season.  The keys to the second half will be the same as always.  The power play which for we all have the answer but for some reason the team can't seem to execute.  There is no excuse for a team with this much talent to have such a miserable power play.  I'll stop the broken record there.
The team has to be more disciplined and stop taking stupid penalties.  I don't know when the last count was, but I know that for a lot of the first half we were the most penalized team in the league.  Were some of them BS?  Yes.  But, we all know that we take a lot of dumb retaliatory and stupid penalties.  Along those lines, our penalty kill needs to keep kicking ass.  That's our only hope when we're spending half the game in the box.  We always need scoring from everyone, we work because we can roll four lines.  For a while, we got away from that and let Sid carry the load.  Last night, we showed our depth.  The amazing thing about those eight goals…Crosby and Malkin each only had one point…everyone was chipping in, all lines and defense.  That's what makes us such a tough team to play against.  Our defense has been outstanding and it needs to continue to be.  I had high expectations of Michalek and Martin and they haven't let me down.  Michalek is a beast on the blueline.  I know some fans are down on Martin because they expected a scoring machine.  Martin will quietly put up points, he's a guy you won't notice but will help with things like skating the puck in and getting the plays going.  He does have offensive talents, but give him some time…remember, he played for years in New Jersey where his offensive abilities were stifled.  I've been greatly impressed that Letang has stepped up his offensive game as his confidence has grown, every once in a while he just has to remember not to leave his defensive partner hanging back there too much.  Goligoski just needs to be better.  Engelland has earned his spot and contract extension.  Asham has been a pleasant surprise with his skill, I just wish he'd get more time, especially since he seemed to develop chemistry with Malkin.  I hope they keep Staal on the second line, especially since Letestu has proved that he's more than capable of holding down that third line of energy that I really love for right now.  Oh, Malkin, we see the flashes of the Geno we know and love…I just wish those would stick around for longer periods of time.
I would love to say more, but Krundle threatened my life if I went on too much.  OK, not really, only kind of.  I want to thank the guys for giving me the chance to come aboard and thank all of you for reading, the support and positive feedback, and commenting.  It's been fun.  As things in real life settle down over the next month or so, I look forward to posting more often and interacting more with all of you.

 Phil Krundle: From a franchise standpoint, the Penguins have never looked better.  A new arena, the Winter Classic, 4 players voted into the All-Star Game, the top scorer in the league and the Penguins are number one in their conference.  I could go on all day about all of that, but I thought I'd mention a few players that I consider unsung hereos from the first half of the season.
First off, Alex Goligoski, the Goose.  This guy has done everything a $5 or $6 million dollar defenseman does.  People complain about his defensive abilities, he is #4 overall in the entire NHL in plus/minus.  People complain about his offense.  He leads the Penguins in game winning goals.   Seriously, how much do you want from this guy who's paid $1.5 million in his second full NHL season?
Derek England, I didn't understand why he was starting over Lovejoy, I get it now.  Having an enforcer be able to play on Crosby or Malkins line at any time without affecting the offense is a huge plus.  Letestu, same, I didn't get it.  I was sold on Tangradi.  He has proven to be an NHL caliber player and a valuable asset, I didn't believe it until I saw it.
And then there's Malkin.  Not an unsung hero by any means, but with what he has gone through this season he has earned a mention.  We're going to change you to a winger on a line with Staal.  Staals out.  We'll move you to center, here is a winger Comrie.  Comrie's out injured. Let's move you back to wing, now your injured.  I had Malkin pinned to win his second scoring title in three years because I thought he'd finally have some stability again.  Here's hoping the second half he can find the stability he needs.  The Penguins have the team needed to make a great run this season.
The only thing I'm a bit worried about from a team standpoint is that the Pens are wooping on the not so good teams and not playing as great against the better teams.  This is exactly what the Capitals have done the last three seasons, then they had early exits from the playoffs.  Lets hope this Pens team is different.

 Southside Shultzie: It's that time of year where I hand out the Southside Shultzie's Silver Slugger award and that goes to (drum roll please) the Pittsburgh Penguins!  Yes our flightless birds lead the league in many stats but the one I am most excited about is that we lead the NHL in Fights at 40!
To put things into perspective the Pens had 48 total fights in the 2009-2010 campaign and a less than stellar 39 fights the entire 2008-2009 season.  Some have said that fighting leaves a "black eye" on the sport of hockey and that it has no place in the NHL. My reply is simple, "Shut up and sit down Perez Hilton!  I'm trying to watch the nominees for best rap video"!!!!  The idea that our Penguins extended the contract of Derek Engelland further solidifies the notion that we are on a mission to defend and protect our team, especially our All-Stars.
Maybe if Mario had worthy enforcers back in the day he would still be playing.  Speaking of #66 and fistucuffs, check out this youtube link to a monderfull collection of Lemieux's greatest hits (as in fights) http://www.youtube.com/watch?v=ZzyAPkB5m2Q&feature=related.  One strange anomoly in my acceptance of fighting being neccessary for success is the fact that the Detroit Redwangs (no typo) have consistantly been at the bottom of the bout list.  They fight less than a the French Navy!  No wonder they can't put asses in the seats! Maybe they should invite the French Navy?

 Disco Stu:  Well, the first half is now officially in the books, and what a finishing chapter it was to that first half with what had to be the Penguins' most dominating performance of the year, an 8 – 1 victory over the Southeast Division leading (That's right Cap's fans) Tampa Bay Lightning.  The Pens currently lead the Eastern Conference in Points although they do have two games in hand on the Flyers and are only two points behind the Vancouver Canucks for the overall lead (Again with two games in hand).  The Penguins are currently 26-12-3, and really, after the way they started, who could say that this is how they thought the first half would end especially, when at the end of October, they stood a pedestrian 6 – 6.  Since that time, they have gone 20-6-3 including rattling off 12 wins in a row at one point.  The Pens have done this despite a rash of injuries to Staal, Malkin, and Michalek as well as some absolutely horrendous play from Marc-Andre Fleury to start the season.
The second half of the season officially kicks off tonight with an away game in Montreal, a place that has long given the Penguins nightmares, and it will be interesting to see what kind of carryover they can have coming off of last night's rout of the Lightning.  The Pens have 19 home and 22 away games in the second half with some interesting schedule quirks including a visit by the Red Wings that for once will not be on NBC or Versus, back to back road games against the Maple Leafs five days apart.
Barring injuries, I really don't see much changing for the Penguins in the second half of the season.  They have ample depth so that they can continue to rest certain players and keep them fresh.  When they have needed to call players up from WB/S to fill in, they have all meshed nicely and even contributed (Dustin Jeffrey).  I'm sure at the trade deadline, Ray Shero will attempt to work his magic again and try to acquire a top flight winger to play with Sid or Geno.  I was going to say that due to the Penguins' depth at defense not only at the big league club level but through the entire organization that the player most likely to go at trade deadline time would be Alex Goligoski, but then he has to go and drop four points 1/G 3/A on the Bolts last night as well as getting moved to the point on the first power play unit.  I know of one guy whose team is looking to move him that I think would go well with the Penguins, and that is Nicholas Bergfors of the Thrashers.  He supposedly can be had for a top prospect or a high draft pick.  He has always been a Penguins' killer, and I think he would look great in Black and Gold or Light Blue and Navy or whatever color combination those Winter classic jerseys were.
This writer's pick.  Pens finish second to the Flyers by two points and enter the playoffs as the number 4 seed.

 Art Vandelay: In a nutshell here is how I think the second half will play out:
1. Penguins need to keep Geno interested.
2. Penguins have their usual February slide.
3. Possible trade bait Max Talbot.
4. Possible winger help Eric Tangradi.

 Reg Dunlop: The Pens reached the halfway point on a high note last night by completely dismantling the Tampa Bay Lightning.  It helped me recover from the disappointing Winter Classic.  Currently the Pens are on top of the Eastern Conference and tied for second to only Vancouver in the entire league.  That doesn't seem like a bad place to be.
They have cooled down a little bit after the tremendous stretch they went on, but the return of Staal should get them back on track (see last nights game results).  I like the way this team is built.  They have the right pieces in place.  Their team chemistry, again, seems to be something special.  Fleury is back to playing like Fleury could and should play.  Plus, I expect Geno to start putting up numbers like he should.
All of this, it would seem, adds up to a good opportunity to make another run at the Cup.
By the way, two highlights from the 1st half that have come in the last two games: Ovechkin falling on his neck trying to take a shot in the Winter Classic and Stamkos blowing a tire on a penalty shot last night.