The Penguins game plan for tonight's 7:38PM tip off in Tampa should be a simple one. Stop Tampa Bay from scoring in the first period. To do this the Penguins need to play strict defense, Kris Letang can't be pinching in taking chances until later in the game.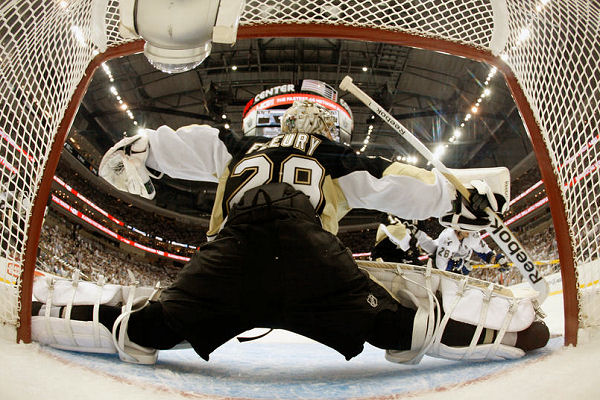 Last game, Tampa Bay had 20 shots on goal, Fleury only stopped 16 of them.  I would like to use cooler lines like "Fleury's play was less than spectacular" but I'm not going to beat around the bush. Fleury had a bad game. It happens to the best of them.
Lecavalier's goal on the Lightning's Power Play is the only one of the four goals that you could say he was not at least indirectly responsible for. The first goal was a two on one, Orpik played it perfectly stopping the pass and forced the shooter wide. The second two on one Fleury kicked the rebound right out to the slot and St. Louis's goal, I still don't know how he let that go in.
The Penguins have out shot Tampa by 26 shots in the first two games. The difference in both games has been the goaltending. I think it's safe to say that if the series plays out this way, I would take Fleury in a heartbeat. That being said, I'm going to start off my keys to winning with this:
Key to winning:
Marc Andre Fleury needs to play better.
Shake off the loss.
Lecavalier needs to be covered in front of the net, if St. Louis's goal did not go in, he would have scored.
Stop Tampa's first period rush.
Get more than one goal in the third.
The Powerplay MUST score.
Are the Penguins giving up too much information? Dan Bylsma said about Tampa Bay's penalty kill: "They're a team that likes to pressure out initially, dealing with that pressure and then the opportunity to exploit the space they are creating underneath that pressure. A lot of it is execution more than certain positions." When Tampa's coach Boucher was asked how he would react to that he said: "There's a lot of things, and I certainly wouldn't talk about it,"
The Pens held an optional skate today, lines were not given.  Maybe they're learning not to give up too much info.
It has been suggested that the Penguins need some lineup changes. The only one I can see as a maybe is bringing in Engelland and sitting Niskanen. It's not that Niskanen has done a poor job. I think the two are about equal, yet Engelland adds a bit of muscle clearing Tampa out in front of the net. I'm not sold on this change though.
Tampa Bay will be handing out 15,000 "Rally Drums" tonight. If your not familiar with a Rally Drum, it is a fly swatter with two balls attached to it. Your not allowed to play music in the arena while game is being played so here is 15,000 drums. Am I missing something? I think the NHL not only needs to stop people from bringing in acoustic instruments like the fluegel horn in Washington, they definitely shouldn't be handing them out. Why not have band night in Pittsburgh where everyone brings an instrument and plays it while the other team is on the powerplay.
Last game day poop I was fooled by a report in the Tampa Bay paper that they were going to use 7 defensemen instead of six. Great trickery, possibly also caught the eye of the Penguin coaches. Yesterday the papers are saying Stamkos is practicing on the same line as Lecavalier and St. Louis. They're also saying that Tampa coach Boucher is looking to match up Lecavalier's line with Staals. I'm going to quote George W. Bush here (the way he quotes people) Fool me once, something or other about fooling me once. Fool me a second time, well, I'm not going to let that happen.
If you haven't heard, Batman is looking to destroy the former home of the Pittsburgh Penguins. Batman "Dark Knight Rises", the third installment of the latest Batman legacy is filming in Pittsburgh and rumor has it being able to explode the Civic Arena and use the footage was a bargaining chip to get the movie to film here.  They've yet to announce who the villain will be in the movie, but my guess now will be Oswald Chesterfield Cobblepot. A simple deduction beings that there exploding the Igloo. Read more here: Dark Knight Rises
No excuses. The Penguins don't lose because Crosby is out of the lineup, they win because he is in it. Last I checked, the other 29 teams don't have Crosby either.
Tampa Bay as of the time of this article still have a couple hundred seats for sale for tonight's game. Expect a big Pittsburgh contingent.
PenguinPoop writer Southside Shultzie made this in his spare time:
Game time is at 7:38PM.  The game can be seen in super high definition at the St. Pete Times Forum, regular HD on the Civic Arena parking lot or on ROOT Sports.  LETS GO PENS!
* The "Gameday Poop" is provided to give you enough information to sound intelligent while talking about hockey for 10 minutes. Anything after that and your on your own.