The three words that describe the Penguins special teams are as follows, and I quote, Stink, Stank, Stunk. Laugh as you may about the old chestnut "decline the powerplay", but according to the numbers the Penguins stand a better chance of scoring if they're at even strength.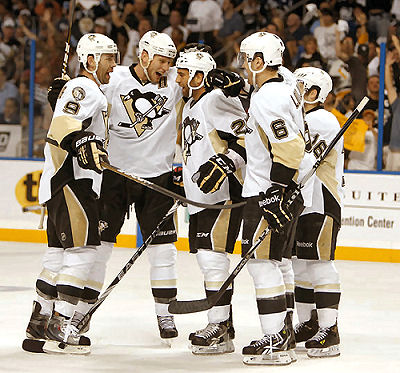 The reason Tampa Bay's powerplay works and the Penguin's powerplay doesn't is "puck movement". When your watching the game tonight, watch how fast the puck gets passed around by Tampa Bay, especially from forward to defenseman. They dictate what happens. Then watch the Penguins powerplay and watch them not move the puck until someone is approaching them. 
The wait and see plan of attack or lack of attack didn't work that great when Sidney Crosby and Evgeni Malkin were running the powerplay, why would they think it would work now. The Penguins on the powerplay need to know what they are doing with the puck before they get it. Twice last game when Kovalev got the puck he had a wide open lane straight to the goal and he decided to wait until a Tampa Bay player came to him. Be proactive, and for gods sake, shoot the puck.
All of this being said, oddly enough the Lightning stand a good chance of being on the golf course next week talking about how they have the best powerplay ranking and penalty kill ranking in the playoffs.
Exactly one year ago today the Penguins beat the Ottawa Senators 7-4 and took a series commanding 3-1 lead. The Penguins had 2 powerplay goals and a short handed that game.
Keys to winning:
I would love to say special teams, but the Pens keep winning even though special teams are failing.
Stay out of the penalty box, if their power play doesn't start, it can't finish.
I've got a feeling Neal is going to come up big tonight. 
Play very smart defense the first period.
Puck movement (see above)
I picked on Fleury's performance in the second game, so I must give him kudos for another great performance last game.
Tyler Kennedy…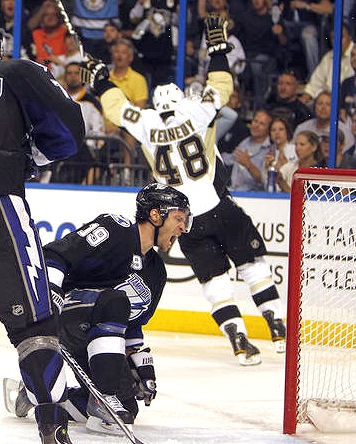 Wait for it…
The second coming? Arron Asham has scored two goals this playoff series, both were within seconds of the Penguins scoring their first goal of the game. This guy needs to be on the ice right after the Pens score for the rest of the playoffs. Even though he only played 44 regular season games, he has earned his salary with just what he has done in the playoffs so far. He also deserves a look at being signed next year.
If you haven't heard, Chris Kunitz and Steve Downie were each suspended one game for their misadventures last game. What happened to the if you have a history you get more games? According to the history theory, Steve Downie should have gotten a bigger suspension than Matt Cooke's suspension this year.
In Pittsburgh here we all fell for Colin Campbell's giant suspension of Matt Cooke because of Cooke's history.  It turns out Colin Campbell suspension of Matt Cooke was just as I claimed when it happened, the NHL's revenge against Mario Lemieux making a public statement.  Colin Campbell has the brain of a 10 year old and needs to be relieved of his duties if the NHL is ever to stop being a garage league.
Yes, I said Duties.  Go ahead and laugh.
Who will replace Kunitz this game?  My guess is Mike Comrie, but Eric Tangradi is also in the mix.  We will let you know how it pans out.
Sidney Crosby has been practicing basketball all week. Coach Bylsma has said that nothing has changed in his status, but it seems to me that something must have. That is unless part of the testing is to have him take a break for a few days to test him again to see if he's ready for the next stage. Someone's not telling the truth somewhere, I may have to declare shenanigans soon.
…Kennedy.

Tampa Bay's mascot is Thunderbug??  What the H.E. double hockey sticks is a Thunderbug?  Thunderbug's and lightning are very very frightening to me. Galileo…
Southside Shultzie is back at it again, he found secret footage of Martin St. Louis pre game skate from last game. Apparently PenguinPoop purchased advertising on the board's in Tampa also.
Game time is at 7:05PM.  The game can be seen in super high definition at the St. Pete Times Forum, regular HD on the Civic Arena parking lot or on ROOT Sports.  LETS GO PENS!
* The "Gameday Poop" is provided to give you enough information to sound intelligent while talking about hockey for 10 minutes. Anything after that and your on your own.