The PenguinPoop prediction debate is on.  For the first time that I can remember one of our writers is saying they think the opposing team will win.  Some are saying  the Penguins are underdogs and some are saying they think the Pens fans think that Tampa will be a pushover.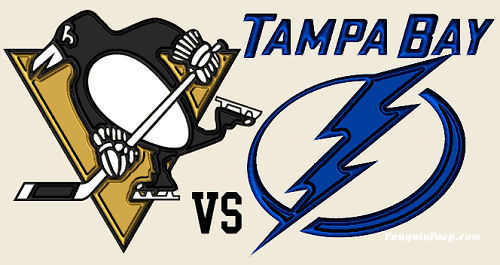 We have a saying here at PenguinPoop that "We have more hockey knowledge in our body than you have in your entire pinky", that just being a little humor and all, the "body" of people writing here at PenguinPoop have probably been to more Penguin games in their lifetime than any other collection of Pittsburgh Penguins' writers on the internet, heck one of us even wrote the book on the Penguins…  literally – check out  "Total Penguins,"  Here are eight PenguinPoop writers predictions of how round 1 of the 2011 playoffs the Pittsburgh Penguins vs Tampa Bay Lightning playoff series will end up.  Starting with Horse who's been a Penguins season ticket holder for 37 years.

 Horse: This is the matchup that most members of the media felt was best for the Pens. I would have preferred Buffalo. That is not the case. Tampa Bay has a more productive group of forwards and a much more effective powerplay, led by Martin St. Louis. The Penguins have a much stronger defense,  strong penalty killing, (1st overall), and a big edge in goal.   Which the team will be able to use their advantages to their success and win this series.  The Penguins will play disciplined hockey and limit Tampa Bay's powerplay opportunities. They will get some scoring from strange places and win the series in 6.

 Rick Buker: I've never been a big fan of prognosticating, mostly because I'm nearly always wrong. And this series is proving to be an especially difficult one to handicap. My head says Tampa Bay will win; my heart says the Penguins. It's hard to overlook the Bolts' edge in top-drawer talent. Shorn of the Two-Headed Monster (Crosby and Malkin), the Pens simply don't have anyone who can match the likes of Steven Stamkos, Martin St. Louis and Vincent Lecavalier. St. Louis, in particular, scares me, along with Tampa Bay's potent power play (second in the league). And, they have depth up front with guys like Steve Downie and ex-Pens Ryan Malone and Dominic Moore. However, the Pens do have an edge in some areas. I think they're the stronger defensive team. Marc-Andre Fleury was the best goaltender in the league from November on. Chris Kunitz and Tyler Kennedy emerged as consistent scoring threats. The third and fourth lines played extremely well down the homestretch. And no team can match "the Peskies" in terms of heart, grit and tenacity. If the Penguins can get to their hustling, puck-possession game and keep the pressure on 41-year-old Dwayne Roloson, while limiting the Lightning's power-play opportunities, I think they have a fighting chance. I'm going with my heart over my head and picking the Pens in seven.

 Reg Dunlop: I have a feeling that most of the Pen's faithful feel like this series is going to be easier than it actually will.  The Pen's lack of scoring recently has gotten me very concerned about the playoffs.  Getting goals is not going to get easier in the playoffs as all teams traditionally play a much tighter defensive style once the games really count.
The lack of production from two guys the Penguins acquired to add scoring is going to be a problem.  Unless Neal and Kovalev really step up their production (there are no shootouts in the playoffs), scoring is going to be hard to come by.   Actually, there are a bunch of guys who need to step up their production.  Kris Letang has not added much offense since Sid went down.  Staal needs to take his game to another level.  He is "The Man" on the team now.  We need him to get the big goals.
Tampa Bay has a lot of talented players.  They do not lack the scoring punch that the Penguins do.  Sure, Stamkos has been less than stellar for quite a while, but I don't expect to count on him continuing his scoring drought for the playoffs.   Martin St. Louis loves to play against the Penguins.  This is the kind of guy Zbynek Michalek was brought in to stifle.  Z and the rest of the defense will need to be good against St. Louis and his linemates.
We know the Pens can play a good defensive game now.  I think we can look forward to their defense getting even stingier in the playoffs.  One of the keys to this series (outside of Crosby's possible return) is going to be the play of Fleury and Roloson.  Fleury will have to be better than Roloson for the Pens to have a shot at winning this series.  The other key is going to be Coach Dan Bylsma.  He has done a wonderful job keeping this team on track through all the adversity.  I think he can make a difference in this series.
I think the Pens need to find a way to "hate" the Lightning.  There is no real rivalry here.  This is how it felt going into the Canadien's series last year.  Maybe Steve Downie will add some fuel to the fire.  This is a guy that really gets under people's skin.  The Penguins need to find some ulterior motivation for this series.
With all of this said, I am just a Penguins fan like everyone else here.  I expect the Pens to win in 7.

 Southside Shultzie: The Pens are going to have to dig deep and keep their noses clean in order to have a chance to win this series.  Fleury is going to have to continue allowing less than 2 goals per game for the offensively depleated Pens to have a chance.  To help out Flower's cause the Pens are going to have to ride a thin line between playing aggressive hockey and staying out of the penalty box.  To win this series the Pens are also going to need to share the wealth in scoring.  I'd like to see every forward with at least a point by the end of this one! Maybe Neal will make the best of his hustle and work ethic and bury a few goals from in from of the net.
KEYS TO SUCCESS: The great equalizer is Disco Dan's relentless belief on the importance of conditioning!  Whether a role player who doesn't see much ice or a first line center, the Pens are ALL very much in amazingly great shape and will skate circles around the Lightning, especially in the 3rd period.  Remember that there are no shoot outs in the playoffs and that overtime is a full 20 minutes.  One or mare of these games will go to overtime and the team with something left in the tank will win.
Discipline is a MUST!  It might not take long for the Pens to make the officials forget that the Pens are one of the most penalized teams in the NHL if they come out and play 100% good, solid , disciplined hockey.
Power play:  For the Pens to win they are going to have to solve their pitiful power play.  For some reason I'm thinking that they find their stride just in time to bury a bunch of PP goals this one.
PREDICTION:  Pens  win in gritty game 7!  (1 or more games go to OT.)
 Coach Bombay:  I've been looking at predictions from all over the place and scratching my head, suddenly the 106 point Penguins seem to have turned into the underdogs in this series.  We all know that the Pens have are struggling offensively.  Without Crosby and Malkin, guys like Kunitz and Kennedy have really stepped up their game and we need them to keep doing so.  Though Staal is normally relied on more for his defensive talents, we really need him to come up with a few goals, the same for Talbot.  Now that Letestu appears to be on the top line, I expect to see more production from him.  But, where we really need to see some goals come from are Kovalev and Neal.  Those two really need to turn it up a few notches.  It will be interesting to see if Comrie gets a chance and what he does with it and I'm excited to see Asham play since he really turned it on for the Flyers last year in the post-season as a role player.
Luckily, the Pens defense has been solid all season.  Tampa Bay has all of their big guns.  Most importantly is to stop St. Louis.  It's always important to stay disciplined which the Pens have a hard time doing.  Once again, we're lucky that our penalty kill is first rate.  However, I'd rather not see us press our luck too much against the likes of St. Louis, Stamkos, Lecavalier, etc.  Lovejoy, who got off to a slow start, had an amazing season, but looked to be slipping a little the last couple of games.  Hopefully a few days off will get him back to the player he became.  Letang really needs to get his game back on both ends and come up big.  Overall though, I'm not worried about our defense.
Playoff games tend to be low-scoring games that come down to goaltending.  Hmmm…the Pens have played a lot of those lately.  Roloson may have save the Bolt's butt a few times, but Fleury is playing out of his mind.  If something were to happen, we are very fortunate to have a more than capable backup in Brent Johnson.  No need to really even talk about goaltending for the Pens.  I just don't think Roloson has what it takes to stop the Pens if they can throw enough shots on goal, and Smith is even worse.
Both teams have a lot of players with playoff experience, so no team has the advantage there.  I'm not even going to talk about the Pens power play because it's just silly to do so at this point.  Tampa doesn't have the best group of defensemen, but they play a 1-3-1 and asking this team to play against the trap is just as frustrating as the power play.  The key is for everyone to contribute and score a couple of goals early and then lock it down defensively.  The Pens have to keep it simple and take advantage of any possession they have to throw as many pucks as they can on net and play their fast, hard-hitting style to wear the Bolts down.
Everyone I've heard who has picked the Pens thinks this will go 7.  The boys like to win series on the road though, so I'm taking our underdog Pens in 6.

 Disco Stu:  The Penguins square off Wednesday night against the Tampa Bay Lightning for Game 1 of a best of seven series to begin the 2011 playoffs.  This will be the first time these two teams have ever met in the playoffs so there will be no historical bad blood between them to start the series although I would imagine by Game 3, there should be plenty of dislike between them.  The Penguins and the Lightning are actually two of the hottest teams heading into the playoffs right now with the Penguins having gone 8 – 2 in their final 10 games and the Lightning 7 – 3.  This series is going to come down to one major confrontation, the Lightning's offense vs. the Penguins defense/goaltending.  While Tampa Bay has scored 56 goals since the beginning of March, they have also let in 50 whereas Pittsburgh's totals are 46/39.  The Penguins have pretty much owned 40 year old Tampa netminder Dwayne Roloson over his career while Fleury has fared fairly well against Tampa Bay but only going 2 – 2 this year.  Another key factor will be the Penguins ability to convert on the Power Play against a somewhat suspect Tampa Bay penalty kill.  Pittsburgh has struggled with power play efficiency not only this season but for several in a row.  Now might be a really good time for them to get it to start clicking.
While I would absolutely love for the Penguins to win this series and move onto the next, my prediction is going to be Tampa Bay in 7 with at least three games decided in overtime.  (I really really really hope I'm wrong on this one)

 Art Vandelay: Pens in six! If the Penguins defense can shut down Marty St.Louis. St. Louis has owned Fleury. Everyone talks about the fact that there is no shoot out in the playoffs that will hurt the Penguins chances of winning in the playoffs. I say great because Marty is the difference maker in the series. Pens hold Crosby to round two.

 Phil Krundle:
 It would be easy to say the Penguins are going to lose this series. The Lightning are loaded with talent and the Penguins are missing Crosby and Malkin. Though Tampa's coach Guy Boucher is making his game plan around the fact that Crosby will be playing "
They're (the Pens are) a great team. With him (Crosby), they're an amazing team. We're playing against a great or amazing team, so we have to be at our best
." I got a feeling the Lightning and their coach are underestimating the Penguins without Crosby.  Tampa lost 8-1 on January 5th to the Penguins using that assumption.
The Penguins are going to be all about the defense. Their penalty kill has been #1 all season and they're going to need it to be #1 this series. The New Jersey Devils made a living out of playing defensive hockey in the playoffs and the Penguins have the defense and system in place to play that way. On Offense I predict James Neal is going to come out of his shell and put some in the net.  Neal is built for playoff type hockey.  Kovalev's experience will allow him net a few also.
Fleury going to have to come up big. I believe the Penguins will win the close ones and will lose in blowouts, they may even get outscored for the series, yet the Pens will win it in 6.
——————————————————-
Go PENS!
.