There is so much to get to this morning.  TSN is calling for Tyler Kennedy to be suspended, Buffalo's coach has called the Flyers "Whiners" and who should be singing the National Anthem.
Before I get into all of that, the Penguins have Tampa Bay on the ropes and are ready to deliver the knock-out blow, hopefully the first of many knock-out blows delivered by the Penguins at the Consol Energy center.  Tampa is going to be playing desperate hockey and everyone knows desperate hockey teams do stupid things, they take stupid penalties and many times over skate plays. The Penguins need to take advantage of this.  The defense must continue to not take chances and should clear the zone fast.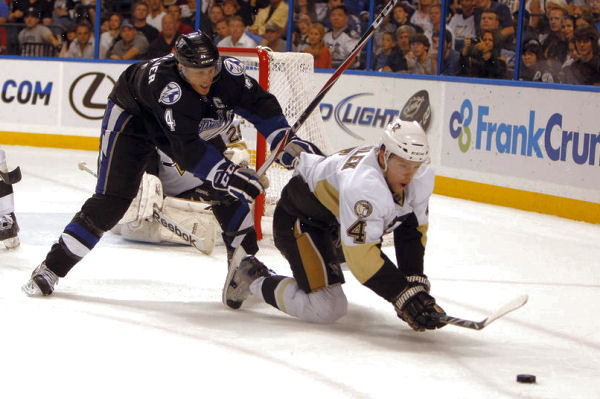 The Penguins unsung hero so far in this playoff series has to go to Zbynek Michalek. He's averaging 28 1/2 minutes of ice time per game and is out there against Tampa's top line and has a +/- of +2 and has an assist. 
I'm not super sold on Penguins defenseman Matt Niskanen and apparently neither are the Penguins' coaches. Niskanen saw only 11 minutes of ice time in the double overtime game and it was very disappointing when Tampa Bay scored after 5'8″ Martin St. Louis threw Niskanen across the Pens goalmouth right before Tampa's Bergeron scored the game tying goal. Niskanen needs to be better than that.
With Kunitz returning to the lineup Tangradi will sit and the Penguins will return to the lines they used in the first three games.
Here is today's Lineup:
Kunitz-Staal-Kennedy
Neal-Letestu-Kovalev
Dupuis-Talbot-Conner
Rupp-Adams-Asham
Key to winning the series:
Tampa will be playing desperate hockey, the Penguins need to match their intensity. 
Smart defense, no stupid chances. The Pens have done a great job stopping the breakaways and odd man breaks.  Take them away and Tampa doesn't have much else.
Keep shooting. Tampa's goaltender Rolosen is due for his bad day. Could it be today?
Tyler Kennedy is being accused by a crack staff at TSN including Dregger of kicking Eric Brewer of the Tampa Bay Lightning with his skate. ex-NHLer Aaron Ward even thinks Kennedy should be suspended for a game.  Craig Mctavish the only one with any sense on the panel withdrew from answering whether or not Kennedy should be suspended.  I think he thought the whole idea of it was stupid. You can watch it here:   Kennedy Kicking Brewer
This will make your day. You know how the Flyers and Flyer fans always call Sidney Crosby a whiner. The Flyers got called out by the Buffalo Sabres coach. Lindy Ruff had this to say about the Flyers: "They're really doing a lot of whining. I didn't hear any whining when they had 10 power plays in Philly, and I didn't hear any whining when the power plays in the first game were lopsided, but all of a sudden, there's all this whining"  It's something we all already knew here in Pittsburgh.   Even better, Buffalo won again last night and leads the series 3-2.
James Neal first playoff goal ever was a whopper. Neal also loved his playoff history commercial saying: "I just saw it on the internet. It was on the Penguins website so I got to see it on there. But yeah, it was pretty cool"
They are calling Bob Errey a profit because of how he called the Neal goal a second before he got it. They are also saying Errey knows why Humpty Dumpty fell off the wall and where Waldo is before Waldo knows where he's at, but that may all be rumor.
We posted the video with more of what Errey said on our Facebook page two days ago.. you can find us on Facebook by clicking on the "f" on the top right.
A PenguinPoop hats off to ex-Pittsburgh Penguin and Penguin draft pick Andrew Ference who scored a goal for the Bruins and proceeded to give the Montreal Canadien fans a much needed middle finger. Everyone knows that if it wasn't for Philadelphia fans, Montreal fans would be the worst fans in the NHL. Andrew was fined $2500. For that amount he should do it every time. Thank you Andrew!
Bob Timney or Jeff Jimmerson? the Penguins regular National Anthem singer Jeff Jimmerson made the mistake of being on vacation the first game of the Penguins playoffs and he was replaced by unemployed Army Reserve sergeant Bob Timney. When the Penguins won the game, Timney was called back in for game two even though Jimmerson had returned from vacation. Then the Penguins lost game two. Timney has still been called back in to sing today.  I personally liked the job Timney did and how he supposedly got the fans going. Its the playoffs, the fans get like that anyway. My vote goes to Jimmerson. He has always taken time to stop and talk with the fans and take pictures. Plus he's a Pittsburgher, not an out of towner. I would take Timney any time Jimmerson isn't available though.
I get asked a lot who Sidney Crosby is talking to when he has the headset on in the Penguins' executive box. If you must know, he is talking to Penguins assistant coach Tony Granato.
PenguinPoop Additional Reading:
Coach Bombay thinks it's time the fans from other teams  quit whining!  Bombs Away: Quit Your Whining!
Rick Buker thinks the Penguins Fourth Line Hauls the Freight … and More
Game time is High Noon. Wear your white it's a white out & they will be handing out 84 Lumber Rally towels.  The game can be seen in super high definition at the Consol Energy Center, regular HD on the Civic Arena parking lot or on ROOT Sports.  LETS GO PENS!
* The "Gameday Poop" is provided to give you enough information to sound intelligent while talking about hockey for 10 minutes. Anything after that and your on your own.