The Penguins that will be wearing the Penguin uniform on the ice tonight and the coaches that will be standing behind them have played half a season without Crosby. They have worked their asses off to get the tiny crumb of respect that the media has given them. Why are Penguin fans not giving them any respect?
I'm sorry, today's Gameday Poop is more of a rant than anything else.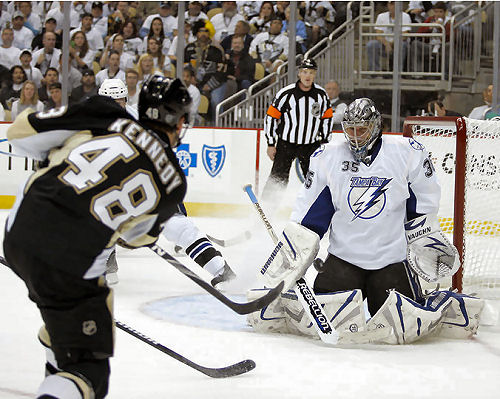 I am aware that only about 10% of Pittsburgh Penguin fans are band wagon fans, but why is it that every band wagon fan calls the radio talk shows? I made the mistake of listening to talk radio over the weekend and it was band wagon fan galore. People were saying what does it matter if the Penguins win this series, they won't win the next one and they don't stand a chance of winning the cup without Crosby and Malkin anyway.
I did enjoy when one of the radio hosts called out a fan who was saying that exact same thing I just mentioned and it turned out the Bandwagon fan didn't even watch the game. I reverted back to my old "don't listen to post game or talk shows" real fast.
If you need reason to believe the Pens can win the cup, you need not look further than the 2003 New Jersey Devils. They didn't have anyone even near a Crosby or Malkin. The Devils top scorer during that regular season had only 55 points yet
they won the Stanley Cup playing as a team.
99% of the teams that have won the Stanley Cup have done so without Crosby & Malkin.I predicted in the PenguinPoop's writer predictions that the Penguins would win in six games. I also said that they would win the close ones and lose by wide margins, possibly even being outscored for the series. We will see how this goes tonight.
Things the Penguins need to do to win tonight:
Fore check like crazy.
Clear in front of our net.
Play like it is game 7, Tampa will be.
Hello Jordan Staal?  I'm calling you out.  0 goals, two assists in 5 games.  A plus minus of -2.  We are looking for a big game tonight.
Fleury needs to stop the rebounds and especially stop kicking them to the slot. The Penguins have dominated in the face off circle, Fleury should be freezing the puck as much as he can.
Stop the stupid penalties.
Do not stop hustling if Tampa scores the first goal. Stick to the game plan.
Keep shooting, it really is the most effective way to score goals.
Buffalo has Philadelphia on the ropes. There is not one team in the Atlantic division the Pens cannot beat in 7 games.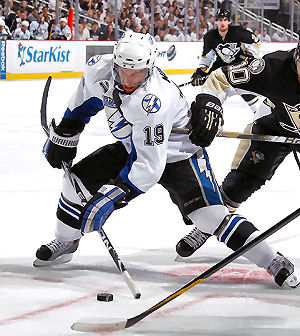 Jordan Staal: "So it's bigger games and there's more on the line, I think, and hopefully I can play well enough to get this one tonight."  I think Jordan Staal is taking tonight's game personally.  It's about time.
Evgeni Malkin skated. There is a lot of people who were wondering why Crosby would start skating if he wasn't planning on playing this post season. There is no way Malkin will play this post season, yet he is skating, so that theory is out the window.
How did so many Tampa Bay Lightning fans infiltrate the Consol Energy Center. I could not get over how many Tampa fans there were at the CEC. There had to about 2000 or more. If you Look at the picture below you can see all the Tampa fans in Blue.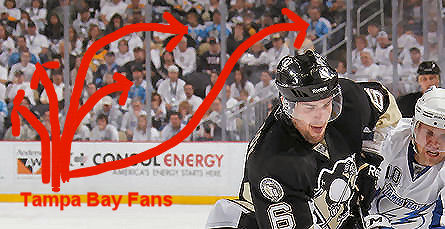 Don't try to tell me those are Pittsburgh fans. A Pittsburgh Penguin fan would not wear the other teams colors to a game designated as a white out. Someone over the weekend tried to give me some bull about the Penguins have a history in blue. Yes they do. It sucked. Penguins have been black white and yellowish gold for thousands of years before some stupid lady decided the Pittsburgh Penguins colors should be pansy blue.   Oh, but it looks good on you.  Please have some respect for how hard the Penguins are playing and wear your blue jerseys some other time.
The Penguins play horrible on afternoon weekend games. It is a fact, it is over, that is the last weekend game in this series. 
Sometimes I wonder if there is anyone out there that still believes the Pittsburgh Penguins can win other than me?
LETS GO PENS!
Puck drop is at 7:08PM.  The game can be seen in super high definition at the St. Pete Times Forum, regular HD on the Civic Arena parking lot or on ROOT Sports.  LETS GO PENS!
* The "Gameday Poop" is provided to give you enough information to sound intelligent while talking about hockey for 10 minutes. Anything after that and your on your own.