Contests between the Penguins and the equally swift Carolina Hurricanes usually feature lots of end-to-end action and plenty of shots. This time, however, the Steel City sextet outdid themselves. Facing a Carolina team that was fresh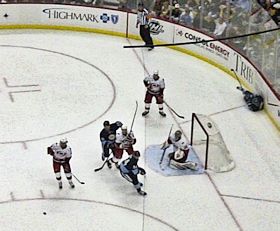 off an emotional win over New Jersey the night before, the Pens poured 52 shots at 'Canes goalie Justin Peters and rolled to an impressive 4-2 victory.
Despite the gaudy shot total, it wasn't as easy as it looked. Carolina drew first blood midway through the opening frame, courtesy of another tough shift by Zbynek Michalek. Trying to shake free from Andreas Nodl, the rusty Pens defender coughed the puck up to Tim Gleason at the left point. Gleason quickly fed ex-Pen Tim Brent, who beat Marc-Andre Fleury to put the 'Canes up 1-0.
Meanwhile, at the far end of the ice the 25-year-old Peters was giving a pretty fair imitation of the immortal Georges Vezina. Making his first start of the season, the Blyth, Ontario native held the Pens off the scoreboard for 28 minutes.
"The goalie was playing really well and looked really good," Penguins coach Dan Bylsma noted. "But you want to keep playing on and want to keep putting pressure on their whole team, including their goalie. When you force it that way, you eventually feel like you're going to break a team and get to their goalie, which we were able to do."
James Neal finally cashed in for the black and gold at 8:10, chipping his 21st goal of the season between Peters' pads from point-blank range to knot the score at 1-1.
Although the Pens dominated play through 40 minutes—piling up a whopping 37-10 edge in shots—the contest was up for grabs entering the third period. But Carolina's Chad LaRose drew an interference penalty just 38 seconds in and the Pens' power play went to work. Setting up shop in the right-wing circle, Evgeni Malkin found Steve Sullivan with a crisp cross-ice pass. "Sully" lasered the puck past Peters at 1:18 to stake the Pens to a one-goal lead.
The floodgates quickly burst open. Just over a minute later Tyler Kennedy threaded a seeing-eye pass through Hurricanes defender Jay Harrison to Pascal Dupuis on a 2-on-1. Dupuis ripped the puck under the crossbar for what proved to be the game winner. Jordan Staal capped off the Pens' blitz at 8:05 thanks to another pretty feed from Kennedy.
Carolina countered with five minutes left on Tuomo Ruutu's 14th goal of the season, but it was too little, too late. The Pens killed off a slashing minor to Neal in the closing moments to ice their fourth-straight win.
"Something is going to happen if you get 50 shots in one game," Staal said afterward. "We knew if we worked hard and kept getting shots that something was going to go in."
Ice Chips
Staal (a goal) was voted No. 1 star … Malkin and Neal (No. 2 star) extended their point streaks to eight games … Neal fired off a game-high nine shots … Kennedy (2 assists) earned the No. 3 star … Bylsma (135 wins) tied Michel Therrien for second place on the Pens all-time coaching list … Former Pens coach Johnny Wilson passed away … Robert Bortuzzo, Sidney Crosby, Deryk Engelland (suspension), Dustin Jeffrey, Kris Letang, Steve MacIntyre, Paul Martin, and Richard Park were scratches.
On Deck
The Penguins (21-11-4) welcome Jaromir Jagr and the Flyers (21-10-4) to CONSOL Energy Center on Thursday night for a big Atlantic Division showdown. The Pens and Flyers each have 46 points, two shy of the division-leading Rangers.
*Be sure to check out Rick's new book, "100 Things Penguins Fans Should Know and Do Before They Die" at TriumphBooks.com. It features 296 pages of bios, stories, anecdotes and photos from the team's colorful past in a compelling, easy-to-read style. Whether you're a die-hard booster from the days of Jean Pronovost or a big fan of Sid and Geno, this book is a must have for any true Penguins fan.
Don't forget to check out Rick's first book, "Total Penguins," at TriumphBooks.com. A complete and comprehensive book on the team's rich and storied history, it's filled with season-by-season summaries, player profiles and stats, bios on coaches, general managers and owners, photos from the "Post-Gazette" archives, and much, much more.
*Be sure to check out Rick Buker's books,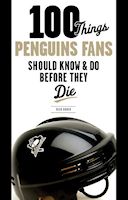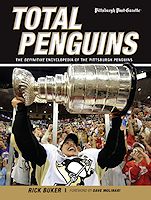 available at TriumphBooks.com, Amazon.com, and BarnesandNoble.com