The moment all of Pittsburgh—if not the entire hockey universe—anxiously awaited finally came to pass on Monday
evening. After missing 61 games due to a concussion and related symptoms, Penguins superstar Sidney Crosby at long last made his triumphant return to action.
When Sid stepped onto the ice for the first time in 320 days before a sellout crowd at CONSOL Energy Center (not to mention national TV audiences on Versus and CBC) he received a rousing ovation from the 18,571 fans in attendance.
No. 87 didn't disappoint. In perhaps the most electrifying comeback performance ever witnessed—in hockey or any other sport—the Pens' captain scored two stunning goals and assisted on two others to lead the Penguins to a resounding 5-0 victory over the hapless New York Islanders.
"I don't really have good words for it," Pens coach Dan Bylsma said afterward. "That was a special in a lot of ways."
A Hollywood scriptwriter couldn't have penned a better story. Skating between his old linemates—Chris Kunitz and Pascal Dupuis—"Super Sid" nearly set up a goal on the opening shift. It was a prelude of much bigger things to come. Just past the five-minute mark of the first period, Crosby picked up a short pass from Dupuis in the neutral zone and bolted into the Islanders' zone. Using his body to shield the puck, he blew around defenseman Andrew MacDonald and roofed a backhander over New York goalie Anders Nilsson.
Although the Islanders refused to roll over—out-shooting the Pens 8-1 through the early going—it was just a matter of time before the black and gold took charge. With 3:31 left in the period, Sid scooped up a loose puck along the left-wing boards. Displaying exquisite touch, he placed a perfect backhand pass into the wheelhouse of Brooks Orpik, who blasted a long-range shot past Nilsson to give the Pens a two-goal edge.
The onslaught continued in the second period. While working on a power play, Sid set up Kris Letang above the left circle with another nifty backhand pass. Letang's shot skipped off Nilsson to Evgeni Malkin at the side of the net. Executing a sleight of hand that would've done Mario Lemieux proud, the rangy Russian adroitly shifted the puck to his backhand and tucked the rubber inside the left post for his sixth goal of the season.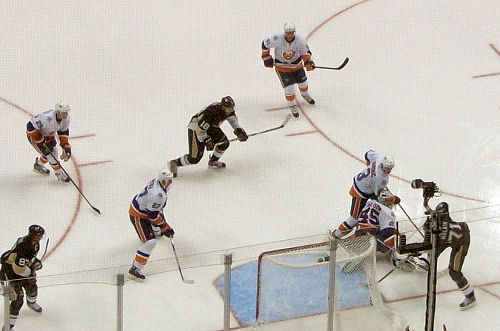 Now it was Geno's turn in the spotlight. Gathering in a feed off the rush from James Neal, No. 71 feathered a gorgeous backhand pass onto the stick of a breaking Steve Sullivan. "Sully" redirected the puck past a helpless Nilsson at 5:53 to stake the Pens to an insurmountable 4-0 lead.
Crosby supplied the knockout punch early in the final frame with another jaw-dropping goal. Displaying his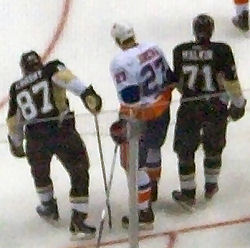 customary fire, Sid picked up the puck behind the net, eluded an Islanders checker and skated up the sideboards. After turning back toward the corner, he suddenly wheeled and flipped a seeing-eye backhander through a maze of players and into the net.
Ice Chips
Crosby was named No. 1 star … Marc-Andre Fleury (29 saves) posted his 21st career shutout … Dupuis (three assists) and Malkin (a goal and an assist) enjoyed multiple-point games … Crosby has 66 points in 34 career games vs. the Islanders … Sid absorbed a big hit from Travis Hamonic in the first period and emerged unscathed … Zbynek Michalek returned to the lineup after missing 10 games with a broken finger … Dustin Jeffrey, Ben Lovejoy, Steve MacIntyre, Alexandre Picard, Brian Strait, and Joe Vitale were scratches.
On Deck
The Penguins (12-6-3) continue their home stand on Wednesday night when they square off with St. Louis (10-7-2) at CONSOL Energy Center. The Pens trail the Blues (49-63-21) in the all-time series.
*Be sure to check out Rick's new book, "100 Things Penguins Fans Should Know and Do Before They Die" at TriumphBooks.com. It features 296 pages of bios, stories, anecdotes and photos from the team's colorful past in a compelling, easy-to-read style. Whether you're a die-hard booster from the days of Jean Pronovost or a big fan of Sid and Geno, this book is a must have for any true Penguins fan.
Don't forget to check out Rick's first book, "Total Penguins," at TriumphBooks.com. A complete and comprehensive book on the team's rich and storied history, it's filled with season-by-season summaries, player profiles and stats, bios on coaches, general managers and owners, photos from the "Post-Gazette" archives, and much, much more.
*Be sure to check out Rick Buker's books,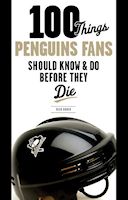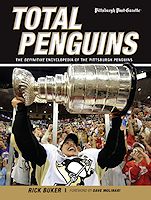 available at TriumphBooks.com, Amazon.com, and BarnesandNoble.com