Where have all the NHL Superstars gone? Even though he was sidelined for 10 1/2 months, Sidney Crosby in a mere five games has returned to his top post among the NHL's elite.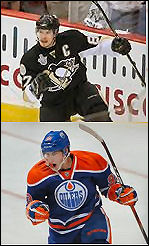 Captain Crosby's 11 points in 5 games leads the league with a points per game average of 2.20 points per game. By contrast the NHL leading scorer Phil Kessel is 2nd in the league with a 1.28 points per game average, which just happens to same average Evgeni Malkin has per game. If you talk to anyone, a healthy Crosby winning the scoring title is a matter of when, not if. At the rate Crosby is playing right now the date to take over the scoring lead is January 23rd, when the Washington Capitals roll into Pittsburgh.
For years I have heard about the great up and coming players like Steven Stamkos & John Tavares. While they have ended up great players, I'm still waiting for them to blossom into the superstar flower that has been permanently attached to their names. Both players are victims of poor coaching. Seriously, who puts a team with Stamkos, St. Louis & Lecavier in a 1-3-1 trap. A coach that doesn't currently own a playoff spot and could be the next coach axed, that's who.
The Sedin brothers in Vancouver have put up great numbers, but lack the on ice play making dazzle that all Superstars possess. Even a player like Alexander Ovechkin who's Superstar status is still recognized only in NHL commercials, has fallen off the radar. Some in Washington may even be wondering if Backstrom is a better player. Who knows, this may all change with Washington's coaching change. The question is, does Ovechkin has the heart of a Superstar let alone Washington's captain? A great goal celebration does not make a great player.
The true rival for Sidney Crosby scoring title chase over the next few years will be with this years #1 overall draft pick who currently takes up residency on the Edmonton Oilers roster. Ryan Nugent-Hopkins has the Superstar dazzling play making skills and is currently ripping up the NHL even though he is only 25 NHL games young. Ranked 4th in the NHL in scoring and moving up fast, Nugent-Hopkins will be the guy Crosby ends up in the scoring race with this year and possibly years to come.  It will be the Lemieux-Gretzky scoring race of the late 80's all over again.
Maybe it's the water in Edmonton and Pittsburgh, maybe the teams just know how to groom superstars, but this is going to be a fun rivalry to watch for a long time.