Having cut my hockey teeth during the heyday of goon-squad hockey back in the 1970s, I've always had an affinity for the movie Slap Shot. With nothing in particular to do (a mind is a terrible thing to waste), I decided to delve into the true identities of some of the movie's more colorful characters.
Of course, everyone knows about the Hanson Brothers, the beloved bespectacled goons from the "Iron League" who restored the sagging fortunes of the Charlestown Chiefs. But you might not know that Jeff Carlson (the Jeff Hanson character) and Steve Carlson (Steve Hanson) were real hockey players who actually wore black-rimmed, Coke-bottle glasses … just like in the movie. Or that Steve was a member of the Penguins' organization in the mid-1980s.
I was especially intrigued by the rogue's gallery of thugs imported by Syracuse player/coach Tim "Dr. Hook" McCracken (played by actor Paul D'Amato) for the Federal League championship game with the Chiefs—Ross "Mad Dog" Madison, Andre "Poodle" Lussier, Clarence "Screaming Buffalo" Swamptown, Gilmore Tuttle and, of course, Ogie Ogilthorpe.
As the old saying goes, truth is stranger than fiction. It turns out each of these guys was the genuine article. Madison, who greeted the Charlestown faithful by flipping them the bird, was portrayed by Connie "Mad Dog" Madigan, a notorious minor-league tough guy during the 1960s and '70s. Unlike his cohorts, Madigan actually made it to the NHL, appearing in 20 games with St. Louis in 1972-73.
Mark Bousquet played Lussier, who was "living in semi-seclusion in Northern Quebec since the unfortunate Denny Pratt tragedy." He spent five years in the low minor leagues and piled up 190 penalty minutes with Toledo in 1979-80. The Swamptown role was filled (in full Indian regalia) by 48-year-old Joe Nolan, who in fact was a full-blooded Obijwa Indian. As a member of the Clinton Comets in 1955-56, Nolan became the first player in the history of pro hockey to rack up over 300 penalty minutes (352 to be exact) in a season.
The menacing, mustachioed Tuttle (from Mile 40, Saskatchewan) was portrayed by Blake Ball, a hulking defenseman who also played defensive end in the Canadian Football League. Nicknamed "Badman," Ball served no less than 290 minutes in the slammer for four consecutive seasons, including a career-high of 362 in 1968-69.
Last but certainly not least, ominous Ogie Ogilthorpe was played to the hilt by Ned Dowd, the brother of Nancy Dowd, whose screenplay for the movie was based on Ned's minor-league experiences. Although truly an imposing figure at 6'3" and 210 pounds, the afro-topped Dowd more closely resembled the Michael Ontkean character (Ned Braden) in real life, netting 32 goals for the Johnstown Jets in 1973-74.
However, the player Ogilthorpe was said to be based on—Bill "Goldie" Goldthorpe—was indeed a holy terror. Sporting a huge blonde afro that eclipsed his celluloid counterpart's, the 173-pound left wing out of Thunder Bay, Ontario, drew 25 fighting majors during his rookie season—by Christmas. Over the course of an eight-year pro career that included 33 games in the old WHA, Goldthorpe amassed a staggering 1132 penalty minutes in only 194 games!
"You want to know why I wasn't in the movie?" Goldthorpe recalled in an interview with Allan Maki of The Globe and Mail. "They thought I was too wild and I'd beat up Paul Newman."
Like Steve Carlson and Guido Tenesi (a Penguins draft pick who played Billy Charlebois), Goldie had a Pittsburgh connection. In 1977, Pens GM Baz Bastien invited the ultra-tough winger to training camp for a brief tryout. Goldthorpe is reported to have skated in at least one exhibition game for the locals before being released. 
*Be sure to check out Rick Buker's books,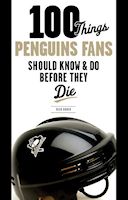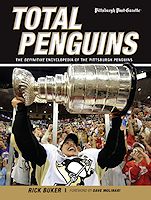 available at TriumphBooks.com, Amazon.com, and BarnesandNoble.com