In a battle for overall supremacy in the league standings, the Penguins overcame an early deficit and two no-goal calls to torpedo Dallas 3-1 Friday night before a sellout throng at CONSOL Energy Center. Pacing the Pens' attack was ex-Star James Neal, who came back to haunt his former team with a pair of power-play goals.
"Of course when you play your former team, you want to do well," Neal said. "Especially with them doing so well and coming in here being a top team."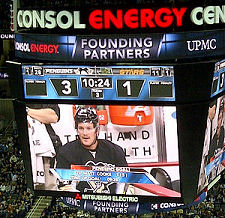 The win capped off a busy week, personnel-wise, for the front-running Pens. On Tuesday general manager Ray Shero traded center Mark Letestu to Columbus and shipped forwards Dustin Jeffrey and Steve MacIntyre to Wilkes-Barre, fueling speculation that Sidney Crosby would make his long-awaited return. Instead, 22-year-old Eric Tangradi (seven goals in a dozen games for the Baby Pens) made his 2011-12 debut.
Following a sluggish start, the visitors grabbed the lead at 16:08 of the opening period when Eric Nystrom cut through the slot and beat Marc-Andre Fleury. It marked the fifth straight game that the son of former Islanders legend Bob Nystrom had tallied a goal.
After dominating the shot clock (23-11) through 40 minutes of play the Pens appeared to knot the score late in the second period. Working with a man advantage, Kris Letang fed a sharp cross-ice pass to Evgeni Malkin. Chris Kunitz tipped Geno's rising shot from the half wall over the shoulder of Stars goalie Kari Lehtonen. Although Kuny's stick appeared to be below the crossbar, officials immediately waved off the goal.
Nonplussed, the Penguins evened the score 24 seconds later when Neal gathered in a short feed from Kunitz and blasted the puck by Lehtonen from the top of the left-wing circle.
The black and gold continued to carry the play through the opening minutes of the third period. With Sheldon Souray serving a high-sticking minor, Neal launched a bullet that hit Mark Fistric and skipped into the net. However, the net-crashing Kunitz interfered with Lehtonen on the play, and once more an apparent goal was disallowed.
Again the gritty Pens turned lemons into lemonade. On the ensuing rush Neal banged the puck off Trevor Daley's stick for the go-ahead goal. At 9:28 Matt Cooke put the game on ice when he cashed in on a penalty shot, thanks to a slick backhand to forehand move.
"Thankfully, we practice it a lot and I felt remotely comfortable out there," Cooke said. "I picked a move from the get-go and that's what I was going to do. I stuck with it and was fortunate that it went in."
Ice Chips
Neal was voted No. 1 star … Matt Niskanen fired off a game-high five shots against his former team … Fleury stopped 19 of 20 shots … Brooks Orpik paced the Pens with six hits … Former Pen Alex Goligoski left the game with an apparent thumb injury … Tangradi was shaken up early in the second period but returned later on … Sidney Crosby, Tyler Kennedy, Ben Lovejoy, Zbynek Michalek, and Brian Strait were scratches.
On Deck
The Penguins (10-3-3) jet to Raleigh to take on Eric Staal and the struggling Carolina Hurricanes (5-7-3) at RBC Center Saturday night. The Pens lead the all-time series (54-48-16).
*Be sure to check out Rick's new book, "100 Things Penguins Fans Should Know and Do Before They Die" at TriumphBooks.com. It features 296 pages of bios, stories, anecdotes and photos from the team's colorful past in a compelling, easy-to-read style. Whether you're a die-hard booster from the days of Jean Pronovost or a big fan of Sid and Geno, this book is a must have for any true Penguins fan.
Don't forget to check out Rick's first book, "Total Penguins," at TriumphBooks.com. A complete and comprehensive book on the team's rich and storied history, it's filled with season-by-season summaries, player profiles and stats, bios on coaches, general managers and owners, photos from the "Post-Gazette" archives, and much, much more.
*Be sure to check out Rick Buker's books,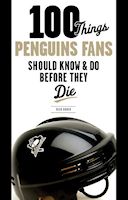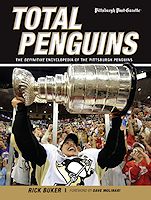 available at TriumphBooks.com, Amazon.com, and BarnesandNoble.com