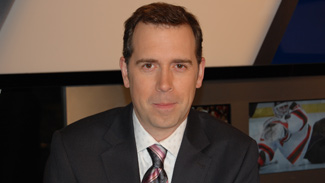 Unless you are not a hockey fan or have been living in Outer Mongolia for the past four years (and in either case, I'm not sure what you're doing on this site), then you know Brian Duff as the host of the best hockey show on television, NHL Network's nightly News/Highlights/Wrap-up/ show, "On The Fly".  While the show has a rotating cast of hosts, Brian has been the one constant since the show debuted back in 2007.  I met Brian three years ago at, of all places, a Steeler tailgate party and have been friends with him since.  I thought our readers might enjoy a chance to get to know a little bit more about the man who brings us our daily hockey fix every night.
JP –   You grew up just outside of Toronto.  Were you a Leafs fan growing up?
BD –
No we were probably the rarest of families in the greater Toronto area, as none of us grew up cheering for the Leafs. My dad and sister were Habs fans, while my mom and I pulled for the Sabres.
Mom was a Leafs fan but she must have sensed that '67 would be their last Cup for a while, as she became a Sabres fan when Punch Imlach went to Buffalo to build the team, and of course, starting with a player like Gilbert Perreault it was pretty easy to become attached to him and the Sabres.

JP –  What led you to go into Sports Journalism/Broadcasting?
BD – The smart ass side of me would say that I would never have been accepted into any other post secondary program. And while we'll never know that to be true or not because I didn't apply for anything else, i do consider myself a lifelong student of sports broadcasting because of my infatuation with sports from such a young age. Like a lot of us, I was always trying to keep the AM radio on low volume well after my bed time listening to Sabres games, or Leafs games, Blue Jays games and I'm sure some football games too. In the house, my parents almost always had a game on the radio if there was one to be heard. Same thing in the car. And while I don't ever remember a time prior to age 16 where I honestly thought it would be a career I could/would get into, I do feel as though I was very respectful of the great broadcasters of that time, and I was always obsessed with sports information, statistics, and opinions. So, when you get to that point in high school when you have to start thinking about the next step, I really wasn't interested in anything else. I was truthfully a little tired of school and didn't want to be signing up for four more years at a university. Thankfully, there were a number of Canadian colleges offering two year Broadcasting programs, and I was fortunate to get accepted in a few of them. But I often wonder how things would have turned out if I hadn't landed at Mount Royal College in Calgary, AB.
That program was instrumental in me being where I am today.
JP –   What was your first paying job in "the business", or do you prefer to call it "the Industry"?
I don't know what I call it.  Media maybe?  The media?   Regardless, my first job working at an actual radio or television station was during my 2nd year of college, I worked part time for QR77 in Calgary – the station where I had completed a two week internship after year one – and all I did was watch the Flames games on TV, or listen to them on the station down the dial, and provide a few on-air updates every hour.
They were sponsored so my friends used to always give it to me about how excited I would get delivering the tag line.   Billy Powers was the Sports Director there and he showed great faith in me to give me the chance to get on air.
JP –  You spent six years doing Pre and Post Game for the Maple Leafs including the Leafs Lunch show from Wayne Gretzky's restaurant, what was it like doing that in a "hockey mad" environment like Toronto and do you have a good story or two from those days?
BD – Well, this won't sit well in "hockey mad" Toronto, but wherever I've worked covering the NHL, the fan base is rabid about the sport.  Is Toronto bigger?  Sure. But it doesn't make them any more obsessed with their team, or more intelligent when it comes to talking puck.
As far as working in a live environment like Gretzky's restaurant, it was usually without incident. Do fans get dumb and drunk (not necessarily in that order…) when cameras are on? Of course.
But the key is ignoring them and letting security do their job.
I do remember a lady coming up and planting a kiss on the cheek of former Leafs Captain Rick Vaive who was a regular co-host on the show. It stopped him in his tracks, and was one of the more enjoyable moments – just the look of surprise on his face is one that is still vivid in my mind today.
JP –   Can you even begin to describe to folks in Pittsburgh, what the fervor for the Leafs is like in Toronto, and what it will be like when they finally with the Cup again?
BD – Pittsburgh is home to the six-time Super Bowl Champion Pittsburgh Steelers, not to mention 3-time Stanley Cup champion Pittsburgh Penguins.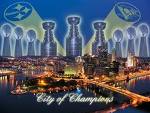 They know what it's like to win, and it would be silly of me to suggest that a Cup win in Toronto would be celebrated more, or be more meaningful than what a Lombardi trophy means to Steeltown.
JP –  When you first heard that they were contemplating developing an entire network dedicated to the NHL for the US market, what did you think, and what led you to want to get involved?                                                                                      

BD – Well, the NHL Network launched in Canada in 2001, at the same time as Leafs TV in Toronto.
I landed at Leafs TV because I was recruited by John Shannon, the former executive producer at Hockey NIght in Canada.
He is the reason I ultimately ended up at NHL Network, a place I always wanted to get to, because of the vision he had at Leafs TV, the confidence he had in me to put me on a number of programs and let me grow as a broadcaster in a major market.
As fate would have it, long after Shannon had left Leafs TV, my contract expired with them in the summer of 2007 and both sides wanted a change. Thankfully I was able to land where I wanted, that being the NHL Network, and it wasn't too much longer before we were finally broadcasting to a huge, under-served hockey fan base in the United States.
JP –   What is a typical day like at On The Fly?  Do you dread the days when there are games going on from 7:00 – 1:00?
BD – Well, no two days are the same, and that's the beauty of being in this business.  But as far as how a day can sometimes look?   For me, it starts with waking up tired, a by product of going to bed late (3-4am) and then getting up early with my kids (7-730am). Sometimes I get a nap in somewhere else in the day, but that's not always the case. There's a minimum of 3 hours prep at home, reading, researching, contacting people that can help you with storylines for that night. I tend to get to the studio between 4-5pm, even though we don't go on air until 8pm.
I don't dread any days because it's a job covering hockey. How awesome is that? Do I prefer certain nights more than others?  Yes.   Most of us like more games than less. The challenging nights are often when there's only one or two games. Probably because I have a tougher time adjusting my motor to a more reasonable speed. But I actually do love the late games. And I tend to get the production crew all riled up when I suggest that the last game of the night is heading for a shootout. Its an easy prediction to make given that it seems to happen more than 50% of the time.
JP –   Which day is crazier at the station, Trade Deadline Day or First Day of Free Agency Day?
BD – Trade deadline day i would say.
JP –  Do you see more or fewer deals being done on Deadline Day this year with the flurry that has already happened in the weeks leading up to it?
BD – The total may be a little lower, but probably not by much. But I suspect the number of "impact" type deals will still be what we've grown accustomed to. I say that because I think GM's have finally stopped hiding behind the salary cap as a reason to not make moves. It takes guts to do some of the deals we've seen the last two weeks. No one wants to be perceived as a GM lacking the guts to make a bold move, therefore I feel there are still some significant deals to be made.
JP –   Now in your career, you've done play by play for the Medicine Hat Tigers of the WHL, Pre and Post game shows for Toronto, the Edmonton Oilers and the Ottawa Senators as well as hosting "On The Fly" in the studio.  Of the three, which was the most enjoyable?
BD – I actually did color for the Tigers, not play by play, but it was fun all the same.
At the time you are involved in them, they are all equally fulfilling. All three jobs have given me an opportunity to be around the game, comment on it from different vantage points, and meet a ton of great people.
JP –   Now that you have been in the industry, or is it the business for more than 15 years, is there still a player, past or present, that you haven't interviewed that might have you tongue tied to be speaking to him?
BD – I don't believe any player would have me tongue tied at this point. But I will say this. When Alyssa Milano joined me on set for about 5 minutes at All Star Weekend in Atlanta a few years back, it was a nice change of pace, and a career highlight!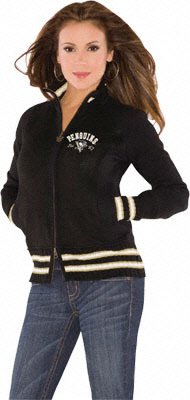 JP –  I understand you are also a big football fan.  Do you have a favorite team, and if so, how did you become a fan?
BD – Definitely a Steelers fan.  Again I have my mom to thank. I'm sure she was the one who bought me a little Steelers jersey when I was really young and I've loved them ever since. I still have the jersey too, which has since been worn by my daughters (aged 6 and 4). Mom must have washed it by hand and hung it on the line every time because you'd think it's almost new.
I finally took my wife to Heinz Field for the first time (Jan 15, 2011 vs the Ravens) and given how much she enjoyed the experience, I look forward to the day when the whole family makes a trip. (Brian and his wife actually attended the game with yours truly, and because we won, they are both invited back)
I'd like to thank Brian for taking time out of his incredibly busy schedule to answer some questions and give us some insight into the man who, I think, has the best job in Canada