With Sidney Crosby and Evgeni Malkin out, you may think the Penguins GM Ray Shero should waive the white flag and live to fight another day. I'm willing  to bet there is a locker room full of Penguins that would not agree with this sentiment. I also believe Shero still has a few cards left up his sleeve.
For the right price, just about any player in the league could be had before Trade Deadline. Ray Shero has never been a GM to throw caution to the wind and this year because of the uncertainties with the Penguins lineup leading up to the NHL Trade Deadline, Shero will most likely be even more cautious.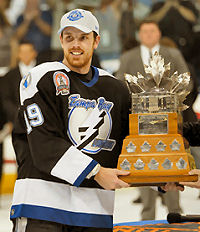 That all being said, there is one player out there that could be had by the Penguins without mortgaging the future.  This player would make the Penguins once again the frontrunner to win the Cup. The Dallas Stars center Brad Richards.  Richards is an unrestricted free agent at the end of the season would not only be the perfect fit for the Penguins, it would also be the perfect fit for Brad Richards. That is if he is healthy (more on that later).
Everyone knows Brad Richards will be an unrestricted free agent next season and will be looking for a big contract. Right now he's making about $7.8 million a year, and Dallas who is quickly falling out of reach of a playoff spot may be willing to dump Brad Richards for a prospect or two and maybe some draft picks.
The problem for Dallas and what is good for the Penguins is that Brad Richards has a no-trade clause in his contract.

This no trade clause will allow Richards to pick which team he goes to, and with it being a contract year, Richards is going to want to play for true contender. That and the fact that he is huge competitor. He holds the record for most game winning goals in a playoff year, an amazing seven. 
The Pens have a few names that will be coming back in the next few weeks, Kunitz, Cooke, Asham and Letestu. If Brad Richard were to play for the Penguins and Sidney Crosby was to return for the playoff season, the only difference between these Penguins and the Penguins that had the overall best record in the NHL a couple months ago would be that instead of Conn Smythe winner Evgeni Malkin you would have Conn Smythe winner Brad Richards.  Plus throw in a recently returned from injury Jordan Staal and you once again have the makings of a Stanley Cup team.
Right now there are rumors swirling around the NHL that Brad Richards will be going to just about every team except the Penguins. This is not much unlike a few years ago when the Penguins weren't even mentioned as being in the running for the best player available, Marian Hossa. That was right up until Ray Shero landed him at the trade deadline and brought him to the Penguins.
Who's in the running for Richards?  
It is highly unlikely that he would give up his no -trade clause to go to any team not in contention for the playoffs. This would take care of everyone's front runner for getting Richards in the off season Toronto. Any team that does not have salary cap space and is not willing to trade someone big can be written off also. 
This would remove all most all other teams, save one. The NY Rangers. The Rangers have expressed interest in possibly offering up Marion Gaborik to anyone interested. Richards might be interested in playing again under the coach he won the cup with and Dallas may be interested sticking yet another dagger into the hearts of Minnesota fans. This in my opinion would be the Penguins only obstacle.  That and one other little Hitch.
There always seems to be a "Hitch in the get-a-long" doesn't there. 
The other night while playing Columbus, Brad Richards took a hit to the jaw. He played the rest of the game, but felt woozy afterwards and there has been rumor he may be experiencing concussion like symptoms. Dallas Coach Marc Crawford said "Nobody wants to say the word, but he's got concussion-like symptoms, and we're being real careful. He's doing his baseline testing, I think, today..."  He is not on there current road trip.
That all being said, Ray Shero has the cap space to make a move as soon as he sees fit due to long term injuries to both Crosby and Malkin.   Richards would grab some huge headlines coming to Crosby's team and would get to show he still deserves a big money contract this summer.   A perfect match.