In this day and age of negativity, it is not often you get to witness the nicer side of sports.  Thanks to Dick's Sporting Goods and Jennifer Mercer and Matt Ciesluk of Catalyst Public Relations, I was able to witness the pure unadulterated joy that professional athletes can bring to children through the Pittsburgh Penguins' participation in Project Bundle Up.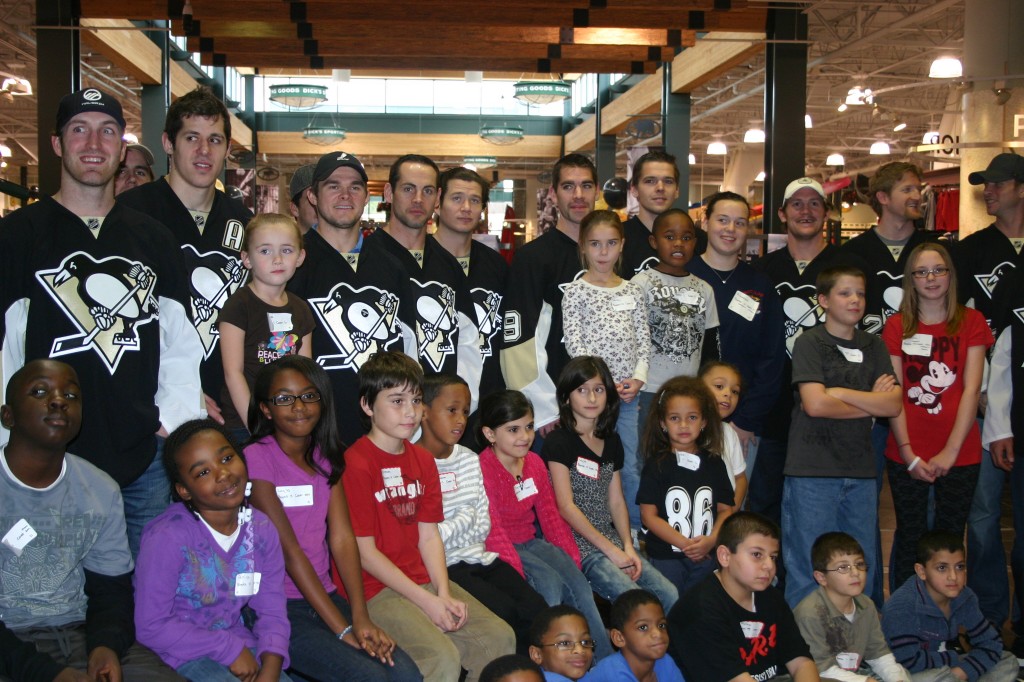 When the Penguins finished up their 3-2 shootout win over the LA Kings last Saturday night, they were looking at their longest layoff between games of the 2011/12 campaign so far with their next game not being for another full six days. After completing 15 games in the season's first 31 days, the team was looking at a nice, extended rest, some time to time to spend with families, wives, and girlfriends, time for injuries to heal and possibly get back some injured players.  Not these Pittsburgh Penguins though.  After returning from their two game trip to the West Coast, their third trip across at least two time zones so far this year, the Penguins and their families headed down to Nemacolin Woodlands for some team building exercises similar to the trips they made in the pre-season to West Point in years past.  Down there, they participated in many different team building exercises and just spent some time getting to know some of the newer players a little better and away from the rink.
Once this was over, you would naturally assume that it would be back home to Pittsburgh where after each day's practice, players would head back home to relax with their families or get outside and enjoy some of this unseasonal weather we have been experiencing here with maybe a round or two of golf.  Again, not these Pittsburgh Penguins.
Thanks to Jennifer Mercer and Matt Ciesluk at Catalyst Public Relations, I had the opportunity to join other members of the media at Dick's Sporting Goods in Robinson Township today as the entire Penguin team participated in Project Bundle Up to help local disadvantaged children. The 25 children were chosen by the Salvation Army Pittsburgh Temple Corps based out of Mt. Lebanon, PA, and each was to receive a $200 Dick's Sporting Goods gift card.  After sitting down to a light lunch with the players, each child was paired up with a Penguin, and in some cases, a player had two children such as the two little boys all decked out in the Sidney Crosby gear who were paired up with Sidney as their personal shopper.  The purpose of Project Bundle Up is to help provide cold weather clothing such as jackets, boots, gloves and hats to the underprivileged in time for the coming cold weather.  The children then led the players towards the merchandise that they would like with their empty, green Dick's Sporting Goods tote bags in tow.
Some of the children were a little slow to catch on to the concept that they could just go and pick out items for themselves, and some were slowed by the fact that they were being led by an actual Pittsburgh Penguin.  Once the initial awe wore off, the players and the children were like kids in a candy store.  At this point, it became apparent which of the players had children of their own and which did not as those who were more experienced in shopping for children had the advantage of being able to judge what size items each child would need and how to get them to try things on.  It was a joy watching a player like Aaron Asham, who was the first player to arrive – almost 30 minutes before anyone else – and the last one to leave, lead his little girl around in an attempt to locate a pair of rainbow colored Winter boots even though he knew no such thing existed or to watch Evgeni Malkin make his way around the store trying to find just the right jacket for his little boy, his translator never far behind in case the two of them had any trouble communicating.
No one ever felt rushed, and the players took as much time as needed to make sure that each child spent the full $200 and got as many Winter items as they could for that amount. After the shopping was finished, the players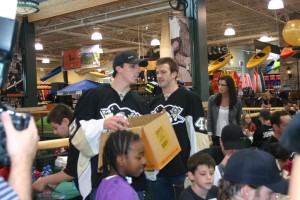 and the children made their way back to where they began to compare what everyone got, sign autographs for every child and pose for picture with them.  The children were treated to one last surprise as Marc Andre Fleury opened a box that contained all of his left over Halloween candy wrapped up into individual bags, one for each child.  Talk about kids in a candy store.  I think some of them were even happier to receive a bag of candy from Marc Andre than the new boots and hat that was in their bag.
At the end of the day, it was difficult to tell who had bigger smiles on their faces, the children who had just gotten to spend an hour with the entire Pittsburgh Penguin team or the players who knew how much what they had just done meant to these underprivileged kids, and the fact that at least 25 children would have a warmer Winter.
For more information about Project Bundle Up or to donate go to   www.projectbundleup.com