It's not often you get to talk to a guy who has scored over 70 goals in one season in the NHL, after all there are only eight that have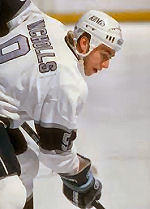 accomplished that feat.  It is not often you get to talk to a guy who has scored at least 150 points in one season in the NHL, only 5 have done that. Recently I caught up with the great Bernie Nicholls.   Bernie and I talked about his hockey career, McDonalds and a few other things.  I was a bit thrown back when he said Mario Lemieux was a better goal scorer than Wayne Gretzky,  considering Bernie played on a line with Gretzky in LA…
Coffee Talk with Art Vandelay
Art Vandelay:  How is life treating you these days?  What are you up to?
Bernie Nicholls: "I play a lot of golf. I like to hunt, in Canada. Some of the things I like to hunt are moose, and white tail deer.  Anything I get I take to my brother that is a taxidermist."
Art Vandelay: The Hockey News rated your "Pumper-Nicholl" number 5 on their Top 10 All-time goal celebrations. What are your thoughts on the recognition?  Can you still do the "Pumper Nicholl"?
Bernie Nicholls: "I had no idea about the recognition. I had so much fun playing the game. I always laughing and always had a smile on my face when I played. People who watched me accused me of being cocky. I was just having fun. It was an honor to score a goal, "I was pumped to death" Yes I still can do the "Pumper Nicholl"
Art Vandelay: You played in a lot of different cities in your career does one city stick out more than the other?
Bernie Nicholls: "Besides LA I loved Chicago. When I played there I used to live downtown. The city was so clean, and a huge sports town. I loved everything about the city."
Art Vandelay: What memories do you have of playing against Mario Lemieux and the Pittsburgh Penguins?
Bernie Nicholls: "Mario was one of my favorite players; he was one of the best. Mario still could be playing today on the shootout if he wanted to. Wayne was not as good of goal scorer as Mario was."
Art Vandelay: There was an article that I read in the LA Times about Wayne Gretzky ruining you on McDonalds. Any truth? Have you gone since?
Bernie Nicholls: "The story is definitely true. Wayne wanted to go to McDonalds every day. In the two years that I played with Wayne we pretty much hung out every day, and we did what Wayne wanted to do. I have not eaten there since."
Read the LA Times Article:  Bernie Nicholls turned job as Wayne Gretzky's sidekick into starring role with Kings 
Art Vandelay: 89-90 All Star game in Pittsburgh you got traded from the LA Kings to the New York Rangers. What were you feeling?
Bernie Nicholls: "I was with my second year with Wayne. I was shocked, especially since I was told I would never be traded."
Art Vandelay: The LA Times ranked you number nine in the top ten Kings of all time. How does that make you feel?
Bernie Nicholls: "One word:  Honored."
   
I want to thank the great Bernie Nicholls for taking time out of his day and talking and especially for being patient with me. I'll admit I was a bit nervous, my voice was cracking.  Heck, it's not everyday you talk to a guy who along with Gretzky, Lemieux, Yzerman and Esposito are the only ones to score at least 150 points in an NHL season.  Also, how many people do you know can say the last time they ate at McDonalds was with Wayne Gretzky? 
One thing I did take from my conversation with Bernie Nicholls is that he enjoys being a fan of the game almost as much as he likes to play it.
Here is Bernie Nicholls official site:  http://www.officialbernienicholls.com/