I had the luck of having a phone conversation with NHL on the Fly's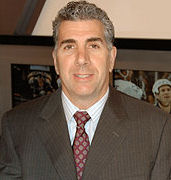 analyst Craig Button yesterday right after the Penguins traded for Alexei Kovalev.   I say luck because this time of year with all the trades going on Craig is an extremely busy person being that he also writes for ESPN Insider and NHL.com.  Craig's father Jack was the GM of the Pittsburgh Penguins back in the 70's and Craig himself was GM of the Calgary Flames in the 2000's.  Craig and I talked about the Alexei Kovalev deal, James Neal coming to Pittsburgh, Sidney Crosby, Dan Bylsma being in the running for the Jack Adams trophy and given Craig's keen fashion sense I got some tips for my upcoming wedding. 
Coffee Talk with Art Vandelay
Art Vandelay:  The Pittsburgh Penguins made a deal to re acquire Alex Kovalev from the Ottawa Senators for a seventh round draft choice. What do you make of it?
Craig Button:  I'm not surprised there is no risk but there is the potential for high reward. Alex is the kind of player that thrives with encouragement, and with Dan Bylsma as his coach he will get the encouragement.  Mario Lemieux is added benefit for Dan Bylsma when it comes to Alex since they have played together. I believe Alex will be an energized player for the Penguins.
Art Vandelay: Do you anticipate any more moves between now and the trading deadline for the Penguins?
Craig Button:  Yes. The team needs to understand where Sid is in recovering from his injury. I believe a "Billy Guerin" type player. A player that can come in for the short term and add a boost to the team.
Art Vandelay: The acquisition of James Neal and Matt Niskanen.  How do you think the Penguins did?
Craig Button:  I believe James Neal is the next generation "Kevin Stevens". Matt Niskanen is a good hockey player that will thrive in a environment in Pittsburgh. When you make a trade like the Penguins and Stars made, and like how the Avalanche and Blues made you create a hole in your team to fill a bigger hole on your team, but you want to make sure the hole you create is not bigger after the trade you made.
Art Vandelay: Is Dan Bylsma a legitimate Jack Adams candidate this season?
Craig Button:  Yes. To play stretches of the regular season without Staal, Malkin, and Crosby. You have to look at what the Penguins do with what they have. Coach Bylsma gets the most out of what he has.
Art Vandelay: Sidney's concussion…Do you think he will make it back?
Craig Button:  I am hopeful. It's getting to the point where it's un realistic. It's almost been 2 months since he has played. He has not been able to train or really do anything to get back into game shape. Sid is a exceptional athlete no doubt but if you come back to soon your reaction time is slower and that could lead to any kind of possible injury.
Art Vandelay: Head Shots. Your view on them. Do you think the league next year will reevaluate the rule on head shots?
Craig Button:  A year ago there was significant change. All 30 general managers were in support of protecting the players. Players have to be careful of accidental collisions. Every other blow to the head should be banned. If you look at the Steckel hit on Crosby, one angle it looks accidental and if you look at another angle the hit should be banned. There should be no reason to hits to the head should be allowed. The National Hockey League should make it a significant penalty for any team that there player makes a hit to the head. Make the suspended dollars from the players salary count against the cap, make the team carry one less player. With rules like that, it will put internal pressure on the organization to send a message to the player that head shots are unacceptable.
Art Vandelay: February 28 is the NHL trade deadline. As a former NHL general manager what's day like? Do general managers try to pull off unthinkable trades?
Craig Button:  The trade deadline is exciting it's a chance to improve your team. You have a plan going in to the deadline. You plan your work, and work your plan. Gm's from time to time will test the waters with trade proposals. It's a little hard to pull off those kinds of trades in a salary cap era today. You have to find matches between two teams and do what makes sense.
Art Vandelay: Last question. I know you are a busy man I am getting married this upcoming September and the future Mrs. Art Vandelay and myself are having our differences over the shoes I want to wear for the big day. She says traditional black shoes. I say these cool black and white one. What do you think?
Craig Button:  Black and white, with the right tuxedo they will look good. Maybe she is afraid those shoes you want will show her up on the big day.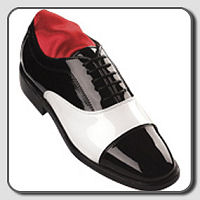 I want to apologize to Craig Button for having to multi task during the interview, this wedding planning thing really takes a lot of time.  We have a saying here at PenguinPoop that "We have more hockey knowledge in our body than you have in your entire pinky".  I got the feeling talking to Craig that his pinky knows more about hockey than I'll ever know about hockey.  Seriously though, I really want to thank Craig for giving me a few minutes during such a busy time of year and to give us here on PenguinPoop a run down of what's going on with the Penguins.  
More about Craig Button:  http://www.nhl.com/ice/page.htm?id=59760