Sorry you have not heard from me in a while. Krundle has sent me on a special assignment doing interviews for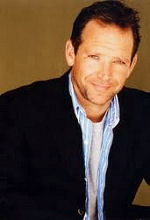 PenguinPoop. Having never done and interview, I thought I would do my first interview with probably the best NHL interviewer out there,  Dan Moriarty and maybe get some tips along the way.  Dan was the host of several NHL shows like NHL Cool Shoots, Inside the NHL, Pioneers, and Relive the Magic.  He also had his own radio show in LA.  Dan joined me for "Coffee Talk."  Some of the topics we talked about were:  Sidney Crosby, Max Talbot, playing for the Minnesota Wild, and Jack Bauer.
Coffee Talk with Art Vandelay
Art Vandelay: Dan, in 2007 you sat down with Sidney Crosby and interviewed him for Inside the NHL.  What did you think of him?
Dan Moriarty: "I first met Sidney when he was fifteen years old. We crossed paths when I was working with, Game on Communications.  He was a quiet, shy, and nice young kid.  He has respect for the game and has not forgotten who he is. He is a class act!"
Art Vandelay: Dan you also sat down with Max Talbot in 2007. What did you think of him?
Dan Moriarty: "I believe that Max Talbot is the heartbeat of the locker room and the energy of the team. He is a fun guy to be around and he keeps Sid grounded." Dan's Max Talbot Interview
Art Vandelay: You hosted a NHL show called Relive the Magic. Unfortunately, you never taped an episode of the Pittsburgh Penguins cup winning teams of the 90's. If you had the chance to ask Mario Lemieux one question during that episode, what would it be?
Dan Moriarty: "Wow, great question. What was the pressure like for a young man that did not speak the language, saving the team twice, winning two cups, and battling Hodgkin's?"
Art Vandelay: You interviewed a ton of people in your career. If you had to group hockey players as whole, what would you say about them?
Dan Moriarty:Hockey players are honest and the most simple down to earth people."
Art Vandelay: During a season of NHL Cool Shots you got to attend training camp for a week and play a shift in an exhibition game for the Minnesota Wild. What was the experience like?
Dan Moriarty: "It was the coolest thing I have ever done! I got to train with the guys for the week. I got hazed non-stop. I was out on the ice for the anthem with players like, Pascal Dupuis and Sean O'Donnell. I played 55 seconds of the first shift and contrary to what the internet says I did not fall or embarrass myself. After the game the Wild washed my game jersey. The current team autographed it for me. I still to have it with my entire equipment I wore from that game. The Minnesota Wild is a first class organization that treated me and the crew of NHL Cool Shots with nothing but respect."
Art Vandelay: I read that you are a big fan of the show "24", any truth?
Dan Moriarty: "Yes, it was a show I would DVR and watch by myself. I have interviewed Kiefer Sutherland several times at his studio and on the actual set of 24. He told me that the coolest thing his friends think that he has actually done is the voice over for the NHL." 'This is the NHL."
Art Vandelay: Dan, is there any one person that you wish you could have interviewed that never had the chance?
Dan Moriarty:"The Richard brothers, Henri and Maurice. Henri won more Stanley Cups then anyone in history. Maurice who could do it all is one of the greatest players of all time."
Art Vandelay: Dan do you have any tips for me when it comes to a good interview.
Dan Moriarty: "Be interested in what they are saying. Do your research. You can never have enough research. Let the person you are interviewing go the direction they want to go, but be able to bring them back."
That information about "Do your research. You can never have enough research."  would have been very useful before I did the interview.  If I did my research I would have known that he guest starred as himself on Jim Belushi's sitcom and many other things.
But seriously, last week when I talked to Dan I talked to him for 45 minutes and I honestly could of talked to him for a lot longer. Dan is very easy to talk too, it felt like we were two guys sitting at a bar chatting about old stories, and I would love to have the chance to talk to him again. He is a wealth of knowledge. I considered it an honor an a privilege to be able to talk to him and have him tell me "Great conversation, wonderful questions, you made it fun and interesting for me to relive good times. looking forward to the read…." My own mother doesn't even tell me that kind of stuff, but what do I know, my name is Art Vandelay, I'm an architect.
You can follow Dan on FaceBook here:   Dan Moriarty
Here are some more great Dan Moriarty interviews from when he was with Inside the NHL:
Matt Cooke when he was with the Canucks
Jordan Staal
Colby Armstrong when he was with the Pens