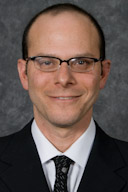 With the conclussion of the Stanley Cup Finals this past week. PenguinPoop readers turn their attention to the NHL hockey draft followed by free agency on July 1st. I was extremely fortunate to be able to talk to Jay Grossman Presdient of the Puck Agency LLC.  Some of the  http://www.puckagency.com/ clients are Ilya Kovalchuk, Vezina trophy candidate Pekka Rinne, and former Pittsburgh Penguins Johan Hedberg, Alexei Morozov, and Sergei Zubov.
Some of the things Jay and I talked about:
 Art: According to your website http://www.puckagency.com/ your sister was born at Madison Square Garden during a Rangers playoff game. Were you there? If so, what do you remember of what happend?
Jay:  No, I wasn't actually at the game, but I was listening on the radio (at that time home games were not televised) and heard the announcement in the background. I was immediately able to figure it out. The game was against Buffalo and Don Murdoch scored the winning goal.
Art: What was it like working with Herb Brooks?
Jay: Herb was a tremendous mentor to me any many others. At the time I met Herb, it was early in his tenure with the New York Rangers. I had worked for Roger Neilson and had done a lot of video work for the teams he had coached even when I was in high school. Herb wasn't that into video, but being in school I was always somewhat behind in the season and herb used to come in and sit for hours and look at games from earlier in the year. It was a tremendous education as he grasped on to so much of what was happening in a game; I also got the understanding of his passion to win. In turn, I think he gained greater appreciation for video analyis. Later,  Herb referred me to the agency that represented him and I started with Athletes and Artists in 1985 and then I had the chance to represent Herb in contract negotiations and endorsements. It was early in my career and it was a great experience as Herb had a great understanding of the psyche and he was even coaching me while I was working for him!
Art: Take us a through a day in the life of the president of a successful sports management company.
Jay: Sports representation in general is a pretty demanding business. Of course, our year is cyclical with the playing season. During the year, the players work 7 days a week and we have to be available to them at most all times. Of course, we are constantly providing a variety of srevices and guidance whether it be for upcoming negotiations, legal and financial work, tax counsel and prepartion, promotional endorsements and the day to day issues that come up in the lives of exceptionally talented players who need our help in many different areas.
Art: Has the NHL's salary cap structure made your job easier or harder when dealing with NHL teams?
Jay: It has certainly changed the landscape in the players are now competing for a certain "piece of the pie". At the same time, we aggressively advocate the interests first and foremost. We need to educate, prepare and discuss upcoming negotiations, reach consensus with the player accomplish their goals. For us, nothing gets in the way of that.
Art: Where do you see the future of the Puck Agency heading?
Jay: We are a full service firm and have put quality ahead of quantity in terms of the players we represent and to make a serious difference in their careers. Players who want that strong advocacy, and not simply status quo, are the type of players interested in our firm.
Art: Ari Gold/Jerry Maguire-Who would you say best represents you at work?
Jay: Unfortunately, the real world isn't movies or television so I would have to take a pass on that one, though I do enjoy the entertainment.
Art: I'm sure you have crossed paths a time or two with the Pittsburgh Penguins. What is it like working with the Penguin organization?
Jay: The Penguins have established themselves as a top flight organization in recent years especially being on the brink of extinction not that long ago. I believe the people there have always been enjoyable to work with and the fans have always gravitated to the Pens. I have known Ray Shero a long time, in fact Ray started in the representation business. I have worked with Ray on some interesting players during his career with Ottawa and Nashville before coming to Pittsburgh. I am not sure he gets enough credit for is Pekka Rinne, Vezina trophy candidate with Nashville this year.
Art: How does the fact that the Russian teams have not signed the transfer agreement between the Russian clubs and the NHL teams affect you?
Jay: Well, it doesn't create for the efficient transfer of players that's for certain. Some things have stabilized in the last few years, though I understand the ongoing mistrust that exists between the NHL and russian hockey.  Overall, and especially with the Olympics in Sochi 2014, there must be leadership to move beyond those differences. With a population of 150M (not including the former Soviet states) in a emerging maket, this consumer is too large to ignore.
Art: Your thoughts on Alexei Cherepanov?
Jay: Not too many days go by when I don't think of Alexei. His picture with his infectious smile and his winter hat which his father gave me as some token belonging to him sit on the roundtable in my office. We will never know, but I believe though he was picked 17th he would have been the best player in his draft class.
Art: Do you think the NHL will ever see Alexei Morozov back in the league?
Jay: I think Alexei made his choice in the lockout year to play in Russia, he's had a great career there and I believe he is at peace with that decision.
I want to thank Jay again for taking the time to talk to me and being able to give our readers some insight that they do not get every day,  directly from the President of a succesful company that has been doing business since 1968. If and when Phil Krundle decides to take his hockey career to the profesional ranks, he knows have a guy that he can call.