I recently caught up with CTV Calgary's Lisa Bowes.     Lisa Bowes is known through out Canada as the woman who broke barriers by becoming the first woman to do play-by-play for the National Women's Hockey League, she is also know for the job she did as host/reporter of Women's Hockey for CTV at the 2010 Vancouver Olympics and for covering something not many Canadien's are proud of, the rioting that took place after the Vancouver Canucks lost in the Stanley Cup finals in 1994.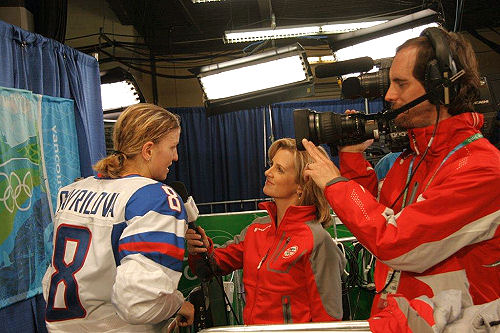 Lisa and I talked about the sport of Women's Hockey,  the Vancouver Riots of 1994, the "Skeleton ride" and much more. 
Coffee Talk with Art Vandelay
Art Vandelay:  In February 2010 you were CTV's host reporter for Women's hockey at the Vancouver Olympic Games. What was the experience like? Is there anything you can tell us about women's ice hockey that our readers might not know?
Lisa Bowes: "It was a memorable experience because it was my first Olympic Games…  I spent most of it in the mixed zone areas at the UBC and Canada Games Place (GM Place)…so I didn't see much of the Olympics but met reporters from other countries and was interviewed by TV4 Sweden about how big women's hockey is here in Canada.. As you could see from the Gold Medal Final – Canada and the US are the best teams on the planet…that's because they have the resources and the willpower to grow the sport…that's not the case in other areas of the world ..for example Switzerland has only 800 females playing the game…while in Canada its 85,000! So its pretty tough to have a competitive tournament when the gap is so big…The sport knows this…but its taking a long time to close the gap and in the meantime Canada and the U S keep getting better!"   
Art Vandelay:  Lisa, over your career what is your most memorable moment?
Lisa Bowes: "Oh boy! So many! I just realized the other day that it was 20 years ago that I first went on the air as a reporter at the CTV affiliate in Winnipeg.. I guess that was a memorable moment."
Art Vandelay:  Your website www.bowesknowsports.com says you visited with wrestling legend Stu Hart. What was that like? Did he teach you any wrestling moves?
Lisa Bowes:  "Meeting Mr. Hart was quite an experience at the old mansion in Calgary known as Hart House..he was very welcoming and loved to tell stories!!  I remember being in the dungeon – that's what they called the basement gym where Stu would train the wrestlers – and he put his son Ross in a few of his submission holds. Ross was glad when it was over as he told me "My Dad doesn't know his own strength"..at that time Stu was 80! "
Art Vandelay:  You have covered several NHL teams. Any favorites? if so why?
Lisa Bowes: "I guess I have a soft spot for the Jets…probably because those were my early days in the business and I was learning so much at that time.  I still see many people from that era as they come through Calgary..although I missed Teemu Selanne the other night..had to believe it was almost 20 years ago when he landed in Winnipeg… a few years ago I did a story on the GM for the Manitoba Moose..Craig Heizinger for TSN….Craig (known as "Zinger")  used to be the Equipment Manager for the Jets and was considered one of the best sewers (as in sewing with needle and thread) in the NHL..So it was pretty neat and unique to see him rise through the ranks..from Equipment guy to the General Manager." 
Art Vandelay:  You did play by play for the National Women's Hockey League. What was the experience like? Did you have any signature goal calls?
Lisa Bowes: "Signature goal calls? Oh I wish…I haven't done enough games…the challenge for me with play by play has been trying to get the opportunity to do it!  That skill is all about repetition and I'm getting about a game a year…still I'm very proud to have evolved the broadcast booth in Canada. "
Art Vandelay:  You were covering the Vancouver riots after the Canucks lost in the Stanley Cup Finals. Looters attacked your cameraman . What happened? Was everyone OK? 
Lisa Bowes:  "The riot in 1994 was very surreal..I couldn't believe we were in Vancouver! I remember the mob coming down the street and how the only sound I could hear was glass breaking…it was as if the mob was one entity..tough to explain..they started to roll over a police car and that's when we were told to get going and take cover..we were on a corner shooting a store that was being looted and then all of a sudden our cameraman was peppered sprayed..luckily we had "hired" two sober college students to offer us a little protection (all the news media were on the roofs – we were the silly sports media that stayed on the ground)"
"We took refuge in a music store while Roger washed his eyes out…he was ok but in a lot of pain for awhile – a piece of the camera was also broken.. about an hour later we were on our way to welcome the Canucks back and get their reaction – this was about 4am…we later covered the police press conference so it was a long night/day! Vancouver Police used our footage of the looting in their investigation."
Art Vandelay:  Can you tell our readers what a "Skeleton ride" consists off?
Lisa Bowes:  "Skeleton is an Olympic sport …I believe its roots go back to St. Moritz Switzerland  ..you basically ride a small sled down a bobsleigh track head first ..you steer by shifting your body weight and at the highest speeds you can experience g forces up to 5g..I tried it as part of a media junket ..we went from the jr start at the Olympic track used for the 88 Games in  Calgary..I thought I was going SOOO fast..but only 60k!  at the Olympics they can go twice that speed!"
Art Vandelay:  Tell our readers about www.bowesknowssports.com?
Lisa Bowes:  "Bowesknowssports.com is basically a website that explains all the other things that I do in addition to being a sportscaster..I've just updated my speaking page and will be adding more video soon…its tough to keep up with technology sometimes! I'm especially proud of the kidcasters program as it helps connects kids to broadcasting, their community and to elite athletes..they learn the importance of research,writing, and public speaking… I'm also working on a kids book about Luge!"
Art Vandelay:  I Art Vandelay and the future Mrs. Art Vandelay are going to Vancouver for our honeymoon this September. Can you recommend any places to eat or anything to do while we are there?
Lisa Bowes: "I will be back in VCR next month..so remind me about this and I'll send you a few ideas…"
Art Vandelay:  Tell our readers what you are up to now?
Lisa Bowes:  "I'm just about to write a story about a 90 year old curler."
Art Vandelay:  Favorite thing about your job?
Lisa Bowes:  "It combines the three things that I love..sports, writing and drama. I always feel happy doing this line of work..I'm extremely lucky that I've found something I'm passionate about!" 
I want to thank the Lisa Bowes for taking time out of her busy day, actually after checking out her website bowesknowssports.com, I should say busy life. After reading everything she has covered, you can without a doubt say Bowes knows Sports.   It's very rare you get to interview someone who has gone toe to toe with what was considered social norms, broke barriers and became an inspiration to many because of it.  I wish Lisa the best of luck, and I'll be waiting for the kids book on the Luge!
More about Lisa Bowes:  Lisa Bowes, CTV.ca Calgary