I recently caught up with Phil Pritchard and he was telling me what the first thing Sidney Crosby wanted to do with the Stanley Cup on his day with the Cup.  You may know Phil from the credit card commercial where he is stuck in the airport with the Stanley Cup.  You may have seen him polishing the Stanley Cup with his famous white gloves right before they present the Cup to the Stanley Cup Champion, you may have even met Phil in person while he was traveling with the Cup or met him at the Hockey Hall of Fame.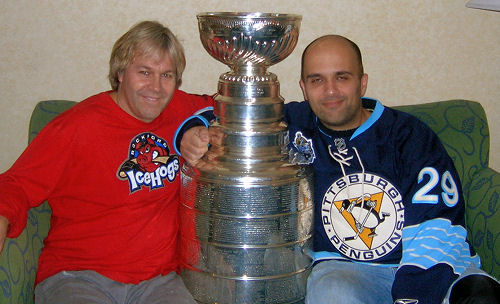 Phil and I talked about salmon fishing with Penguins coach Dan Bylsma,  Phil's official job at the Hall of Fame, whether or not the real Stanley Cup is on display at the Hockey Hall of Fame,  his white gloves, the commercials he does and of course Sidney and the Stanley Cup. 
Coffee Talk with Art Vandelay
Art Vandelay:  Coffee do you drink? What kind?
Phil Pritchard: "I am of English decent and did not grow up in a environment of it. Growing up I always heard how it becomes so addicting. So I have stayed away. I will say that it smells awesome!"
Art Vandelay:  Most people think of you as just being the guy that travels with the cup. Tell our readers what else you do.
Phil Pritchard: "I am also a curator at the Hall. My job consists of looking after all the artifacts, displaying them, collecting hockey history, as well as preserving it."
Art Vandelay:  Challenges your job presents?
Phil Pritchard: "My work is great. I will say with hockey being played in 65 countries all over the world, it is hard staying on top of hockey history."
Art Vandelay:  What is the best part of your job?
Phil Pritchard: "Dealing in hockey, and the especially the people. They are so passionate."
Art Vandelay:  The Penguins won the cup in 09. Are there any stories you can share with us?
Phil Pritchard: "Coach Dan Byslma is a big outdoorsman. Dan and myself went salmon fishing on Lake Michigan with the Stanley Cup and the Prince of Wales trophy. Needless to say we caught 600 pounds of salmon."  AV– Did Dan let you take some salmon? PP-"Yes!" PP– "A lot do not know this but the first thing Sidney Crosby wanted to do with the cup was he wanted to polish and clean the cup like what we do on a daily basis" AV– How did he do? PP- "Sid is a better hockey player than a Stanley Cup cleaner."
Art Vandelay:  Your are now featured in a Credit Card commercial. What's it like to be in a commercial?
Phil Pritchard: "People in Canada do not have that card, but since Toronto is pretty close to the border of the US it is on some TV stations  up here and it is neat for my three kids to see me on TV." 
Art Vandelay:  I want to get serious for a question. I have been to the Hall several times. Is the real cup ever on display in the Great Hall for the public to see?
Phil Pritchard: "Every Tuesday during hockey season. Hardly never during the summer for obvious reasons that the Stanley Cup is traveling with the winners of that season. You can always ask a staff member when you come to which cup is on display."
Art Vandelay:  You wrote a book with other keepers of the cup "Travels with Stanley". Where should our readers go to buy it?
Phil Pritchard: "Readers can go to the Hockey Hall of Fame website to purchase it. The book mostly consists of pictures that were taken during our travels with the cup."
Art Vandelay:  Phil as I understand  you teach a course in hockey history and sports administration at Seneca College of Applied Arts and Technology in Toronto. Can I enroll?
Phil Pritchard: "I have been teaching the class since 2004. The class is taught at night, and yes you can enroll and take the online version of the class if you want."
Art Vandelay:  The famous white gloves. How many pair do you own?
Phil Pritchard: "People have to remember this is a museum you wear the gloves to protect the hockey artifacts from the oil in your fingers, and also out of respect for the Stanley Cup. I will say I do still have every pair I have every worn. I put them in a zip block bag label then and put them in my sock drawer."
Art Vandelay:  Favorite NHL team?
Phil Pritchard: "Growing up it was the Montreal Candians. Now I get to hang out with the best team year after year. I get to hang out with the winners."
Art Vandelay:  Best Places to eat in Toronto?
Phil Pritchard:  "Sushi Inn"   http://www.sushiinn.net/, "Rich Tree Market" http://www.richtree.ca/Shop/ProductList.aspx?lid=4&cid=5 "Of course there is always street vendors that sell 'Street Meat'  A must when in the city"
There's nothing like inviting someone for "Coffee Talk" just to find out they don't drink coffee.  Oops!  I really think the Hall of Fame and the NHL did themselves a great service by sending Phil Pritchard along with the Stanley Cup most everywhere it goes.  Feeling like you've known someone forever the moment you first meet is a trait you do not find in many people.  I got to thinking after talking to Phil that he had to have many many more Stanley Cup secrets stored away in that noggin of his and I pondered whether after he retires maybe an end all to beat all Stanley Cup secrets book would be in the works.  You know there is some NHL players shaking in their boots just thinking about it.