Or maybe, better yet, what does Malkin need to do, to get back to the form we expect from him?  I have to be honest, I don't know the answer to this problem. I have a couple of theories that could contribute to his lackluster production, but no concrete resolutions for sure.  In fact, I hope that the other contributors and all of our faithful readers will also chime in with thoughts on this.  Maybe we can sift through all of the results and come up with something that makes sense.
When I started writing this, Malkin was still in the line up.  Maybe…..just maybe, some time off will do him good.  Possibly, part of the problem is that he has been playing with injuries.  I kind of doubt that is the problem, but I am hoping when he returns he will be 100% healthy and ready to go with an adjusted mental attitude.
One thing I do know is that I am not ready to get rid of him.  I know it has been a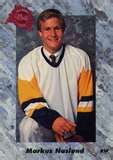 while since we have witnessed his greatness, but I also know it is still there. Wouldn't it suck to trade him away only to watch him flourish somewhere else. (see Markus Naslund)  Trading him is not the answer.  Getting him back to his previous production level is the answer.  As fans we have become spoiled with all of the talent that has come through our system.  Let's not take Malkin for granted. Though he is not playing at a level we know he can, he is still a rare talent.
The reason for his struggle is not because he does not want to produce at a level.  I like to believe that professional athletes or athletes at any level, want to win, be successful and be the best that they can be.  Even with the insane amount of money these guys make, I still think the competition is what drives them.  (there are exceptions)  So, it is not Malkin's desire that is holding him back right now.
The problem is certainly not his skill set. We have seen this guy put up big numbers. A season and a half ago, he had 113 points.   Every game he shows signs of his remarkable abilities.  I think we can agree it is not his talent that is in question.
So what is the problem here?  Krundle and I were chatting about this the other day. One thing we definitely agreed was contributing to his woes has to do with his line-mates.  We are not just talking about the quality of his line-mates, but the constant turnstile that provides him with different players to skate with on a shift by shift bases, let alone a game by game basis.  This is not the whole problem, but a contributing factor.
His role also changes too frequently.  He went from being center (his natural position) to being put on Staal's wing as Staal was nearing his return.  Then Staal was hurt again and his return was further delayed.  Malkin goes back to center. Then Staal comes back and Malkin goes back to wing.  Now Crosby is out, so let's move Malkin back to center.  His position was re-defined on the powerplay.   Everyone remembers the controversy about Malkin and Crosby both wanting to play the wall on the PP.  He has been used sporadically on the point during the PP, he has played the top of the umbrella and just about everywhere else.  With that said, a guy as talented as Malkin should be able to adapt to these changes.  This not the reason, but a factor.
In my personal opinion, the biggest problem he has right now is "gripping the stick to tightly".  Of course, I do not mean that literally.  Anyone who has been around hockey at any level knows this means a player is not playing confidently.  When things start going bad, a player can lose confidence and start playing a different, unnatural game.  I think this is where Malkin is at right now.  His "gripping the stick too tightly" is leading to him making bad decisions, forcing plays and trying to do too much at times.  He needs to get a few bounces, have a couple of breaks go his way and get a couple of shots to find their way into the net.  When this happens, he will start to regain his confidence.  This will not happen over night, but it will happen.  Please don't give up on Malkin.  He is a real talent and we are lucky to have him as part of the Pittsburgh Penguins.
I am sure there are other factors involved in his drop in production.  I look forward to hearing what other might have to say about it.