The Penguins have afforded Sidney Crosby all the time he needs.  There are many documented cases of players around the NHL coming back to soon after concussions. It would be stupid to push Sidney Crosby back onto the ice too soon at a time when the Penguins are tied for the lead in the Eastern Conference and have lost the least amount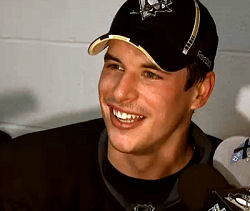 of games in their first 17 games in the Crosby era.  Patience is the one things that the Penguins organization has shown even though few outside of the organization seem to be aware of the concept.
Marc Savard and Eric Lindros are two prime examples of what happens when organizations or players decide to rush back into the mix before they are ready. Putting the irony aside that Penguins Darius Kapairitis and Matt Cooke are the leading the accused list of people that gave those two concussions, coming back before their brains were ready to absorb a hit was the main problem. Both Lindros and Savard are still experiencing post-concussion syndrome including dizziness, memory loss and depression. 
Many players around the league play before they are ready. Penguins forward Eric Tangradi suffered a concussion in a game on Long Island a month after Crosby's. Tangradi has returned to ice, but you have to wonder if maybe he didn't mention a tiny bit of dizziness or other symptoms because he felt he needed to fight for his job. 
Fighters around the league return to the lineup before they are ready and suffer multiple concussion symptoms. Some around the league argue that the depression players suffered from post concussion syndrome could be responsible for one or more of the player suisides this off season. 
Whether or not Crosby is still experiencing problems or if he is feels ready, the Penguins team is doing fine without him. The Penguins only have four losses. The last loss to was the only loss by more than 1 goal. If you watched the Carolina game, the Penguins ridiculously outplayed Carolina and were beat by the stellar play of goaltender Cam Ward.
I hear the question "When is Sydney Crosby returning?" all the time. There are polls all over the internet, there is #crosbywatch on twitter, even TSN sat at Crosby's locker yesterday wondering why Crosby wouldn't talk to them. As someone who has dealt with a hockey concussion personally, I always answer with a "hopefully not before he is ready".