Over the next 4 weeks we will be offering chances to win autographed PenguinPoop shirts.  First up is an size XL Black PenguinPoop Hoodie autographed by Maxime Talbot.
All enteries must be in by 11:49PM EST Thurday March 24rd.   
The winner of the autographed Max Talbot PenguinPoop hoodie was: 
Alexandra from Washington, PA
Next Contest:  Win a PenguinPoop T-Shirt Autographed by Kris Letang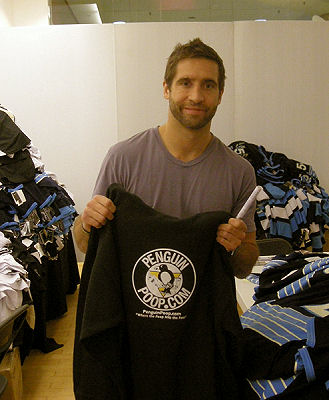 Make sure to check out Max's cool new website also:  www.Max25Talbot.com
There are three ways you can enter the contest.  Everyone who follows us on Facebook and Linkedin is automatically entered.  For Twitter you must be following us and Re-tweet the above green link.  Each place below that you follow us counts as one entry. If you follow us on all three it triples your chance of winning!  Good Luck!
1.  Make sure you are following us on Twitter by clicking here:

   Once you are following us, you must click on the green retweet above to be entered.
2.      Anyone following us on Facebook is entered.  Click here:

 to make sure you are following us.  Feel free to click on share up on the top right of this post to let your freinds know about the contest.
*This promotion is in no way sponsored, endorsed or administered by, or associated with, Facebook.
3.    Click here:

 and follow us on Linkedin and you are automatically entered.
All enteries must be in by 11:49PM EST Thurday March 24rd.   All we ask is that we are able to use your first name or twitter name next Friday when we announce the winner, if you can't let us do that, you can't win.    We can only ship for free to USA or Canada, if you win from somewhere else in the world, your gonna have to foot the bill.
Coming up we will have these autographed PenguinPoop shirts: Kris Letang, Arron Asham & Brooks Orpik