I've never been much for the idiom "Is the glass half empty or full?"  The glass is always full, it's just a matter of what's in it. When the Pittsburgh Penguins take the ice tonight for the third time in a row without the services of both Sidney Crosby & Evgeni Malkin, Penguins' GM Ray Shero will have a fantastic chance to see which players on his roster can raise their level of play to help the team in a time of need.  This "test" if you will, would be more of a test of the players heart. It would not necessarily be how many points a player gets, but how they step it up.  Almost exactly as could be needed in a playoff situation.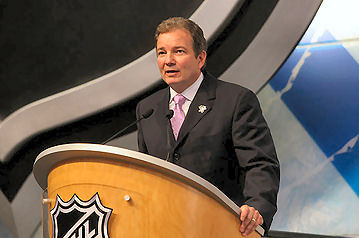 Pittsburgh Penguins GM Ray Shero for the most part has a good portion of the main lineup signed for the next year or two. As far as the players considered "roll" players on the team, most of them are not signed into next year. It is not that Shero isn't signing players, he has already shown this month that he liked the performances of center Mark Letestu and defenseman Deryk Engelland enough to reward them with contract extensions.
There are players in question who Shero may or may not have contacted about contract extensions. These players contracts expire at the end of the season and these players need to raise their level of play if they wish to remain on the team. They are: Dupuis, Talbot, Kennedy, Rupp, Godard, Asham, Adams, Conner and Jeffrey. Watching the last two games a few of these players stood out, good and bad.
Pascal Dupuis really upped his game and has played his heart out, he had a fantastic break-away goal and forechecked like a madman. Tyler Kennedy also has been playing like a man possessed, though he has been doing that since he has been reunited with Matt Cooke and Jordan Staal a week or so ago. Dustin Jeffrey was called up from the WBS Penguins, his skating has improved a bit though it still needs work. Notching a goal hasn't hurt his cause.
Middle of the road players, Asham, Rupp, and Adams play hasn't changed. Though I don't know if they have the ability to up their games. I'm not super familiar with Asham but Rupp and Adams have always been the same, which is a good thing. Their steady play can be counted on in tough spots in the playoffs. If these two get signed, it will probably be for the exact same amount, if they want more they will most likely be shown the door.
Eric Godard was back skating today and could possibly be back in the lineup to replace Matt Cooke who missed practice today.  I don't believe Godard will be resigned by the Pens next year partly because of the signing of part time fighter full time defenseman Deryk Engelland, partly because coach Bylsma hasn't used Godard in the playoffs the last two years.  I do think that Godard will have no trouble finding work in the NHL.
Which brings me to Max Talbot. I don't know where Talbot's head is this season. I gave him a free pass last season, not picking on him because he started half way through because of injury. This season other than two games up in Montreal when he decided to play his ass off in front of his hometown, I haven't seen him anywhere. That's not counting his fu manchu he had for the entire HBO 24/7 series.
Talbot has 5 goals, 6 assists this season. About the same as WBS Penguins call up Chris Conner who has played 17 games less than Talbot and has a +/- that's 10 points better all for half as much money. When Talbot walks into Shero's office asking for a raise or even the same amount of money as the $1.05 million he makes this year, Shero will be laughing, but only on the inside. I'm a huge fan of Talbot and what he does for the team in the locker room and of the two goals he got two years ago in game seven. Which makes it harder to say that if he doesn't start playing now, he's gone most likely at the trade deadline.
When your watching the game this evening keep in mind all of the players will be on a level playing field. Players won't be paired with superstars, to win the game they will have to do it themselves. Ray Shero will be watching, scouting the players, especially Talbot. Come trade deadline and the end of the season when Shero is deciding who to keep on the roster and who not to, these last three games before All-Star break will be the ones he looks at most.