The number one goal scoring left winger in the NHL, James Neal  is currently without a spot on the NHL All-Star Game roster and barring injury to a player currently on the roster he'll be sitting at home watching the game on TV.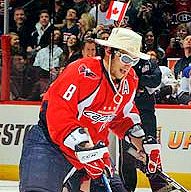 The NHL invites 24 total players who play offense onto their All-Star squad. Three of which are voted in by the NHL fans. Three players from Ottawa, the home of the All-Star game, were voted in by the fans. We should all be aware of how the voting works here in Pittsburgh. If you are not, reference how Kristopher Allen Letang landed an All-Star spot last year. Who doesn't respect a good grass roots voting campaign especially in an election year.
The other 21 players are voted in by what is called the NHL's Hockey Operations Department. Picking these players would be a seemingly easy task if it wasn't for the fact that you want to include one player from every team. That starts to complicate things a tiny bit, but the NHL created the "Rookie" All-Star game to help alleviate that problem.
For reasons unknown Alexander Ovechkin is on the All-Star team. Ranked 43rd overall in the NHL in scoring you would think maybe he made it because of the 1 player per team rule. That is not the case, Washington defenseman Denis Wideman earned a spot on the team. So the next obvious reason would be that Ovechkin must be one of the best at the left wing position he plays.
This couldn't be further from the truth. At the Left Wing position of which the NHL's Hockey Operations Department only picked 4 players Ovechkin ranks 9th in goal scoring, 12th in overall scoring and tied for the 150th (yes 150th) in plus / minus. On the flipside, James Neal ranks #1 in goal scoring, #2 in overall scoring and is tied for 40th in plus/minus.
Stretching it out even further, maybe you've figured that the reason Ovechkin got picked is because he is a fan favorite. Not so, James Neal received almost 50 thousand more votes in the fan voting than did Alexander Ovechkin.
That leaves only two reasons I can think of that Ovechkin got the All-Star spot and not James Neal. Funny hats & rap videos. Yes, somehow Ovechkin must know that the NHL's Hockey Operations Department loves funny hats and rap videos, there can be no other explanation.
Ovechkin is simply the least deserving player on the NHL All-Star roster and he just happens to play the same left wing postion James Neal plays.  Ovechkin is the reason James Neal is not on the roster.
I'm sure Washington's Nicolas Backstrom who truly deserves to be at the All-Star Game also would agree with this assessment. If anyone from Washington deserved a position it was Backstrom.
The NHL.com crew of Dave Lozo, Corey Masisak, Shawn Roarke and Dan Rosen nailed on the head who should be on the roster using hockey skill as a guide not funny hats.  They even included the fan picks. The NHL may want to look into having these guys pick next year instead of the "NHL's Hockey Operations Department"
Here is NHL.com's All Star picks: "Filling NHL All-Star Game roster no easy task" Make sure to take notice that both Backstrom and Neal are on the list.
There is a silver lining to this nonsense. James Neal is in a contract year. Adding an All-Star Game to his resume would artificially inflate his worth. Maybe the Pens will be able to sign him for a few years.
*UPDATE:  James Neal is headed to the All-Star Game in Ovechkin's spot.  Ovechkin declined his All-Star spot after he thought he was wrongly suspended by the NHL.