In the wake of his team's sloppy 5-3 loss to the Islanders on Tuesday, Penguins coach Dan Bylsma clearly wasn't a happy camper. He made it plain during Wednesday's practice session that he expected better defensive play from his troops.
"They realize the situation," Bylsma said. "Players spoke. Coaches spoke."
To make sure his charges got the message he broke up the high-powered "Firing Line" for Thursday night's return engagement with the Islanders. Chris Kunitz joined his old linemates Sidney Crosby and Pascal Dupuis, while Steve Sullivan was grafted onto the top unit with Evgeni Malkin and James Neal. Bylsma completed the facelift by reuniting the Jordan Staal–Matt Cooke–Tyler Kennedy trio.
Unfortunately the Pens' skipper may have tightened the screws too much. Looking uncharacteristically stiff and mechanical, the black and gold dug themselves a hole through 40 minutes of play en route to a lackluster 5-3 loss.
While the Pens seemed overly concerned with their puck management, the Islanders made the most of their four first-period shots. At 11:07 low-scoring Marty Reasoner gathered in a pass from Mark Streit and beat Marc-Andre Fleury from the slot to stake the home team to a 1-0 lead.
As he has done time and time again, Dupuis provided a spark for the Pens with a superb individual play. While killing a penalty midway through the second period, "Super Duper" banged Travis Hamonic off the puck with a stiff check along the boards. The hustling winger picked up a short pass from Craig Adams and hammered a shot past New York goalie Al Montoya off the right post.
With the score knotted at 1-1, the Pens appeared to be back in business. However, the Islanders' took charge thanks to a pair of special-teams goals. Following a power-play tally by Kyle Okposo at 16:36, Josh Bailey pounced on a Malkin turnover two minutes later for a shorthanded goal. Early in the third period the energetic duo struck again, as Bailey set up Okposo in the slot for the eventual game winner.
After managing just 14 shots through two periods of play, the Pens finally flashed some offense. Just past the eight-minute mark Staal spilt the Islanders' defense and chipped a rolling puck past Montoya's glove on the backhand. With Fleury pulled for an extra attacker, Malkin rifled home his 47th goal of the season at 18:29 to close the gap to one. But the ubiquitous Bailey (five points on the evening) potted an empty-netter with five seconds left to hand the Pens their second-straight defeat.
"We didn't do a lot of good things and we paid for it again," Crosby said. "We made some mistakes and they capitalized on it."
Ice Chips
Dupuis (a goal) was voted No. 3 star … No. 9 extended his points streak to 12 games (tied for the longest in the league this season) … Malkin (a goal) recorded his 100th point … Kennedy (an assist) paced the Pens with a plus-2 … Paul Martin (plus-1) picked up two assists … Pittsburgh outshot New York (29-23) … Crosby was struck in the face by a Dylan Reese clearing attempt, but returned to action … Eric Tangradi dressed in place of Richard Park … Brad Thiessen was returned to Wilkes-Barre … Dustin Jeffrey, Kris Letang, Ben Lovejoy, Matt Niskanen, Park, and Joe Vitale were scratches.
On Deck
The Penguins (47-24-6) trek to the Niagara frontier to take on the surging Buffalo Sabres (38-29-10) Friday night. The Pens trail the Eastern Conference-leading Rangers by five points.
*Be sure to check out Rick's new book, "100 Things Penguins Fans Should Know and Do Before They Die" at TriumphBooks.com. It features 296 pages of bios, stories, anecdotes and photos from the team's colorful past in a compelling, easy-to-read style. Whether you're a die-hard booster from the days of Jean Pronovost or a big fan of Sid and Geno, this book is a must have for any true Penguins fan.
Don't forget to check out Rick's first book, "Total Penguins," at TriumphBooks.com. A complete and comprehensive book on the team's rich and storied history, it's filled with season-by-season summaries, player profiles and stats, bios on coaches, general managers and owners, photos from the "Post-Gazette" archives, and much, much more.
*Be sure to check out Rick Buker's books,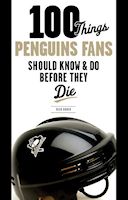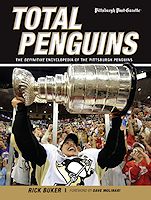 available at TriumphBooks.com, Amazon.com, and BarnesandNoble.com