Two days after swallowing perhaps their most bitter defeat of the season at the hands of archenemy Philadelphia, the Penguins vented their considerable frustration Tuesday night on the poor Winnipeg Jets. The result was a resounding 8-4 victory before another sellout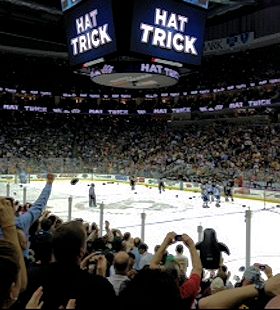 throng at CONSOL Energy Center.
There was no shortage of heroes for the home team. James Neal notched his first black-and-gold hat trick en route to a four-point night. Evgeni Malkin—inspired by the presence of his parents Vladimir and Natalia—piled up two goals and three assists with yet another MVP-worthy performance. Tyler Kennedy snapped a lengthy scoring drought with a pair of goals. Oh, and Sidney Crosby (remember him?) registered four assists while playing the role of setup man extraordinaire.
Eschewing a more defensive approach, Winnipeg once again engaged the high-powered Penguins in a run-and-gun battle. Again the strategy failed miserably.
"You give them space and they eat you up," Jets coach Claude Noel said. "That's what they did."
The bloodletting began early as Kennedy whipped a pretty feed off the end boards from Crosby past Ondrej Pavelec at 2:04. Although Winnipeg rallied to snatch a brief 2-1 lead on goals by Jim Slater and Brian Little it was just a matter of time before the boys from the 'Burgh got untracked.
The Pens countered late in the period with a power-play goal, courtesy of some stunning puck movement. Crosby slipped a jaw-dropping, no-look-behind-the-back pass to Malkin, who quickly relayed a crisp cross-crease feed to Neal to the left of Pavelec. The big winger made no mistake and ripped the rubber past the helpless Jets goalie.
After Neal and Little exchanged tallies early the second frame, the Pens unleashed the heavy artillery. Kennedy struck for his second goal of the evening at 6:55, followed by Malkin's 42nd of the season (and 200th of his career) at 11:31. Geno's tally chased the beleaguered Pavelec, who was hung out to dry on numerous occasions by his teammates.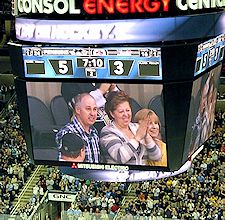 Tim Stapleton beat Pens rookie Brad Thiessen from the doorstep three minutes later to pull the Jets to within one, but it was a last gasp. Neal capped off his hat trick at 17:03. Malkin and Pascal Dupuis victimized backup Chris Mason in the final period to apply the knockout blow.
"There were some nice hockey plays out there," Pens coach Dan Bylsma said. "There's some of that tape you see in some highlight videos."
Ice Chips
Neal (15 power-play goals) was voted the No. 1 star … Malkin (93 points) was named No. 2 star … Crosby (No. 3 star) has 21 points in 12 games … Neal, Malkin, Crosby, and Chris Kunitz (an assist) were plus-3 each … Matt Cooke recorded two assists … Dupuis set a new career-high with his 21st goal … Thiessen made 26 saves … Pittsburgh out-shot Winnipeg (35-30) … The Penguins trail the Conference-leading Rangers by one point (97-96) … Dustin Jeffrey, Brent Johnson, Ben Lovejoy, Richard Park, and Joe Vitale were scratches.
On Deck
The Penguins (45-21-6) host the Nashville Predators (42-24-8) at CONSOL Energy Center on Thursday night. The game may mark the return of one-time Preds phenom Alexander Radulov, who recently rejoined the club after playing in the KHL for the past four seasons.
*Be sure to check out Rick's new book, "100 Things Penguins Fans Should Know and Do Before They Die" at TriumphBooks.com. It features 296 pages of bios, stories, anecdotes and photos from the team's colorful past in a compelling, easy-to-read style. Whether you're a die-hard booster from the days of Jean Pronovost or a big fan of Sid and Geno, this book is a must have for any true Penguins fan.
Don't forget to check out Rick's first book, "Total Penguins," at TriumphBooks.com. A complete and comprehensive book on the team's rich and storied history, it's filled with season-by-season summaries, player profiles and stats, bios on coaches, general managers and owners, photos from the "Post-Gazette" archives, and much, much more.
*Be sure to check out Rick Buker's books,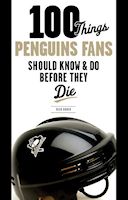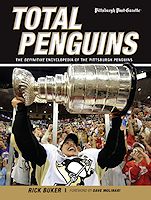 available at TriumphBooks.com, Amazon.com, and BarnesandNoble.com