Fresh off an emotional victory over Philadelphia the day before, the Penguins traveled north to take on the slumping Buffalo Sabres with high hopes of securing a four-point weekend. After all, the Pens had beaten the Sabres in seven out of their previous eight meetings, including an 8-3 laugher at CONSOL Energy Center on December17.
However, the black and gold forgot to pack their "A" game. Or, for that matter, their B, C, and D games. In perhaps their most languid effort of the season, the Pens never found their rhythm en route to a dismal 6-2 loss to the Sabres on Sunday afternoon.
Trouble started early for the boys from the 'Burgh. Continuing his season-long struggles, goalie Brent Johnson yielded tallies to Jason Pominville and Derek Roy on two of the first three shots he faced. Aside from a brief scuffle between Jordan Staal and Buffalo's Patrick Kaleta at the buzzer, the Pens—obviously drained following their big win over Philly—showed little life during a snoozer of a first period.
Despite their somnambulant play, the visitors nearly scored early in the second frame. While killing a penalty to Pascal Dupuis, Staal cruised down the slot and tested Ryan Miller with a wicked wrister. Unfortunately for the Pens, the former Vezina Trophy winner coolly made the save. Moments later hulking Paul Gaustad struck on a second-chance shot from the side of the net to chase Johnson.
With Marc-Andre Fleury between the pipes, the Penguins briefly flashed their customary fire. At 3:39 Evgeni Malkin picked off a clearing attempt along the right sideboards and feathered a cross-ice pass to Deryk Engelland at the left point. The rugged defender beat Miller with a booming slap shot to pare the Sabres' lead to 3-1.
Thanks largely to the brilliance of Fleury, who stopped Kaleta on a penalty shot and thwarted golden opportunities by Roy and Gaustad, the Pens still were in the hunt entering the third period. Working on a power play at the five-minute mark, Staal corralled a shot by James Neal and whipped a backhander between Miller's pads to cut the deficit to one.
It was as close as the Penguins would get. Sixty-five seconds later, Drew Stafford swept the puck past Fleury to restore the Sabres' two-goal cushion. While the Pens went "pfft" Buffalo tacked on insurance tallies by Roy and Tyler Ennis to make the final margin 6-2.
Ice Chips
Malkin (an assist) paced the Pens with five shots … Kris Letang and Paul Martin were minus-4 each … Pittsburgh out-shot Buffalo 26-24 … Fleury reached the 30-win plateau for the fourth straight season with his victory over the Flyers … "Flower" and Johnson each allowed three goals on 12 shots … Neal signed a six-year, $30 million extension … Former Pens Hal Gill (Nashville) and Dominic Moore (San Jose) were traded this week … Sidney Crosby, Tyler Kennedy, Ben Lovejoy, and Cal O'Reilly were scratches.
On Deck
The Penguins (33-21-5) return home to host the Atlantic Division leading Rangers (37-14-5) on Tuesday night. The Pens are 1-2 against New York this season.
*Be sure to check out Rick's new book, "100 Things Penguins Fans Should Know and Do Before They Die" at TriumphBooks.com. It features 296 pages of bios, stories, anecdotes and photos from the team's colorful past in a compelling, easy-to-read style. Whether you're a die-hard booster from the days of Jean Pronovost or a big fan of Sid and Geno, this book is a must have for any true Penguins fan.
Don't forget to check out Rick's first book, "Total Penguins," at TriumphBooks.com. A complete and comprehensive book on the team's rich and storied history, it's filled with season-by-season summaries, player profiles and stats, bios on coaches, general managers and owners, photos from the "Post-Gazette" archives, and much, much more.
*Be sure to check out Rick Buker's books,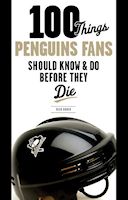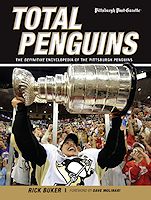 available at TriumphBooks.com, Amazon.com, and BarnesandNoble.com