The weather in Pittsburgh has been unseasonably warm in the New Year, with temperatures hovering around 50 degrees. It's a pity the same can't be said for the local hockey team, which remains colder than an Arctic clipper howling across the frozen tundra.
A night after absorbing perhaps their most humbling defeat of the season, the Penguins traveled to Washington to take on the Capitals. First the bad news: the black and gold lost a 1-0 heartbreaker to run their losing streak to six games. And the good news? By all accounts they gave a good effort.
After being upbraided by the local press for their sorry performance against Ottawa, the Pens finally showed some moxy. Just past the two-minute mark Craig Adams dropped the mitts with the Caps' Matt Hendricks in a battle of cruiserweights. Although Adams fell to the ice following a brief exchange, his grit lit a fire under his teammates. The Pens controlled the action throughout the opening 11 minutes while limiting the home team to a single shot on goal.
Washington drew first blood at 15:25, thanks to a giveaway by Evgeni Malkin at the Caps' blue line. Joel Ward quickly headmanned the puck to veteran Jeff Halpern, who found Jason Chimera cruising down the slot on a breakaway. The Capitals' winger had easy pickins'—firing his 14th goal of the season past a helpless Marc-Andre Fleury.
It was the only blemish on an otherwise flawless night's work by "Flower." Midway through the second period he made a pair of stunning saves on Karl Alzner and sniper Alex Ovechkin to keep his team in the game.
Unfortunately, the Pens' offense (six goals in six games) remained as frigid as a car battery refusing to turn over in subzero weather. Caps goalie Tomas Vokoun (30 saves) came up huge against Malkin with six minutes to play. Moments later Dustin Jeffrey rang a hard shot off the iron. Literally saving his best for last, Vokoun miraculously foiled a furious back-alley scramble by Malkin, Chris Kunitz, and James Neal with two minutes remaining.
Despite the loss, the Penguins felt good about their effort.
"Let's play another 40 like that," coach Dan Bylsma said.
Adams agreed. "We need to keep playing the way we did tonight," he said.
Ice Chips
Fleury (20 saves) was named No. 2 star … The Penguins out-shot the Caps 30-21 … Malkin paced the Pens with six shots … Adams registered eight hits … Jeffrey dressed for the first time since Nov. 3 … Simon Despres (knee) was placed on IR … Enforcer Steve MacIntyre was placed on waivers … Sidney Crosby, Despres, Kris Letang, Colin McDonald, Jordan Staal, and Joe Vitale were scratches.
On Deck
The Penguins (21-17-4) continue their swing through the Southeast Division when they visit Florida (21-13-8) on Friday night. The Pens split their first two meetings with the Panthers.
*Be sure to check out Rick's new book, "100 Things Penguins Fans Should Know and Do Before They Die" at TriumphBooks.com. It features 296 pages of bios, stories, anecdotes and photos from the team's colorful past in a compelling, easy-to-read style. Whether you're a die-hard booster from the days of Jean Pronovost or a big fan of Sid and Geno, this book is a must have for any true Penguins fan.
Don't forget to check out Rick's first book, "Total Penguins," at TriumphBooks.com. A complete and comprehensive book on the team's rich and storied history, it's filled with season-by-season summaries, player profiles and stats, bios on coaches, general managers and owners, photos from the "Post-Gazette" archives, and much, much more.
*Be sure to check out Rick Buker's books,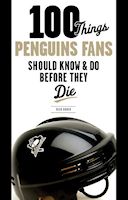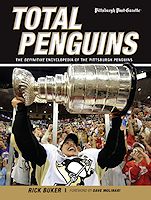 available at TriumphBooks.com, Amazon.com, and BarnesandNoble.com