Fresh off a pair of dismal losses to the New York Islanders, the Penguins traveled to Buffalo to take on the Sabres at First Niagara Center on Friday night. Arguably the league's hottest team, Lindy Ruff's crew hardly fit the bill of a patsy. Indeed, the hungry young Sabres entered the contest on a five-game winning streak.
Fortunately, the Pens were up to the challenge. Powered by big-time performances from Sidney Crosby, Steve Sullivan, and Evgeni Malkin—not to mention a bounce-back 25-save effort by goalie Brent Johnson—the black and gold more than matched the Sabres' energy and desperation to capture an electrifying 5-3 win.
"I think tonight we did a better job of playing the right way," Crosby said.
Bolstered by the return of steady defenseman Matt Niskanen and gritty checker Joe Vitale, the visitors swarmed the Sabres from the opening draw. Three minutes in Drew Stafford was sent to the box for tripping Vitale to hand the Pens an early power play. Moments later Malkin barged into the slot and lashed his own rebound past Ryan Miller.
Buffalo evened the score at 6:35 when ex-Pen Jordan Leopold punched the puck past Johnson from a goal-mouth scramble. "Johnny" made amends at the 12-minute mark with a terrific left-pad save on Ville Leino at the side of the net.
Next it was Crosby's turn to shine. At 12:52 "Super Sid" beat Miller through the five-hole to reclaim the lead for the Pens. But Johnson, who admitted he was fighting the puck during a shaky first period, misplayed a Tyler Ennis shot from the right sideboards and allowed Buffalo to tie the score at 2-2.
The action heated up during a riveting second period as both teams displayed an intensity worthy of a Game 7 matchup. Midway through the frame Johnson made a game-turning save on a shorthanded chance by Andrej Sekera.
Buoyed by the veteran's big-time stop, the Penguins countered. Working with a man advantage, Crosby found James Neal on the rush with a beautiful cross-ice feed. The "Real Deal" ripped his 38th goal (and league-best 17th on the power play) past Miller at 11:43. Minutes later Sullivan chipped Pascal Dupuis' trickler over the Buffalo netminder's pads to stake the Pens to a 4-2 lead. However, Thomas Vanek capitalized on a crazy bounce off a glass partition to pull the Sabres back to within a goal.
The Pens nearly cashed in early in the final period when Sullivan found a streaking Dupuis with an 80-foot stretch pass, but Miller foiled the speedy winger with a sensational glove save. Malkin handed Buffalo a last-gasp opportunity at 17:39 when his backhand clearing attempt fluttered over the glass. Again Johnson came up huge, snagging Leopold's drive with 35 seconds to play. After Stafford fanned on a bouncing puck from close range, Jordan Staal potted an empty netter to cap a hard-fought win for the Pens.
Ice Chips
Crosby (a goal and three assists) was named No. 1 star … Sid registered his 600th career point on Neal's goal … Sullivan (a goal and two assists) was voted No. 3 star … Dupuis (two assists) extended his NHL-high points streak to 13 games … Malkin (a goal and an assist) set a new career high with his 48th goal … Johnson earned his first victory since Feb. 12 … Brooks Orpik recorded his 100th career assist … Pittsburgh outshot Buffalo (33-28) … The Pens were 2-for-3 on the power play … Simon Despres, Dustin Jeffrey, Kris Letang, Ben Lovejoy, Richard Park, and Eric Tangradi were scratches.
On Deck
The Penguins (48-24-6) host archrival Philadelphia (45-24-8) in a matinee game at CONSOL Energy Center on Sunday. The Pens hold a four-point edge over Philly in the Atlantic Division race.
*Be sure to check out Rick's new book, "100 Things Penguins Fans Should Know and Do Before They Die" at TriumphBooks.com. It features 296 pages of bios, stories, anecdotes and photos from the team's colorful past in a compelling, easy-to-read style. Whether you're a die-hard booster from the days of Jean Pronovost or a big fan of Sid and Geno, this book is a must have for any true Penguins fan.
Don't forget to check out Rick's first book, "Total Penguins," at TriumphBooks.com. A complete and comprehensive book on the team's rich and storied history, it's filled with season-by-season summaries, player profiles and stats, bios on coaches, general managers and owners, photos from the "Post-Gazette" archives, and much, much more.
*Be sure to check out Rick Buker's books,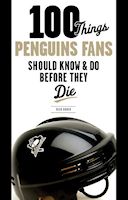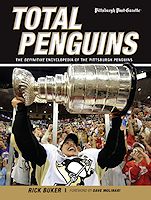 available at TriumphBooks.com, Amazon.com, and BarnesandNoble.com