They say a rising tide lifts all boats, and there hasn't been a bigger tidal wave around here than the return of Sidney Crosby after a three and a half month absence.  Not that the Penguins weren't playing well before he returned, they were having won 12 out of their previous 14 games, and it's not like they weren't scoring goals during that time, they were averaging four goals per game over that stretch, but it's just the way they're playing now that makes you wonder where they would be if Sid had been here all season.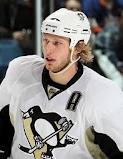 During the five games that Sid has been back, the Penguins have increased their goals per game up to five while seeing increased scoring from guys like Matt Cooke and Tyler Kennedy (Sid's new linemates) making this the most lethal third line the Penguins have fielded since the '91/'92 season, and even seeing contributions from Aaron Asham and Pascal Dupuis.
There does, however, seem to be a couple of boats that have fallen with the rising tide, and one of them is Jordan Staal.  Staal was on an absolute tear before Sid returned having compiled 15 points in the previous 12 games, and it wasn't just assists, six of those 15 points were goals.   Staal also amassed 40 shots on goal during that time frame or almost three per game.  Since Sid's return, Staal has three assists in five games, he has taken only five shots on goal.
Now, if Staal had lost his place on the first power play unit to Crosby, some of this might be understandable, but Jordan was skating with the second PP unit even while Sid was out, and only two of his points during his streak came with the man advantage.  Could it be a decrease in playing time now that Sid has returned?  Again, the answer is No.  Staal is still averaging over 19 minutes per game since Crosby has returned so the question still remains, what has happened to not only Staal but to what had become one of the most deadly second lines in the NHL if you include Staal's linemates, Steve Sullivan and Pascal Dupuis although Dupuis is still averaging a point a game over the last five.  Steve Sullivan is another of those boats that seem to have taken on water lately.  Sullivan had a seven game point streak  and 13 points in 11 games prior to "The Return", but he too only has two assists since.
The time time to look for answers to problems is not when things are going poorly but when they're going well, and the Penguins still have a couple of weeks to figure these things out before the playoffs start.  If they can get Staal and Sullivan flying again the way they were before Crosby's return, this Penguin team will fly through the playoffs like the 80's Edmonton Oilers would through an adult beer league.