In 1978 rocker Bruce Springsteen collaborated with Jersey shore pal Southside Johnny Lyon on the tune Trapped Again. Although "the Boss" didn't have hockey in mind when he wrote the lyrics, it could easily serve as the Penguins' theme song whenever they play New Jersey. Following an all-too-familiar script, the Pens fell behind early at the Prudential Center on Sunday afternoon and were smothered into submission by Martin Brodeur and company, 5-2.
"We gave them a couple of goals and we were playing from behind right from the start," Pens defenseman Matt Niskanen said. "Brodeur is tough to beat. He was pretty good today and that team in general is tough to play against when they have the lead."
Fresh off an inspired victory over Boston 24 hours earlier, the Penguins came out flat against New Jersey. The Devils wasted little time in making them pay. Barely two minutes into the game Marc-Andre Fleury coughed the puck up behind his net, leading to a quick-strike goal by Ilya Kovalchuk. Following a Penguins' rush midway through the period, "Kovy" set up countryman Anton Volchenkov in the slot for his first tally in a Devils uniform.
The Pens appeared to catch a break when Kurtis Foster was whistled off for hooking early in the second period. However, the opportunistic Kovalchuk stole the puck from ex-Devil Paul Martin and fired a shot on net. Dainius Zubrus scooped up the rebound and beat Fleury inside the post for Jersey's league-best 13th shorthanded goal of the campaign.
It was game, set, and match for Fleury, who leaked for three goals on 12 shots. Seeking to spark his flagging troops, Pens coach Dan Bylsma promptly yanked "Flower" in favor of backup Brent Johnson.
The move paid immediate dividends. Thirty-four seconds later Niskanen gathered in a crisp pass from newcomer Cal O'Reilly and rifled the puck past Brodeur to cut the Devils' lead to 3-1. With nearly 37 minutes still to play, the black and gold had pulled themselves back into the hockey game.
Zach Parise made sure the revival was fleeting. At 11:22 the hustling winger dug the puck off the end boards and stuffed his 20th goal of the season between Johnson's right pad and the post. Working Peter DeBoer's system to perfection, the Devils sprinkled zombie dust on the Penguins, who had little to cheer about aside from Kris Letang's booming hip check on Eric Boulton.
Pittsburgh finally countered with a power-play goal midway through the third period. Steve Sullivan made a great play to pick off a clearing attempt at center point and quickly fed a diagonal pass to Evgeni Malkin in the left-wing circle. The big Russian walked around Devils defender Andy Greene with a slick curl-and-drag move and beat Brodeur with a bullet through the five-hole.
Down 4-2, the Pens still had a pulse. But Brodeur stopped Matt Cooke's jam attempt at the left post with four minutes to play. David Clarkson potted an empty-netter at 19:13 to put the Penguins away.
Ice Chips
Malkin, Neal, and Kunitz were minus-4 each … "Geno" has 113 points (in 83 games) with Sidney Crosby out of the lineup … The Penguins outshot New Jersey (30-24) … Johnson stopped 11 of 12 shots (.917 save percentage) … The Pens converted on two of three power plays (19 percent on the season) … The Devils trail the Penguins by one point (64-63) … The Pens are 2-7 in their last nine games versus Atlantic Division foes … Tyler Kennedy left the ice in the third period with a foot/ankle injury … Arron Asham, Sidney Crosby, Simon Despres, Ben Lovejoy, Colin McDonald, and Jordan Staal were scratches.
On Deck
The Penguins (30-19-4) wrap up their four-game road trip in Montreal (20-24-9) on Tuesday night. The Pens (3-0) have a chance to sweep the season series.
*Be sure to check out Rick's new book, "100 Things Penguins Fans Should Know and Do Before They Die" at TriumphBooks.com. It features 296 pages of bios, stories, anecdotes and photos from the team's colorful past in a compelling, easy-to-read style. Whether you're a die-hard booster from the days of Jean Pronovost or a big fan of Sid and Geno, this book is a must have for any true Penguins fan.
Don't forget to check out Rick's first book, "Total Penguins," at TriumphBooks.com. A complete and comprehensive book on the team's rich and storied history, it's filled with season-by-season summaries, player profiles and stats, bios on coaches, general managers and owners, photos from the "Post-Gazette" archives, and much, much more.
*Be sure to check out Rick Buker's books,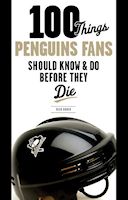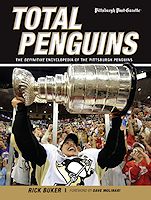 available at TriumphBooks.com, Amazon.com, and BarnesandNoble.com