With temperatures hovering magically at 66 degrees, the Penguins unveiled a magnificent statue of their owner and all-time greatest player, Mario Lemieux, at a special midday ceremony on Wednesday outside of CONSOL Energy Center.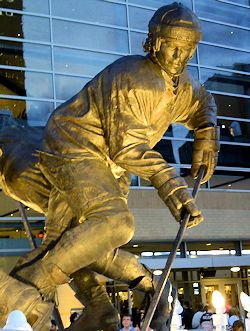 Too bad Mario didn't fare as well in the NBC Hockey Network broadcast booth that evening. Indeed, when No. 66 joined Mike Emrick during the second period of the Pens-Maple Leafs game, the visitors potted two quick goals.
Fortunately for "Le Magnifique" his team bailed him out. Sparked by a pair of goals from Pascal Dupuis and Brad Thiessen's solid work between the pipes, the Pens overtook the fluttering Leafs (1-6 in their last seven games) to nail down their seventh-straight win.
"I thought we did a really good job controlling the play early," Thiessen said afterward. "In the third they got some shots and we did the job."
After dominating a scoreless opening period the Penguins fell behind Toronto early in the second on tallies by Phil Kessel and Carl Gunnarsson. But the black and gold struck back at 9:25, thanks to some great teamwork by the second line. Jordan Staal outmuscled Mike Komisarek down low and moved the puck out to Matt Niskanen at the right point. Dupuis made a sensational play to deflect Niskanen's blast through his wickets and past Leafs goalie Jonas Gustavsson. Five minutes later Thiessen stuffed Clarke MacArthur to keep the Pens within striking distance.
The home team nearly netted the equalizer on the opening shift of the final frame, but Gustavsson stopped a pair of rapid-fire chances by James Neal and Chris Kunitz. Undaunted, the Pens kept buzzing like the proverbial bees around a hive. Dupuis scooted over the Toronto line and fed Brooks Orpik with a sharp cross-ice pass. The rugged defender quickly chipped the puck to Staal, who beat Gustavsson with a redirect at 1:34. Less than three minutes later Dupuis struck for his second goal of the night (and 17th of the season), whipping a backhander past the harried netminder to give the Pens a 3-2 lead.
Making his second NHL start, Thiessen came up big in the closing minutes, denying John-Michael Liles with a pad save at the tail end of a Toronto power play. Kessel loomed in the slot as the final seconds ticked off the clock, but the high-scoring winger couldn't corral a bouncing puck.
"The way we've been playing, we feel like we can come back in every game and we proved it again tonight," said Dupuis, who reached the 40-point plateau for the second time in his NHL career.
Ice Chips
Dupuis (two goals and an assist) was named No. 1 star … Staal (a goal and an assist) earned the No. 2 star … Jordan has a career-high six-game points streak … Evgeni Malkin (three shots) had an eight-game points streak snapped … Geno is tied with Steven Stamkos in the NHL scoring race (81 points apiece) … Thiessen made 22 saves … Pittsburgh out-shot Toronto (33-24) … The Penguins have killed 50 of 52 power-plays against since Feb. 1 … The Pens (85 points) closed to within six points of the Conference-leading Rangers … Sidney Crosby, Deryk Engelland, Dustin Jeffrey, Brent Johnson, Kris Letang, and Eric Tangradi were scratches.
On Deck
The Penguins (40-21-5) square off with Florida (31-22-12) at the CONSOL on Friday night. The Panthers (74 points) lead the Southeast Division.
*Be sure to check out Rick's new book, "100 Things Penguins Fans Should Know and Do Before They Die" at TriumphBooks.com. It features 296 pages of bios, stories, anecdotes and photos from the team's colorful past in a compelling, easy-to-read style. Whether you're a die-hard booster from the days of Jean Pronovost or a big fan of Sid and Geno, this book is a must have for any true Penguins fan.
Don't forget to check out Rick's first book, "Total Penguins," at TriumphBooks.com. A complete and comprehensive book on the team's rich and storied history, it's filled with season-by-season summaries, player profiles and stats, bios on coaches, general managers and owners, photos from the "Post-Gazette" archives, and much, much more.
*Be sure to check out Rick Buker's books,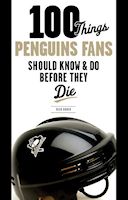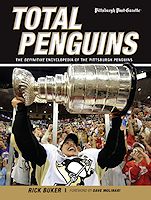 available at TriumphBooks.com, Amazon.com, and BarnesandNoble.com