One of these days the Penguins are going to figure out how to play 60 minutes of solid hockey against the archrival Flyers. Steel City fans better pray that day comes soon—say, in time for Friday night's Game 2 at CONSOL Energy Center. If not, it could be an awfully short postseason for the boys from the 'Burgh.
In a virtual replay of previous contests between the bitter foes the Penguins melted the ice with a white-hot first period, only to fade in the face of a scorching Flyers rally. Leading the cavalry charge for the orange and black was Daniel Briere (two goals) and Jakub Voracek, whose game winner at 2:23 of overtime sent the Penguins tumbling to a 4-3 Game 1 defeat.
"They came back, which is what they've done," Pens coach Dan Bylsma said. "They're a good team. They don't stop."
Skating before an electric hometown crowd, the black and gold set a furious opening pace. Targeting Philly's defense, Chris Kunitz and James Neal hammered big Nicklas Grossmann, while Pascal Dupuis rammed Marc-Andre Bourdon into the glass. As the Flyers reeled from the assault, Sidney Crosby whipped a backhander past Ilya Bryzgalov at 3:43 to stake the Pens to an early lead.
Stoked to a fever pitch, the home team continued to pour it on. Four minutes later Jordan Staal slipped the puck to Tyler Kennedy on a 2-on-1. The "Little Tiger" fired a bullet past Bryzgalov, forcing Philly coach Peter Laviolette to burn an early timeout to settle his troops.
"I think we were in shock," said rookie Brayden Schenn, who notched a goal and two assists to earn the No. 1 star.
Following the stop in play, the Flyers slowly began to gather themselves. However, 37 seconds before the buzzer Dupuis scored what appeared to be a backbreaker when he poked a chip pass from Steve Sullivan over Bryzgalov's shoulder.
Unfortunately for the CONSOL faithful, the Pens failed to deliver the knockout punch. Briere ignited the Flyers' comeback at 6:22 of the second period. Capitalizing on a Joe Vitale turnover at center ice (and a blown offside call) the Philly forward streaked into the Penguins' zone and beat Marc-Andre Fleury on a breakaway.
Just past the nine-minute mark of the third period Briere struck again. With the Pens nursing a 3-1 lead No. 48 retrieved the puck from Schenn on a cycle and curled into the left faceoff circle. The crafty winger snapped off an innocuous-looking shot that found its way past Crosby and Fleury.
Moments later Brooks Orpik crushed Briere behind the Penguins' cage to draw an interference penalty. Working on a power play, Schenn cut across the slot and beat Fleury with a nifty redirect at 12:23 to knot the score at 3-3.
Stunned by the turn of events, the Pens were unable to respond. While the youthful Flyers dominated down low with shocking ease, the locals battened down the hatches and forced the game to overtime.
The end came with sudden swiftness. Just past the two-minute mark Matt Carle shot the puck toward the Pens' net. With Staal and Kris Letang frozen in place the speedy Voracek popped the rebound past Fleury to cap a dynamic victory.
Ice Chips
Crosby (a goal and an assist) was named No. 3 star … Dupuis and Letang picked up two points apiece … Fleury stopped 22 shots in a losing effort … Neal paced the Pens with six shots … Evgeni Malkin (minus-1) was held without a point … Pittsburgh outshot Philadelphia (28-26) … The Flyers out-hit the Pens (39-35) … Ben Lovejoy dressed in place of Matt Niskanen (upper-body injury) … Dustin Jeffrey, Niskanen, Richard Park, Brian Strait, and Eric Tangradi were scratches.
On Deck
The Penguins and Flyers square off for Game 2 at CONSOL Energy Center on Friday night. The Pens are 1-3 in overtime playoff games versus Philly.
*Be sure to check out Rick's new book, "100 Things Penguins Fans Should Know and Do Before They Die" at TriumphBooks.com. It features 296 pages of bios, stories, anecdotes and photos from the team's colorful past in a compelling, easy-to-read style. Whether you're a die-hard booster from the days of Jean Pronovost or a big fan of Sid and Geno, this book is a must have for any true Penguins fan.
Don't forget to check out Rick's first book, "Total Penguins," at TriumphBooks.com. A complete and comprehensive book on the team's rich and storied history, it's filled with season-by-season summaries, player profiles and stats, bios on coaches, general managers and owners, photos from the "Post-Gazette" archives, and much, much more.
*Be sure to check out Rick Buker's books,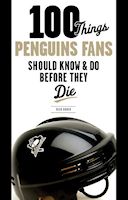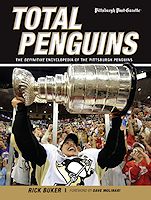 available at TriumphBooks.com, Amazon.com, and BarnesandNoble.com