Prior to the "Battle of Pennsylvania," Flyers forward Scott Hartnell boldly proclaimed, "It's going to be a bloodbath." The Philly villain's prediction came true—in spades—on Sunday afternoon during a raucous Game 3 at the Wells Fargo Center. In an ugly affair that featured 158 penalty minutes and battles galore, the Flyers outclassed the Pens 8-4 to gain a three-games-to-none stranglehold on the series.
While Philly shredded the Pens' special teams (four power-play goals and a shorthander) the black and gold turned in a disgracefully undisciplined effort littered with enough turnovers, costly penalties, and shoddy goaltending to give coach Dan Bylsma and his staff nightmares all summer long.
The atmosphere was super-charged from the opening faceoff as the boorish Flyers faithful serenaded Pens captain Sidney Crosby with their favorite chorus. Jordan Staal silenced the overflow throng—briefly—at 3:52 when he handcuffed Ilya Bryzgalov with a crackling wrist shot from the right-wing circle to stake the Pens to an early lead.
It turned out to be the highpoint of the afternoon for the locals. Minutes later Marc-Andre Fleury handed the lead right back when he knocked Max Talbot's shorthanded chip into his own net. With "Flower" struggling to regain his composure, Daniel Briere struck twice for the Flyers within a span of four minutes.
Trailing 3-1, the Pens had a complete meltdown. While Crosby tangled with Philly superstar Claude Giroux, Kris Letang engaged Kimmo Timonen to earn an early trip to the shower. Mayhem erupted again at the 14-minute mark when Arron Asham cross-checked Brayden Schenn up high following a hard, but clean check on teammate Paul Martin. "Ash" drew a match penalty for his brazen attempt at frontier justice.
Remarkably, the reeling Penguins rebounded to make the score 3-2. After taking an outlet pass from Matt Niskanen, James Neal sidestepped two Philly defenders and ripped the puck past Bryzgalov at 15:17.
As they have done throughout the series, the Flyers immediately countered. On the ensuing rush rookie Matt Read outworked Deryk Engelland down low and beat Fleury from the slot. The Pens clawed back midway through the second period when Neal rifled the puck home on the power play for his second goal of the game.
Inexplicably, Chris Kunitz elected to trip Eric Wellwood (the first of his two horrendous penalties) to hand Philly a power play. Read teed up a pretty cross-ice feed from Jaromir Jagr and blew the puck past Fleury from the off-wing. The Pens closed the gap to 5-4 at 15:40, thanks to Staal's tally from the doorstep. But Kunitz was whistled off for slashing minutes later—setting the table for a nifty forehand-to-backhand breakaway tally by Wayne Simmonds 46 seconds before the horn.
In desperation, Bylsma yanked Fleury in favor of Brent Johnson to start the third period. Jagr greeted "Johnny" with a play reminiscent of an overtime-winner he scored as a Penguin some 21 years before. Controlling the puck with one hand on his stick, the Czech legend wheeled around Pascal Dupuis and fed Giroux in the slot. The redhead whipped the puck past Johnson to cap his "Gordie Howe hat trick."
Aside from a late-period fracas featuring Craig Adams and Hartnell in the main event, it was game over. Following a fresh batch of penalties Talbot notched his second goal of the game to stick a dagger in his former team's heart.
Ice Chips
Neal paced the Pens with three points (two goals and an assist) … Staal (plus-1) scored two goals … Kunitz and Evgeni Malkin recorded two assists apiece … Dupuis failed to register a point for the first time since March 5 … Engelland and Letang received game misconducts … Pittsburgh outshot Philadelphia (35-34) … Niskanen and Richard Park replaced Ben Lovejoy and Joe Vitale … Dustin Jeffrey, Lovejoy, Brian Strait, Eric Tangradi, and Vitale were scratches.
On Deck
The Pens take on the Flyers in a do-or-die Game 4 at Wells Fargo Center on Wednesday night. Only three teams in NHL history ('42 Maple Leafs; 75' Islanders; and '10 Flyers) have overcome an 0-3 deficit to win a series.
*Be sure to check out Rick's new book, "100 Things Penguins Fans Should Know and Do Before They Die" at TriumphBooks.com. It features 296 pages of bios, stories, anecdotes and photos from the team's colorful past in a compelling, easy-to-read style. Whether you're a die-hard booster from the days of Jean Pronovost or a big fan of Sid and Geno, this book is a must have for any true Penguins fan.
Don't forget to check out Rick's first book, "Total Penguins," at TriumphBooks.com. A complete and comprehensive book on the team's rich and storied history, it's filled with season-by-season summaries, player profiles and stats, bios on coaches, general managers and owners, photos from the "Post-Gazette" archives, and much, much more.
*Be sure to check out Rick Buker's books,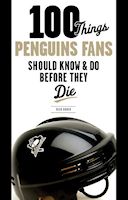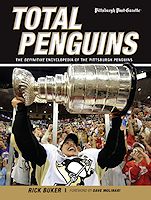 available at TriumphBooks.com, Amazon.com, and BarnesandNoble.com