It's no secret the Penguins and Flyers have one of the most heated rivalries in all of sports. But they also play some incredibly entertaining hockey. Such was the case Friday night before a packed house at CONSOL Energy Center. In one of the most riveting games ever witnessed in Western Pennsylvania the never-say-die Flyers—paced by hat tricks from Claude Giroux and Sean Couturier—mounted yet another furious rally to down the locals 8-5.
Again Philly played the tortoise to the Penguins' hare. A mere 15 seconds after the opening draw Sidney Crosby finished off a give-and-go with Steve Sullivan to ignite the fireworks. Working on a power play, Chris Kunitz redirected a nifty feed from James Neal past Ilya Bryzgalov at 9:27 to stake the jack-rabbit Pens to a 2-0 lead.
With his team under siege, Flyers coach Peter Laviolette called an early time out for the second game in a row. Once more the strategy paid instant dividends. While killing off a penalty to Nicklas Grossmann ex-Pen Max Talbot struck for a shorthanded goal. However, with only 18 seconds left in the period light-scoring Paul Martin beat Bryzgalov from the slot to restore the Pens' two-goal edge.
Again, the feisty Flyers came roaring back. Five minutes into a ferocious second period Giroux ripped the puck past Marc-Andre Fleury on the power play. The prenaturnally gifted Flyer (six points for the evening) cashed in again at 11:04, lashing a beautiful pass from Talbot off the left post for a game-tying shorthanded tally.
The wail from the goal siren had barely faded when Kunitz gathered in a backhand feed from Evgeni Malkin and popped the puck past Bryzgalov. But Couturier split the Pens' flagging defense three seconds before the buzzer to knot the score at 4-4 heading into the second intermission.
Bloodied but unbowed, the black and gold immediately countered. Barely a minute into the final frame Tyler Kennedy took a pass from Matt Cooke and beat Bryzgalov through the five-hole from the left-wing circle.
Unfortunately, the Pens' recent bugaboo—lousy puck management—reared its ugly head. Seventeen seconds after Kennedy's tally, Ben Lovejoy coughed up the rubber to Couturier in the Penguins' zone. The Flyers' rookie beat a helpless Fleury to knot the score at 5-5.
Next it was Flower's turn to be charitable. Midway through the period he served up a made-to-order rebound to Jaromir Jagr in the slot. The former Pens great turned and whipped a backhander past Fleury's outstretched pad to give the Flyers their first lead of the series.
It proved to be all the cushion Philly would need. Bryzgalov stiffened, making huge stops on Kunitz, Sullivan, and Jordan Staal. Seconds after Neal's diving attempt skittered wide of the Flyers' net, Couturier finished off a 2-on-1 at 18:11 for his third goal of the game. Giroux slipped the puck into an empty net to close out the scoring.
"We need to limit our mistakes, that's really what it comes down to," Crosby said afterward. "The mistakes we've made have ended up in our net."
Ice Chips
Kunitz (two goals) was named No. 3 star … Crosby, Pascal Dupuis, Malkin, and Neal registered two points apiece … Fleury made 23 saves … Dupuis was plus-2 … Kunitz was minus-5; Malkin and Neal minus-4 each … Brooks Orpik paced the Pens with a game-high eight hits … Philadelphia outshot Pittsburgh (30-28) … The Pens out-hit the Flyers (40-34) … Dustin Jeffrey, Matt Niskanen, Richard Park, Brian Strait, and Eric Tangradi were scratches.
On Deck
Action resumes on Sunday afternoon when the Pens and Flyers faceoff for Game 3 at Wells Fargo Center. The Pens have overcome 0-2 series deficits five times in their history ('91 vs. Boston; 92', 96', and '09 vs. Washington; and '09 vs. Detroit).
*Be sure to check out Rick's new book, "100 Things Penguins Fans Should Know and Do Before They Die" at TriumphBooks.com. It features 296 pages of bios, stories, anecdotes and photos from the team's colorful past in a compelling, easy-to-read style. Whether you're a die-hard booster from the days of Jean Pronovost or a big fan of Sid and Geno, this book is a must have for any true Penguins fan.
Don't forget to check out Rick's first book, "Total Penguins," at TriumphBooks.com. A complete and comprehensive book on the team's rich and storied history, it's filled with season-by-season summaries, player profiles and stats, bios on coaches, general managers and owners, photos from the "Post-Gazette" archives, and much, much more.
*Be sure to check out Rick Buker's books,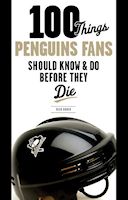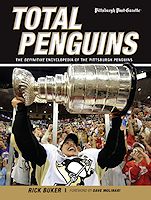 available at TriumphBooks.com, Amazon.com, and BarnesandNoble.com