At the start if the season, I did a look at those the hockey world tragically lost in 2011, including Derek Boogaard.  In early December, The New York Times ran a three-part series that had spent six months looking at the life and death of the NHL enforcer.
It's worth the time to read the lengthy pieces as the debate continues over what makes one become an NHL enforcer and what may have led to the ultimate demise of so many recently.  Most notable is the conclusion of the series which looks at the effect that years of hits had on the brain of Boogaard.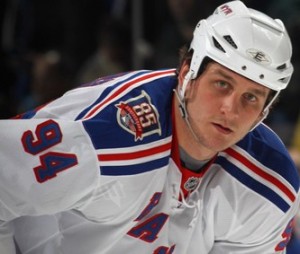 Part One:  Learning to Brawl looks at the difficulties that Boogaard had growing up.  The family moving around a lot, his size, his expected role as an enforcer, his lack of academic ability, his determination to be a hockey player despite lacking skillset, all made it difficult for Derek to fit in and led him down a twisted, emotional road where fighting seemed to be his only option.
Part Two:  Blood on the Ice examines Derek Boogaard's transition into a full-fledged NHL heavyweight fighter.  One feared by those he towered over, known for his ability to cause damage with just a couple of well-placed punches.  At the same time, coaches within the Wild system admit that they didn't do Boogaard any justice by simply allowing him to develop as nothing more than an enforcer rather than helping him to try to develop other skills.  But out of sheer determination and willingness to fight, Boogaard found his dream…to play in the NHL.
Though with that dream, people around him noticed differences in his personality.  And, there were concerns about the physical toll that the fighting was taking on his body and the cognitive effects that were hidden.  Throughout the article are quotes from other NHL enforcers and the extreme toll that fighting took on their physical and mental capabilities.
It was during the 2007-2008 season that Derek Boogaard began taking prescription painkillers for his back.  This would be the start of the downward spiral that led to his first stint in rehab two years later.  In retrospect, there were signs that the article examines that were clues that Boogaard was susceptible to addiction. 
Part Three:  A Brain "Going Bad" looks at the final phase of Derek Boogaard's career, what led to his passing, and what he has taught us in death.  After completing rehab, his work ethic declining, Boogard signed with the New York Rangers for the 2010-2011 season.  His slump and injuries followed him to his new team.  It was during this time that family and friends began to notice depression, mood swings, and lapses in memory.
Also evident to those around him were the symptoms of his prescription drug addiction and in the spring of 2011, he was sent by the Rangers to rehab under the NHL/NHLPA Substance Abuse Program.  On leave to attend his sister's graduation on May 12th, Derek went out partying with his brothers and friends.  The next day his brothers would find him death from an accidental overdose of  alcohol and oxycodone.
Probably the most significant part of this series came from the study done on Boogaard's brain by scientists at Boston University.  Boogaard had chronic traumatic encephalopathy, a relative of Alzheimer's disease which can only be diagnosed after death.  The symptoms include memory loss, impulsive behavior, move swing, and addiction.  It is believed to be caused by repeated blows to the head and has been found in the brains of 80 former athletes, mostly former NFL players, boxers, and  now 4 out 4 hockey players studied.  One of those was Bob Probert, Boogard's CTE was more advanced than that of Probert.
While the others studied had developed it later in life, it appeared to be spreading through Derek's brain and he most likely would have suffered dementia by mid-life.  Doctors were stunned that this was the brain of a 28-year-old.
The NHL refuses to acknowledge this link despite the later deaths of Rick Rypien and Wade Belak.
I encourage you to also take advantage of the interactive components of this series.  Look at Derek's handwritten notes, watch the 3-part video series, and all of the other bonus material.
As concussions continue to plague the league and the debate over headshots drags on, maybe someone will wake up to the scientific evidence of how dangerous fighting and undiagnosed and untreated concussions really are. 
Steps are being taken despite the refusal to acknowledge the scientific link.  One only needs to look at the IRs of NHL teams to see the unprecedented number of players out with concussions.  The implementation of the "quiet room" rule where any player that sustained a hit to the head had to leave the ice and be examined by a doctor was a great concept.  But how many times do we see players not leave the ice?  And, honesty is a must.  We've seen too many players and/or teams hide a player's concussion for a while.  There is no way of knowing that all teams are taking the same cautious approach in allowing players to return.  The league is going to have to find a way to enforce their policies and punish those that don't comply.  Even still, there are instances where symptoms may not show for days.  But, everyone must do their due diligence to stop this epidemic now that we are seeing evidence of the kind of damage done to the brain.
What we have learned from Boogaard is invaluable and we owe to all players to take away some lessons.  We owe it to all players to try to prevent them from facing a future of neurological problems that we now know can be prevented with correct diagnostics and care.