Let's face it. Barring injury, these are Evgeni Malkin's Penguins.  Sidney Crosby's eventual return to the Penguins will leave Dan Bylsma with some big decisions.  It was originally thought that James Neal was brought in to be the much needed big winger for Crosby, but as it worked out Neal, Malkin & Chris Kunitz are putting up numbers that make them the number one line in the NHL right now.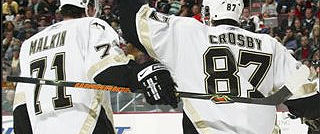 The Penguins power play is clicking in unaccustomed fashion at 7th in the NHL right now, up ten spots from the last time Crosby was the power play's headline feature.
So where does Crosby fit in on the power play? He will definitely not be taking Kunitz's spot in front of the net and James Neal has been scoring power play goals at a pace Crosby hasn't done since his first season in the NHL.
Malkin has been perched mainly at Crosby's half wall spot but he's all over the place. "You can't scout our power play and say this is where Malkin is going to stand.." coach Bylsma said.  Your not going to remove Malkin from the power play, let alone move him from his spot.  He's the number one player in the NHL.
That means coming back, Crosby will have to take a position at the point. Kris Letang is the Penguins only defenseman on the power play, so it would be tough to remove him. That leaves Steve Sullivan's roving point spot. Even though the Penguins herald Letang as a great puck mover and play maker,  Sullivan is the guy they have bring the puck up the ice every time, Crosby can do that.
A year ago before the Penguins lineup got turned upside down by injuries, the Penguins were going to try Jordan Staal out on Evgeni Malkin's line.  Staal who is having a breakout year himself,  despite missing 20 games to injury, Staal still finds himself tied for third on the Penguins in goals scored and is outpacing his best year in the NHL.
Having Staal on Crosby's line will give Crosby a big guy and will give Staal a chance to see if he can produce in a different role.  Penguins GM Ray Shero's picking up of centers Richard Park, Cal O'Reilly and the emergence of Joe Vitale allow for Bylsma to move Staal up a line.
Also, with Aaron Asham's proclaimed return from his second concussion in as many years happening this weekend, he could also be a welcome addition to Crosby's line in a Chris Kunitz go to the net and cause havoc sort of way.  Asham has never had trouble mixing it up "I had to do that to get into the league," said Asham, "and I'll do it to stay in the league, It's a part of the game and a part of my job, I'm not worried about it" 
Don't let Asham fool you, back in juniors, he was quite the goal scorer.  Last year he was the Penguins leading goal scorer in the playoffs.  This would give Crosby a pseudo " Malkamania" line. Of course this could all change if  Shero pulls off more of his trade deadline magic.
Here we call it "Malkamania". Up in Canada, in no disrespect to Cy, they are calling it "Malkinmania" Either way, I'm sure Dan Bylsma will somehow make it work having the two best players in the known Universe on the same team.