"There are three kinds of lies," celebrated 19th-Century author Mark Twain was fond of saying. "Lies, damned lies, and statistics."
Twain's colloquialism seemed an all-too-fitting way to describe Tuesday night's contest between the Penguins and Islanders at CONSOL Energy Center. The black and gold outshot the visitors 54-25. They dominated the faceoff circle (40-24). For good measure the Pens out-hit the Isles (23-13), too. And they lost 5-3.
Paced by Frans Nielsen's two-goal effort and 51 saves from goalies Evgeni Nabokov and Al Montoya, the Islanders exploited an injury-depleted Penguins defense—not to mention some sloppy play by the locals—to snap a 13-game losing streak in the 'Burgh.
The Islanders jumped on the home team early. Three minutes in Nielsen parlayed a long carom off the end boards into his 16th goal of the season. The Pens responded by pelting Nabokov with 17 shots during the opening frame, to no avail. Seconds before the buzzer speedy Michael Grabner beat Marc-Andre Fleury with a wrister to give his team a two-goal edge.
Pittsburgh's big guns finally found the range early in the second period. At 1:42 Pascal Dupuis swooped behind the Islanders' net and ripped off a shot from the right-wing circle. Tyler Kennedy deflected the puck off Nabokov's left pad and inside the post for his 10th goal. Less than three minutes later the Pens knotted the score at 2-2, when James Neal rifled home a tailor-made cross-ice feed from Chris Kunitz.
Firing on all cylinders, the "Penguins Express" appeared to be shifting into high gear. However, it was the opportunistic Islanders who took command. Kyle Okposo and David Ullstrom struck within a span of 2:32 to give Jack Capuano's crew a 4-2 lead. Just past the 18-minute mark Nielsen eluded an onrushing Fleury, who was flattened by teammate Paul Martin on the play, to score the backbreaker.
As a precaution, Pens coach Dan Bylsma sat "Flower" in the third period in favor of backup Brad Thiessen. Strafed for eight goals by Ottawa only three days earlier, the rookie rebounded to stop all seven shots he faced.
With New York defenseman Travis Hamonic serving a hooking minor and Thiessen pulled for an extra attacker, Neal cashed in on a 5-on-3 power play at 15:42 to narrow the gap. But Montoya stopped Jordan Staal from the slot with a minute left to snuff out the Pens' last good chance.
"We got what we deserved tonight," Pens captain Sidney Crosby said afterward.
Brooks Orpik agreed.
"I think just the approach of trying to outscore teams rather than out-defend teams is starting to catch up to us," the rugged defender noted.
Ice Chips
Neal (two goals and a game-high 12 shots) earned the No. 3 star … Dupuis (an assist) extended his points streak to 11 games … Malkin (two assists) has 99 points … The Pens' home-winning streak was halted at 10 games … Steve Sullivan (an assist) returned to the lineup after missing Sunday's game … Simon Despres and Brian Strait (recalled from Wilkes-Barre) replaced Kris Letang (lower-body injury) and Ben Lovejoy (knee surgery) … Dustin Jeffrey, Brent Johnson, Letang, Lovejoy, Matt Niskanen, Eric Tangradi, and Joe Vitale were scratches.
On Deck
The Penguins (47-23-6) travel to Long Island for a rematch with the Islanders (32-33-11) on Thursday night. The Pens trail the Eastern Conference-leading Rangers by three points (103-100).
*Be sure to check out Rick's new book, "100 Things Penguins Fans Should Know and Do Before They Die" at TriumphBooks.com. It features 296 pages of bios, stories, anecdotes and photos from the team's colorful past in a compelling, easy-to-read style. Whether you're a die-hard booster from the days of Jean Pronovost or a big fan of Sid and Geno, this book is a must have for any true Penguins fan.
Don't forget to check out Rick's first book, "Total Penguins," at TriumphBooks.com. A complete and comprehensive book on the team's rich and storied history, it's filled with season-by-season summaries, player profiles and stats, bios on coaches, general managers and owners, photos from the "Post-Gazette" archives, and much, much more.
*Be sure to check out Rick Buker's books,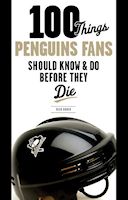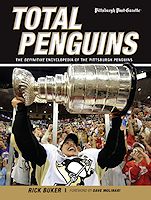 available at TriumphBooks.com, Amazon.com, and BarnesandNoble.com