In the midst of a roller-coaster season filled with desperate lows and equally dizzying heights, one thing about the Pittsburgh Penguins is certain. Win, lose or draw, the boys from the 'Burgh give the fans their money's worth. Take Friday night's contest with the Montreal Canadiens for example. After spotting the visitors a 4-2 lead through 31 minutes of play, the Pens came roaring back with guns ablaze to snatch a thrilling 5-4 shootout victory.
Fresh off a huge victory over the Rangers the night before, the home team got off to a rocky start. Just 34 seconds after the opening draw Lars Eller parlayed a carom off of Deryk Engelland's skate into a 1-0 lead for Montreal. Moments later the game took an emotional turn when Chris Kunitz fought Max Pacioretty, who sent Kris Letang to the IR with a brutal head-high hit back on November 26.
Letang soon exacted his own measure of revenge. At 4:02 the slick Penguins rearguard bolted past a pair of Montreal defenders with a jaw-dropping display of stickhandling before deflecting the puck in off goalie Peter Budaj. The Canadiens immediately countered, however, as big Erik Cole banged home a rebound for his 18th goal of the season.
Montreal upped its lead to 3-1 early in the second period on a power-play tally by Andrei Kostitsyn. With the Pens feeling the effects of their second game in two nights, it appeared their winning streak was in serious jeopardy. But at 5:32 Dustin Jeffrey stunned the Habs with a shorthanded goal off a pretty feed from Zbynek Michalek to revive his team. Although Pacioretty struck for Montreal midway through the period the Penguins had regained their mojo.
"We keep coming at you, keep coming at you," Pittsburgh coach Dan Bylsma noted.
Following a huge penalty kill to open the third period, the Pens cut Montreal's lead to one on Jeffrey's second goal of the game. Once again the stage was set for Evgeni Malkin. Again the NHL's leading scorer delivered. Taking a cross-ice pass from James Neal in full windup, No. 71 blasted the puck past a startled Budaj from the top of the right circle to knot the score at 4-4.
"[Malkin's] able to do a lot of things that a lot of guys aren't able to do," Jeffrey marveled. "He seems to be scoring those timely goals for us. What he's been doing lately for us, it's just unbelievable."
Each club had their share of opportunities in overtime. Malkin and Neal steamed into the Montreal zone on a 2-on-1, but "Geno's" centering pass was broken up. Marc-Andre Fleury (25 saves) foiled the slippery Eller on a great chance from in tight.
In the shootout, Budaj stopped an awkward hesitation move by Letang. But the Penguins' next shooter—Malkin—powered down the slot and beat the Slovakian netminder with a sizzling shot inside the left post. Fleury turned aside a last-gasp attempt by Scott Gomez to earn a fifth-straight win for the Pens.
Ice Chips
Jeffrey (two goals and an assist) was named No. 1 star … Malkin was awarded the No. 2 star … The Penguins out-shot the Canadiens 38-29 … Letang (plus-2) collected a goal and an assist … Pittsburgh leapfrogged idle New Jersey and into third place in the Atlantic Division … The Pens are fifth in the Eastern Conference (56 points) … Jason Williams was recalled from Wilkes-Barre … Arron Asham, Sidney Crosby, Simon Despres, Ben Lovejoy, Jordan Staal, and Williams were scratches.
On Deck
The Penguins (26-17-4) host Alexander Ovechkin and archrival Washington (25-19-2) in a Sunday afternoon matinee game. The Caps have taken two of three from the Pens this season.
*Be sure to check out Rick's new book, "100 Things Penguins Fans Should Know and Do Before They Die" at TriumphBooks.com. It features 296 pages of bios, stories, anecdotes and photos from the team's colorful past in a compelling, easy-to-read style. Whether you're a die-hard booster from the days of Jean Pronovost or a big fan of Sid and Geno, this book is a must have for any true Penguins fan.
Don't forget to check out Rick's first book, "Total Penguins," at TriumphBooks.com. A complete and comprehensive book on the team's rich and storied history, it's filled with season-by-season summaries, player profiles and stats, bios on coaches, general managers and owners, photos from the "Post-Gazette" archives, and much, much more.
*Be sure to check out Rick Buker's books,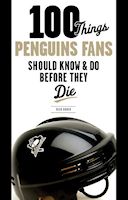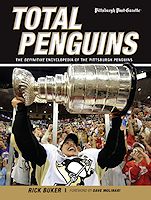 available at TriumphBooks.com, Amazon.com, and BarnesandNoble.com