The Tampa Bay Lightning entered Sunday afternoon's contest with Pittsburgh lugging an unsightly six-game losing streak. If Guy Boucher's crew was expecting any sympathy from the Penguins—who only recently snapped a six-game slide of their own—they were sadly mistaken. Paced by Evgeni Malkin's natural hat trick and a pair of power-play tallies from James Neal, the black and gold burned the skidding Bolts 6-3.
Trouble started early for the home team. Scoring ace Steven Stamkos dug the Lightning a hole when he handed the Penguins a power play just 46 seconds into the contest. Malkin pried the puck off the right sideboards to Paul Martin, who found Neal stationed along the goal line. The big winger whipped his 23rd goal of the season past Mathieu Garon from a sharp angle to stake the Pens to a 1-0 lead.
The boys from the 'Burgh proceeded to dominate the opening period, piling up a lopsided 17-5 edge on the shot clock. Richard Park tacked on a second goal at 10:38 when he burst into the slot and beat Garon with a wrister to the blocker side. It marked the first time the Pens had enjoyed a two-goal-first-period lead on the road since turning the trick against San Jose on November 3.
Following a scoreless second period, the Pens appeared to put the game on ice 34 seconds into the final frame thanks to a roughing call to Steve Downie. Malkin froze the Lightning defense at center point before slipping a perfect pass into Neal's wheelhouse. Number 18 teed up the puck at the right faceoff dot and blew his league-best 12th power-play goal past Garon.
Up 3-0 with less than a period to play, the Penguins appeared to have the game well in hand. However, any thoughts of an easy victory evaporated 86 seconds later when Matt Gilroy beat Marc-Andre Fleury on a nifty back-door play. Before you could say "Lightning strike" Tampa knotted the score on goals by ex-Pen Ryan Malone (4:53) and Teddy Purcell (6:50).
"You're looking up and having two really good periods of hockey evaporate on you," Pittsburgh coach Dan Bylsma said.
With the Penguins reeling, Dominic Moore committed a grievous lapse in judgment. The Tampa Bay agitator taunted Malkin during a faceoff, stoking the big center's competitive fires to a fevered pitch. In a singular display of brilliance "Geno" torched the beleaguered Garon with a pair of breathtaking backhand goals within a two-minute span to give the Pens a commanding 5-3 lead.
After scrapping with Lightning captain Vincent Lecavalier at the 12-minute mark, the silky-smooth Russian capped off a stirring five-point performance with an empty-netter to secure the victory for the Pens.
"I didn't think about playing a great game," a modest Malkin said afterward. "I know we have two points."
Ice Chips
Malkin (five points) was named No. 1 star … Neal (two goals) was voted the No. 2 star … The Penguins out-shot the Lightning 43-20 … Park's goal was his first in 17 games … The Pens were 2-for-5 on the power play (20 percent on the season) … Deryk Engelland decisioned Pierre-Cedric Labrie in a first-period fight … Malkin (51 points) trails NHL scoring leader Henrik Sedin by a single point … Sidney Crosby, Simon Despres, Kris Letang, Jordan Staal, and Joe Vitale were scratches.
On Deck
The Penguins (23-17-4) return to the friendly confines of CONSOL Energy Center for a Tuesday night matchup with Carolina (16-24-7). The Pens have taken two of three from the 'Canes this season.
*Be sure to check out Rick's new book, "100 Things Penguins Fans Should Know and Do Before They Die" at TriumphBooks.com. It features 296 pages of bios, stories, anecdotes and photos from the team's colorful past in a compelling, easy-to-read style. Whether you're a die-hard booster from the days of Jean Pronovost or a big fan of Sid and Geno, this book is a must have for any true Penguins fan.
Don't forget to check out Rick's first book, "Total Penguins," at TriumphBooks.com. A complete and comprehensive book on the team's rich and storied history, it's filled with season-by-season summaries, player profiles and stats, bios on coaches, general managers and owners, photos from the "Post-Gazette" archives, and much, much more.
*Be sure to check out Rick Buker's books,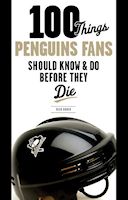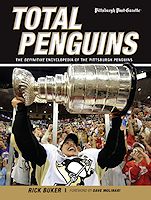 available at TriumphBooks.com, Amazon.com, and BarnesandNoble.com