Most Penguins fans are familiar with the All-Star exploits of Steel City superstars like Mario Lemieux. Indeed, those of us who are old enough will never forget Mario's breathtaking four-goal effort before an adoring throng at the 1990 All-Star Game—the first ever hosted in Pittsburgh.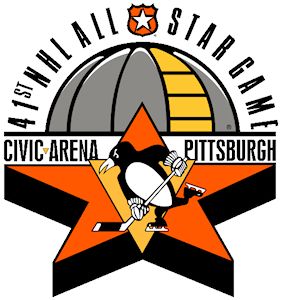 However, No. 66 isn't the only Penguins player to shine in All-Star competition. On the contrary, in the days before the Fantasy Draft, Super Skills Competition, and double-digit scores local skaters snatched the spotlight with stunning regularity.
The first Penguin to make a splash at the All-Star Game was left wing Greg Polis. Picked seventh overall in the 1970 Amateur Draft, the husky 6'0" 195-pounder could skate like the wind and possessed a blistering shot. One of the few players of his day to make the jump directly from junior hockey to the NHL, Polis scored 30 goals for the Pens in only his second season.
"Porky" also was a bit of an enigma. No matter how well he played there always seemed to be a layer of unrealized potential to his game. After learning he'd been named to the 1973 West Division All-Star team (his third-straight All-Star Game selection), the Westlock, Alberta native publicly stated that he didn't deserve the honor.
Adding to the drama, Greg's wife Llewelyn went into labor just as he prepared to board a plane for New York. He stayed in Pittsburgh an extra night to share in the birth of their first child, Jason Gregory Polis.
When Polis arrived at Madison Square Garden four hours before the drop of the puck he hoped to do something special to honor his newborn son. What he accomplished was beyond his wildest dreams. Fifty-five seconds into the second period he struck for the game-opening goal. Early in the third period the 22-year-old tickled the twine again, beating goalie Ed Giacomin to rally his team from a 4-2 deficit. Although the East prevailed, 5-4, Greg was voted Most Valuable Player over luminaries like Bobby Orr and Frank Mahovlich.
It wasn't long before a second Penguin earned All-Star accolades. By the mid-1970s Syl Apps had surpassed Polis as the team's rising star. A superb playmaker, the darkly handsome center registered 85 points in 1972-73 and again the following season. Unfortunately, injuries prevented him from playing in the midseason classic.
"The year before I was supposed to go to the All-Star Game in Chicago and got hurt, and that was a disappointment," Apps confided to author Jim O'Brien. "And I had missed out because of an injury of playing in the All-Star Game in New York two years earlier."
As a reward for his fine play "Sly Syl" was named to the Wales Conference All-Star team in 1975. The appointment had historic significance. The 27-year-old Toronto native became the first son of an NHL All-Star (Syl Apps, Sr.) to participate in an All-Star Game. It was a proud moment for his mom and dad, who made the trek to Montreal to watch their son play.
Inspired by the presence of his family, young Syl sparkled. Midway through the opening period he snapped the puck past Bernie Parent to give his team a 1-0 lead. For good measure, Apps cashed in again at 3:25 of the third period to pace the Wales Conference to a resounding 7-1 victory. Thanks to his two-goal performance Syl garnered MVP honors, the keys to a brand-new Dodge…and lasting memories.
"To go up there and do well, it's always something I'll look back on," he said. "I had a couple of goals and hit a couple of posts. I nearly had a third goal."
*Be sure to check out Rick's new book, "100 Things Penguins Fans Should Know and Do Before They Die" at TriumphBooks.com. It features 296 pages of bios, stories, anecdotes and photos from the team's colorful past in a compelling, easy-to-read style. Whether you're a die-hard booster from the days of Jean Pronovost or a big fan of Sid and Geno, this book is a must have for any true Penguins fan.
Don't forget to check out Rick's first book, "Total Penguins," at TriumphBooks.com. A complete and comprehensive book on the team's rich and storied history, it's filled with season-by-season summaries, player profiles and stats, bios on coaches, general managers and owners, photos from the "Post-Gazette" archives, and much, much more.
*Be sure to check out Rick Buker's books,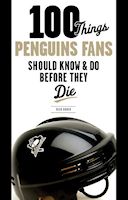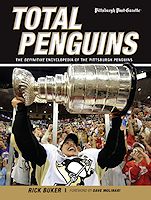 available at TriumphBooks.com, Amazon.com, and BarnesandNoble.com