I've pretty much given up trying to come up with superlatives to describe the Penguins' 5-4 shootout win over Toronto at CONSOL Energy Center on Tuesday night. Awesome? Too trite. Spine-tingling? Close, but no cigar. Amazing? Gettin' warm.
It wasn't enough that the Pens overcame a 4-1 third-period deficit—not to mention a stirring two-goal effort by birthday boy Mikhail Grabovski—to snatch their eighth win in a row. Rather, it was the way they accomplished the feat. They won with a riveting display of purpose and intensity that bordered on sheer savagery.
Suffice to say, the evening didn't start out nearly as well as it ended for the home team. Following an exceedingly sloppy opening frame the boys from the 'Burgh yielded a pair of second-period tallies to the speedy Grabovski three minutes apart. Fortunately, Marc-Andre Fleury stiffened to keep the sagging Pens in the game.
"Flower was so great tonight," center Joe Vitale said. "We could have been down, 8-0, at one point. They had Grade-A chances. He was just that good."
The black and gold struck back late in the period on a pretty passing play by the blue-collar crew. Richard Park slipped the puck to Paul Martin, who uncorked a drive from the left point. Matt Cooke deflected the shot past Toronto goalie Jonas Gustavsson for his first marker since the proverbial eighth-grade picnic.
Entering the final period, the Pens' attack appeared to be gathering steam. But Tyler Bozak and Clarke MacArthur victimized Fleury for a pair of bang-bang goals 19 seconds apart to stake the Leafs to a seemingly insurmountable 4-1 lead. Although Steve Sullivan countered on a breakaway at 8:33, it appeared to be a case of too little, too late.
The turning point came during a Penguins power play near the 13-minute mark. With Fleury stranded far from his net, Kris Letang scrambled to thwart a backhander by Toronto scoring ace Phil Kessel.
"I owe him for that one," a grateful Fleury said.
Suddenly, it was "game on" for the Pens. At 15:01 Pascal Dupuis banged a hard shot on goal from below the left circle. Fellow lunch-pailer Vitale pried the puck loose from Gustavsson and, in a dogged display of determination, wrapped the rubber around the rangy goalie's pads.
The stage was set for a dramatic finish. With the clock ticking down and Fleury pulled for an extra attacker, James Neal one-timed a Sullivan feed on goal. The puck struck Evgeni Malkin on the chest and rocketed into the net with 6.6 seconds left to knot the score at 4-4.
Following a scoreless overtime that featured several spectacular saves by Fleury, "Geno" continued his hot hand in the shootout. The All-Star center steamed down the slot and ripped the game-winner past Gustavsson off the left post.
"He's incredible right now," Vitale said. "He's just giving us so much confidence right now."
Ice Chips
Fleury (35 saves) was named No. 1 star for the second-straight game … Flower is "Mustache Boy" for the month of February … Malkin earned the No. 2 star … Geno has 10 game-winning goals (including three shootout winners) … Toronto out-shot the Pens 39-35 … Sullivan (a goal and an assist) was a plus-3 … The Pens recalled AHL All-Star Colin McDonald … Arron Asham, Sidney Crosby, Simon Despres, Ben Lovejoy, and Jordan Staal were scratches.
On Deck
The streaking Penguins (29-17-4) travel to Toronto (25-19-6) Wednesday night to conclude the home-and-away set. The Pens (62 points) finished January with an 8-3 record.
*Be sure to check out Rick's new book, "100 Things Penguins Fans Should Know and Do Before They Die" at TriumphBooks.com. It features 296 pages of bios, stories, anecdotes and photos from the team's colorful past in a compelling, easy-to-read style. Whether you're a die-hard booster from the days of Jean Pronovost or a big fan of Sid and Geno, this book is a must have for any true Penguins fan.
Don't forget to check out Rick's first book, "Total Penguins," at TriumphBooks.com. A complete and comprehensive book on the team's rich and storied history, it's filled with season-by-season summaries, player profiles and stats, bios on coaches, general managers and owners, photos from the "Post-Gazette" archives, and much, much more.
*Be sure to check out Rick Buker's books,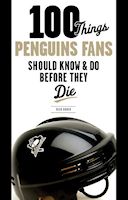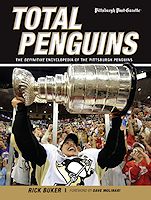 available at TriumphBooks.com, Amazon.com, and BarnesandNoble.com