Hockey players are famously superstitious. Many suffer from triskaidekaphobia—a fear of the number 13. Fortunately, the Penguins aren't among them. On the contrary, 13 players have captained the black and gold on a full-time basis. Penguins superstars captured the Art Trophy 13 times. So perhaps it was fitting that the Pens snapped their worst losing streak in recent memory with a 4-1 win over Florida … on Friday the 13th.
The victory capped off an emotional day for the boys from the 'Burgh. Amid rumors of internal strife over the status of injured captain Sidney Crosby, each player took to the ice for the morning skate with a 'C' stitched on his jersey. General manager Ray Shero addressed the team's recent woes by declaring, "We will make the playoffs."
Judging by the Penguins' effort against the Panthers, they fully intend to make good on Shero's promise. Arron Asham delivered a not-so-subtle message five minutes in when he tangled with Florida tough guy Krys Barch. Inspired by Asham's gutsy showing, the Pens dominated the first period, out-shooting their hosts by a staggering 18-6 margin. Despite a number of Grade-A chances—including a breakaway by Matt Cooke—they couldn't dent Panthers goalie Scott Clemmensen.
The Penguins needed a lucky bounce. And that's just what they got two minutes into the second period when the puck skittered off Clemmensen's blade behind his cage. Cooke pounced on the loose rubber and fed Steve Sullivan, who whipped it past a sliding Erik Gudbranson for the game-opening goal.
"Maybe we needed to get a little bit of a miscue and a fortunate goal to get us started, to get us on the right track after the first period," said Pens coach Dan Bylsma, who moved into second place on the team's all-time victory list.
Still, the stubborn Panthers held the surging Pens in check until the closing moments of the second period, when Evgeni Malkin stepped forward with a big-time play. After scooping up the puck in front of his net, "Geno" flew into the Florida zone on a 2-on-1 and hammered a hard shot off Clemmensen. The rangy Russian tracked down the rebound and beat the veteran netminder with a second-effort backhander from behind the net.
Determined to put the Panthers away, the Pens upped their lead to 3-0 on the opening shift of the third period. Tyler Kennedy scored off the rush to cap a dazzling passing play with Brooks Orpik and Pascal Dupuis. Michal Repik countered for Florida at 6:55 to add a dash of drama. But with four minutes to play James Neal gathered in a nifty pass off the sideboards from Chris Kunitz and drilled his 22nd goal of the season past Clemmensen to seal the Pens' first victory since December 27.
"It's obviously a good feeling to get out of a slump like that," Neal said. "It's been a long time since a win."
Ice Chips
Malkin was voted No. 1 star … Neal (a goal and an assist) earned the No. 2 star … Marc-Andre Fleury (No. 3 star) made 25 saves … Malkin was selected to play in the NHL All-Star Game … Cooke (an assist) registered his first point in 13 games … Eric Tangradi fought Gudbranson in the second period … The Pens are tied with Washington for eighth place in the Eastern Conference … Colin McDonald was sent to Wilkes-Barre … Steve MacIntyre cleared waivers and will report to the Baby Pens … Crosby, Simon Despres, Kris Letang, Jordan Staal, and Joe Vitale were scratches.
On Deck
The Penguins (22-17-4) wrap up their road trip on Sunday with a matinee game at Tampa Bay (17-22-4). The Pens lost to the Lightning 4-1 on November 17.
*Be sure to check out Rick's new book, "100 Things Penguins Fans Should Know and Do Before They Die" at TriumphBooks.com. It features 296 pages of bios, stories, anecdotes and photos from the team's colorful past in a compelling, easy-to-read style. Whether you're a die-hard booster from the days of Jean Pronovost or a big fan of Sid and Geno, this book is a must have for any true Penguins fan.
Don't forget to check out Rick's first book, "Total Penguins," at TriumphBooks.com. A complete and comprehensive book on the team's rich and storied history, it's filled with season-by-season summaries, player profiles and stats, bios on coaches, general managers and owners, photos from the "Post-Gazette" archives, and much, much more.
*Be sure to check out Rick Buker's books,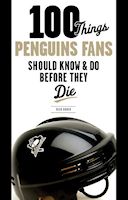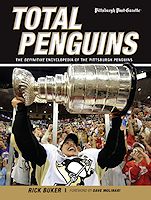 available at TriumphBooks.com, Amazon.com, and BarnesandNoble.com